Fox News Reporter Hides in Bushes Waiting to 'Bust' Immigrants Crossing the Border Illegally
Ahead of the expected arrival of a Central American migrant caravan at the United States' southern border, Fox News aired a segment Tuesday in which a reporter hid in the bushes waiting for immigrants to cross the border into the U.S. illegally.
"We've been hiding in the bushes waiting to witness one of these crossings," Fox News reporter Griff Jenkins whispered in the clip recorded on Monday. "They're coming right now," Jenkins continued before rushing down a dirt path between the bushes to a river. "You can see they've got a family in a raft."
Jenkins then yelled out to a man paddling the apparent migrants: "Excuse me, sir, were you trying to cross into America illegally?"
The man paddled to the other side of the river. The lettering on the Fox News broadcast read: "Griff Foils Illegals' Attempt to Cross Border."
"So what we're witnessing now is clearly a family that was being brought over by that smuggler that was paddling in the raft. This is an attempt to illegally cross, and they've gone back over there," Jenkins said. "We seem to have foiled this attempt, but officials tell us that he's probably just going to look for another spot."
In another shot, Jenkins walked alongside several people who were apparently migrants, one holding a child. Their faces are blurred.
"Can you tell me, is it an illegal crossing? Yes? But you came anyway?" Jenkins said.
"Well why did you come, is what I'm asking you. Can you tell me why you came illegally?" Jenkins asked an unidentified woman.
The woman replied that she was motivated by the situation in Honduras, where "you cannot have work in there because the criminals always will get your money."
The broadcast then cut to Jenkins informing the Fox & Friends hosts that not all those attempting to cross the border are like that woman. "But they're not all women and children. In the last 48 hours, a man wanted for murder in South Carolina was arrested here along with another member of the 18th street violent gang."
Earlier, Jenkins, reporting from McAllen, Texas, stated that the caravan of about 7,000 Honduran migrants was on the way and was about 1,140 miles south of the border town with the closest point of entry.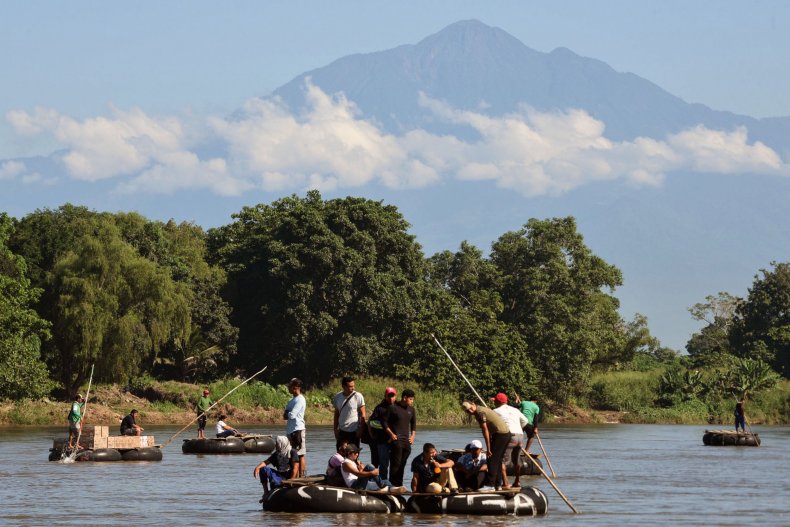 "But unfortunately most come illegal," Jenkins said, adding, "we laid in the bushes and waited and we busted one of those smuggling operations."
Some refugees have said they gave up on trying to enter Mexico legally because the application process for asylum moved too slowly.
President Donald Trump, who is regularly cheered by the Fox & Friends hosts and who has previously phoned into the show, has denounced the caravan of Hondurans fleeing violence, blamed Mexico for failing to stop them from reaching the border, and claimed, without evidence that "criminals and unknown Middle Easterners are mixed in."