Fox News Reporter Slams Trump's Inaccurate Syria Claims: 'U.S. Troops Are Not Safe,' That's a 'Turkish Talking Point'
Fox News National Security Correspondent Jennifer Griffin on Wednesday fact-checked President Donald Trump's latest claims that U.S. troops are safe and that Syria is "protecting the Kurds" during a live report. Griffin also accused the president of pushing a "Turkish talking point" in a tweet earlier today.
Trump on Wednesday defended his decision to withdraw U.S. troops from northern Syria and said that Turkish offensives against U.S.-allied Kurdish forces in the area "has nothing to do with us."
"Our soldiers are out of there. Our soldiers are totally safe. They've got to work it out," the president added. "Syria's protecting the Kurds, that's good. And by the way, every player hates ISIS."
"Syria is not protecting the Kurds, and U.S. troops are not yet safe," Griffin said after Trump's remarks. "The president just ordered 2,000 US troops to Saudi Arabia."
Newsweek subscription offers >
She continued: "I'm told U.S. troops in Syria are still racing to try to protect classified materials and valuable military equipment as the Turkish military and Russian-backed forces move toward those abandoned US bases and in some cases take over outposts the U.S. had to leave hastily following the president's decision."
Griffin reported that senior U.S. defense officials have revealed to her that we're experiencing a "deliberate phased withdrawal of U.S. troops out of Syria."
"They will be repositioned elsewhere in the Middle East," she explained. "The US military is collapsing patrol bases in northern Syria and will pull back to one base in north-east Syria from which they will be airlifted out. It is an extremely dangerous evacuation that is underway according to military commanders."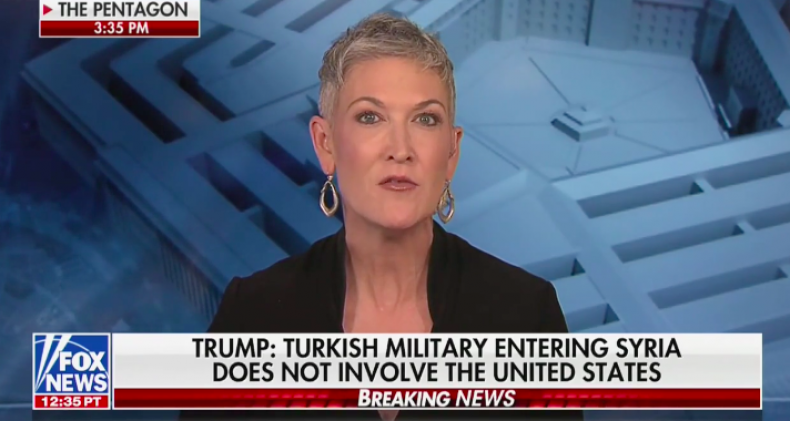 Newsweek subscription offers >
The Fox News reporter also took to Twitter on Wednesday to rebuke more statements made by Trump. While speaking to reporters, the president suggested that the Kurdish Workers Party, otherwise known as the PKK terrorist group, "is probably worse at terror, more of a terror threat in many ways, than ISIS."
"Not a single National Security adviser to the president would agree with that statement," Griffin tweeted, deeming the president's statement a "Turkish talking point."
Griffin is correct in reporting that Trump's remarks are not consistent with facts. Although the PKK is deemed a neo-Marxist terrorist group, their goal is to create a Kurdish location in parts of Turkey and northern Syria, while the Islamic State seeks to build a global caliphate.
Trump has faced substantial bipartisan—including from some of his usually-staunch GOP supporters—backlash over his administration's decision to pull U.S. troops out of areas in northern Syria.
"I firmly believe that if President Trump continues to make such statements this will be a disaster worse than President Obama's decision to leave Iraq," Senator Lindsey Graham tweeted earlier today.
Fox News Reporter Slams Trump's Inaccurate Syria Claims: 'U.S. Troops Are Not Safe,' That's a 'Turkish Talking Point' | U.S.