Fox News' chief White House correspondent John Roberts sent a clear message to the White House and Twitter users on Thursday to "stop blaming the media" for asking again if President Donald Trump will publicly condemn white supremacy.
Earlier in the day, Roberts asked White House press secretary Kayleigh McEnany if Trump denounces such groups.
"I would like to ask you for a definitive and declarative statement without ambiguity or deflection. As the person who speaks for the president, does the president denounce white supremacy and groups that espouse it in all their forms?" he asked during a press briefing.
McEnany replied, "This has been answered. Yesterday by the president himself. The day before by the president himself on the debate stage. The president was asked this. He said, 'sure' three times. Yesterday, he was asked point blank, 'Do you denounce white supremacy,' and he said 'I have always denounced any form of that.'"
While McEnany read previous quotes that she said indicated that Trump "has condemned white supremacy more than any other president in modern history," Roberts pushed for her to make an explicit, clear statement that Trump denounces these individuals. McEnany argued she "just did."
"For all of you on Twitter, who are hammering me for asking that question, I don't care because it's a question that needs to be asked and clearly, the president's Republican colleagues a mile away from here are looking for an answer for it too," Roberts said on Fox News. "Stop deflecting. Stop blaming the media. I'm tired of it."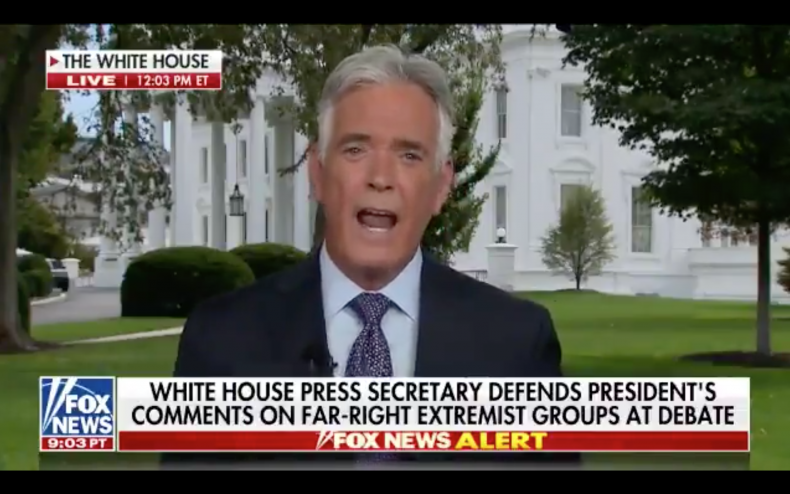 Trump's response during Tuesday's presidential debate has stirred confusion and controversy after the president was asked to condemn white supremacy on the national stage.
"Proud Boys—stand back and stand by. But I'll tell you what, somebody's got to do something about antifa and the left," Trump replied.
His decision to not explicitly answer moderator Chris Wallace's question has come under fire by a number of prominent Republicans.
Some GOP senators, including Senate Majority Leader Mitch McConnell and Senator Lindsey Graham, have commented on the president's remarks, calling on Trump to correct his statement while stating they personally denounce white supremacy.
When given the opportunity to do so, Trump said he did not know who the Proud Boys are.
"I don't know who the Proud Boys are. You'll have to give me a definition because I really don't know who they are. I can only say they have to stand down and let law enforcement do their work," he told reporters at the White House on Wednesday.
Roberts said the Trump's additional comments were "puzzling."
"If the president didn't know who the Proud Boys were and Joe Biden just threw out the name, if he didn't know who they were, why did he denounce them? Why didn't he say, 'Well I don't know who they are. Can you give me a little bit more information about them?' and then make a decision about it," the reporter said Thursday. "This all remains very puzzling."
McEnany took to Twitter to fire back at Roberts, quote tweeting his wife, ABC correspondent Kyra Phillips, who had tweeted that Trump told her he denounces white supremacists.
"I would refer you to your wife's reporting from 21 hours ago…accurate reporting I cited in the White House Press Briefing," McEnany wrote.
Yesterday, Phillips asked Trump, "What about white supremacists, do you denounce them?" to which the president said, "Any form of any of that, you have to denounce," without explicitly specifying white supremacists.
"Why not just come right out today and say, 'Here is the definitive answer to that question'?" Roberts asked during the segment.
"I don't understand why he wouldn't say, 'I denounce white supremacy. I've always denounced white supremacy.' For some reason, they aren't saying the words—and that's what is very puzzling," he added.