Fox News Republican Strategist Explains Why Trump Is 'In Big Trouble' on Eve of Election Day
President Donald Trump was "in big trouble" on the eve of the 2020 presidential election with four main factors posing difficulties on his path to re-election, according to Republican strategist Colin Reed.
In an article published by Fox News on Monday, Reed said that some of the factors that helped Trump win four years ago are this time around shifting in Democratic presidential nominee Joe Biden's favor. Though some political strategists have said support for the president is much stronger now than it was in 2016, most national and swing state polls conducted in recent weeks have shown Biden with a lead over the president.
"Trump faces an ominous four-headed monster as campaign 2020's hourglass winds down—factors that will reverberate down-ballot into Senate races," Reed wrote in his article, which was titled "4 signs Trump and the Republican Party are in big trouble this Election Day."
Reed walks readers through the four factors that he believes could work against Trump as voters' final ballots are cast and tallied. Those factors include Trump's battle for traction in key battleground states, the Biden camp out-raising the president's own campaign, the Trump administration's ongoing battle to control the coronavirus pandemic and Biden's favorability ratings, which have been higher this year than Hillary Clinton's were in 2016.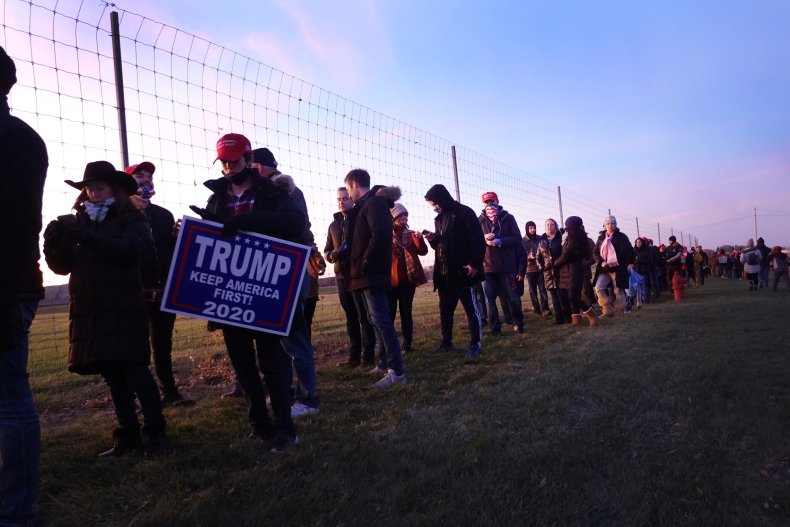 Trump and Biden have both been making final pushes for support in swing states over the last few days. While Biden has opted for primarily virtual and drive-in events, Trump has kept to a hectic schedule with large in-person rallies. According to Republican strategist John Thomas, the rallies are an important factor for Trump in Florida, where Thomas told Fox News "both campaigns are not taking that state for granted."
Thomas identified Michigan and Ohio as other swing states that the president has to work hard to keep and Pennsylvania as the state that he said will "likely" determine the outcome of the election. He also pointed to North Carolina and Georgia as places of concern for Trump's re-election bid. State polling averages compiled by FiveThirtyEight show Biden with a narrow lead in both.
"This typically isn't a state that a Republican has to worry about, so the fact that we're even talking about it is something else," Thomas said of Georgia, adding that Trump's support among Black voters in the state could prove helpful for his performance on Election Day. When Thomas turned to North Carolina, he was a bit more blunt about the president's chances. "Definitely not a state that Trump should need to defend," Thomas said of the swing state, which Trump won by more than 3 points in 2016. "But he's putting in the time, and he's got to hold this state or it'll fall apart."
In addition to concerns about the battleground states, Trump's campaign also raised about $135 million less than Biden's campaign did in September, though Trump has said that he can add to his campaign's funds at any time if needed. Another concern that Trump has frequently brushed off is the coronavirus pandemic, which became a primary focus for the Biden campaign earlier this year. In spite of rising numbers of new reported cases in recent days, Trump said during the final presidential debate last month that the U.S. is "learning to live" with COVID-19. He has also said that he will not support any additional lockdown measures if he wins another term in office.
Reed's final point about Biden's favorability traces back to one of the key criticisms of Clinton as a presidential candidate. According to RealClearPolitics, Clinton's average unfavorability rating settled at around 54.4 percent in the two weeks before the 2016 election, which made her a bit more favorable than Trump in the eyes of voters at that time but still less favorable than Biden, who only had an average 44 percent unfavorability rating by early November. In contrast, Trump had an unfavorability rating by early November that was similar to Clinton's but higher than his own four years ago.
Given the hurdles that Reed said Trump must overcome, he said a victory for the president would be "a greater political feat" than his earlier win four years ago.
Newsweek reached out to Trump's campaign for comment but did not receive a response in time for publication.