Fox News Rips Fake Melania Trump Conspiracy Theory From 'The View': 'It Reminds Us of Their Jealousy'
Fox News's Fox & Friends show on Wednesday morning slammed ABC's The View for dedicating air time to a resurfacing #FakeMelania conspiracy theory that first lady Melania Trump has a body double.
Fox & Friends aired a clip of The View co-host Joy Behar arguing that a woman who recently accompanied President Donald Trump to visit a tornado-ravaged region of Alabama did not look like Melania Trump.
Fox News contributor Tammy Bruce opined that The View hosts do not really believe Melania has a body double, accusing the panelists of seizing upon "an excuse to mock the first lady" by saying she looks short or appears to have a different face shape.
"This is obviously one of the most beautiful women in the world and she was mourning here, as normal people would. Most normal people maybe look a little different when we're sad," Bruce said. "Classic mean girl environment."
Bruce, who is president of Independent Women's Voice, elaborated on the "mean girl environment" that led to the popular movie Mean Girls.
"When you're in college or high school, there is the pretty girl who is nice, and you go with the marker to mark up her locker and then you gossip about her and you call her names. That is what these adult women were doing to the first lady," Bruce said. "It reminds us of their jealousy, envy, the fact they have nothing else to do other than being mean. That is the only answer."
Bruce continued that The View hosts "can't appreciate or respect or enjoy something" and speculated they went on television to bash the first lady due to "issues" in their own lives.
Fox & Friends co-host Ainsley Earhardt said it was "so hypocritical."
"They preach tolerance yet they're not tolerant of people who don't agree with them," Earhardt said.
Co-host Brian Kilmeade remarked as an aside, "There's no one that has the president's back like the first lady."
Bruce agreed, saying the first lady "remains a role model and clearly understands what her husband is trying to do and supports it."
Melania Trump has stepped up her public appearances with her husband and even made statements seeming to defend his behavior, such as saying, "Sometimes you need to fight back, I'm sorry," with regard to cyberbullying.
The first lady body double conspiracy theory first surfaced in October 2017. Social media users focused on footage of Melania Trump standing next to her husband at a press conference about hurricane relief for Puerto Rico and claimed the woman wearing black sunglasses and a coat had a different shape nose than the president's wife. The conspiracy theory has arisen several times since.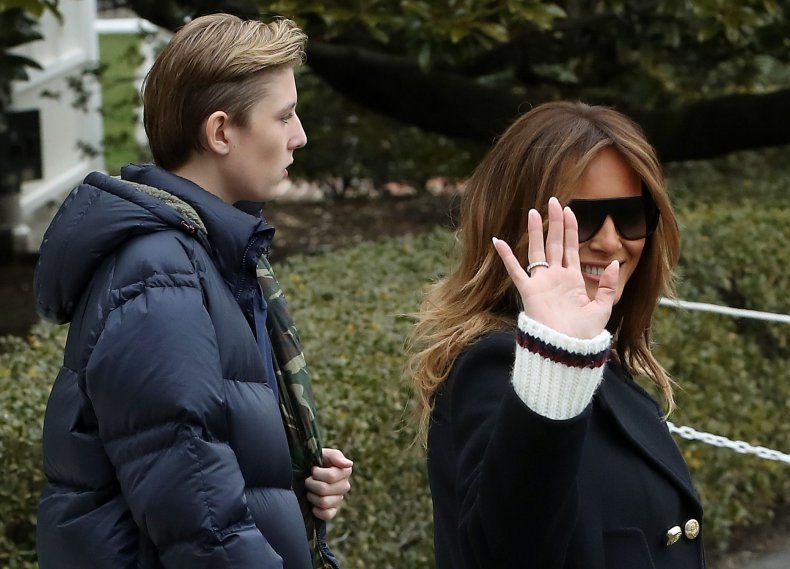 Melania Trump's spokeswoman Stephanie Grisham criticized The View on Monday.
"@flotus & @potus traveled to Alabama to pay their respects & comfort victims of the tornado devastation. In typical fashion, @theview chooses to laugh in the face of tragedy," Grisham tweeted. "Shameful."
Bruce's take was similar to Grisham's on Tuesday.
"I've always found it sad that a group of women spend so much time attacking another woman, whose only goal is to help children," Grisham wrote in an email to USA Today. "Yesterday's show went beyond the petty, mean-girl spirit that we've grown accustomed to."
Fox News Rips Fake Melania Trump Conspiracy Theory From 'The View': 'It Reminds Us of Their Jealousy' | U.S.