Fox News Host Asks RNC Chair 'Do Republicans Have a Health Care Plan?' Ronna McDaniel Blames Democrats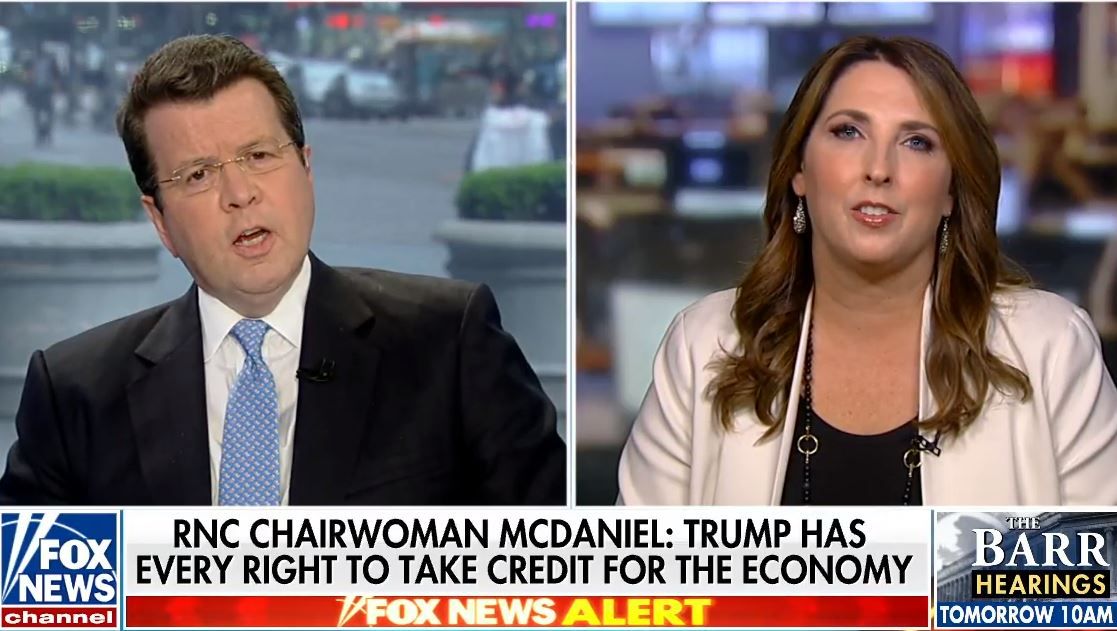 When Fox News host Neil Cavuto repeatedly asked Republican National Committee chair Ronna McDaniel if the Republicans had a health care plan, she responded with a rant against the Democrats.
Cavuto asked if President Donald Trump needed to blame the Obama administration or the Federal Reserve for "holding him back," or whether he should just let "let the economy speak for itself?" McDaniel, who blasted former President Barack Obama, former Vice President Joe Biden and Democrats throughout the interview, offered no concessions and instead claimed the Trump administration singlehandedly created the "booming" economy.
But Cavuto, who hosts Your World With Neil Cavuto, didn't let McDaniel off the hook for her glowing, one-sided praise of the president, leaving her scrambling to find a reason why Republicans had failed to put forth any semblance of a health care plan should they ever succeed in replacing the Affordable Care Act.
"Look, Donald Trump is a businessman who ran for office because he said Washington can't get it done," McDaniel said. "Why can't anybody from the Obama administration or Joe Biden or any Democrat say President Trump was correct, he has kick-started this economy? You know what they're proposing? They're saying let's have government take over our health care, let's have government take over our schools, I mean it's more of a government takeover. It's a lot of policies that will slow..."
"Do Republicans have a health care plan yet?" Cavuto broke in abruptly, sparking a series of deflections from McDaniel.
"Republicans are putting forward a health care plan, the president has talked about this...," McDaniel said, before Cavuto cut her off.
"When is that going to happen? Because I don't see it," Cavuto interjected.
"I will say this, I'm not a policymaker, but I will say this: We want to make sure that the doctor-patient relationship is restored we do not want bureaucrats in Washington making medical decisions for families across the country," McDaniel said.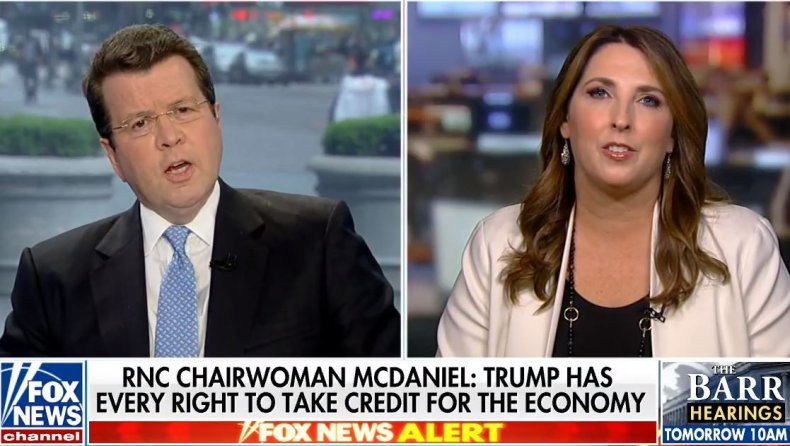 Cavuto, continuing to press for a GOP health care plan, replied, "But if you're going to criticize your predecessor and say his plan sucked or whatever he's saying, you don't have a plan! You don't have a plan to substitute and you're always slapping him around."
McDaniel noted the failed 2017 Graham-Cassidy bill to repeal Obamacare, which she lamented was "blocked by Democrats...at every step they have rejected Republicans plans. You can't put that on us."
Cavuto kept pressing: "So when the president was saying, 'We're going to have a health care plan put forward, Republicans are looking forward'...that's an issue they could be very vulnerable on, are you saying that we're going to have a health care plan out like, really, really soon? Because you don't right now."
"I'm not crafting the plan, but I will say we're going to contrast with the Democrats what Medicare for all means, which sounds great, Medicare for all, what does it mean?" McDaniel said, navigating around an answer. "Government takeover. It means bureaucrats in Washington are going to be making your Medicare decisions and the costs will be astronomical, and it will destroy the underlying health care in this country. So yes, we're going to contrast that."
McDaniel is the niece of Senator Mitt Romney, who inspired Obamacare in Massachuestts, to the dismay of some Republicans, when he served as governor of the Bay State.