Donald Trump Says Sean Hannity Is Campaigning for Him But Fox News Host Insists He's Just Hosting a Show
Donald Trump will host his final rally ahead of the midterm elections on Monday night in Missouri, where he will be joined by a "special guest": Fox News host Sean Hannity.
Hannity's role in the event remains unclear, after a press release sent out by the Trump team made it seem as though the talk show host would be there to campaign for the president ahead of what is likely to be the most competitive midterm election cycle in recent history. Rush Limbaugh, another conservative media personality, will also be a guest at the event.
The Trump campaign said in a statement that Hannity and Limbaugh were "longtime friends" of the president and "strong advocates" for his "America First" agenda. The Trump campaign website is encouraging people to buy tickets to the event "w/Sean Hannity, Rush Limbaugh & Lee Greenwood."
"We're glad to welcome Cape Girardeau native Rush Limbaugh and Sean Hannity as special guests to this final stop on the tour where President Trump will make his case to the American people to support GOP candidates on Election Day in order to continue our great American comeback under his leadership," Michael Glassner, chief operating officer of the Trump campaign, said in the statement.
Fox News previously advertised that Hannity would be hosting his regular 9 p.m. show with "complete coverage" from the rally site. After the campaign event, Hannity would have an exclusive interview with the president.
Hannity dispelled reports that his appearance at the rally on Monday night was an attempt to campaign for the president.
"In spite of reports, I will be doing a live show from Cape Girardeau and interviewing President Trump before the rally. To be clear, I will not be on stage campaigning with the President. I am covering final rally for my show. Something I have done in every election in the past," Hannity tweeted on Monday morning.
A Fox News Channel spokesperson further confirmed to Newsweek on Monday that Hannity would only be hosting his show from that location and interviewing the president.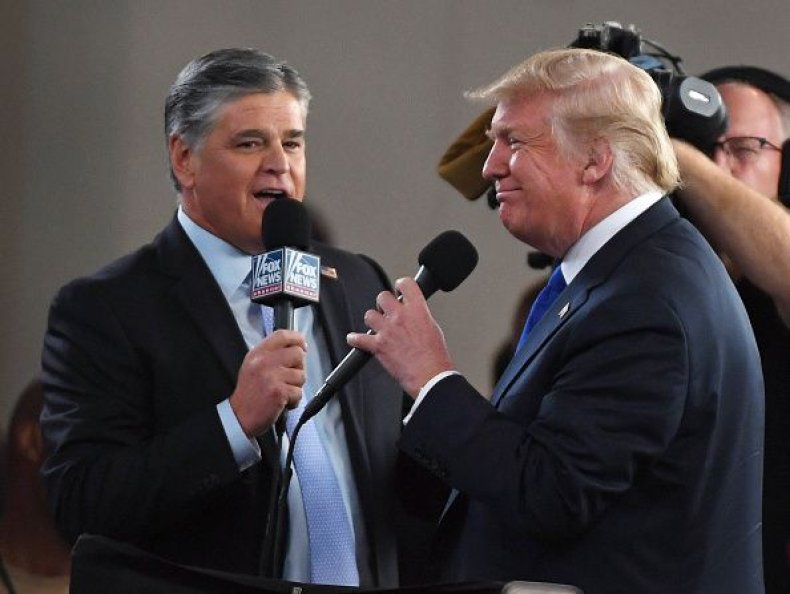 It won't be the first time Hannity has stumped for Trump. In 2016, the Fox News host appeared in a campaign video for then-candidate Trump called #HEARTLAND4TRUMP.
"One of the reasons I'm supporting Donald Trump this year is number one, he's going to put originalists on the Supreme Court," Hannity said during the video. "He's a guy that will vet refugees to keep Americans safe. And, of course, he is going to build that wall."
After Hannity's appearance in the video raised eyebrows, Fox News released a statement saying it had "no knowledge" that Hannity was participating in the video. The cable news network insisted that the host would not appear in any more videos or advertisements for the remainder of Trump's campaign.