Fox News's Sean Hannity Says Mueller Report Won't Be 'Anticlimactic': They 'Will Continue to Destroy the Presidency of Donald Trump'
On Monday, Fox News host Sean Hannity cast doubt on an ABC White House correspondent's report that Russia probe special counsel Robert Mueller's report on possible collusion between the Trump campaign and Russia will be "anti-climactic."
Hannity, a close friend of Trump, said of ABC's Jonathan Karl: "At least one so-called journalist from the hate-Trump media is trying to play down expectations while people are hyping up every second, every minute, every hour of every day about Trump and Russia and about the Mueller report."
Fox News then aired a clip from Karl's comments to This Week host George Stephanopoulos on Sunday.
"What I am getting is this is all building up to the Mueller report and raising expectations of a bombshell report. And there have been expectations that they have been building, of course, over a year on this," Karl said. "But people who are closest to what Mueller has been doing, who have interacted with the special counsel, cautioned me that this report is almost certain to be anti-climactic."
"Ah, anti-climactic," Hannity said, repeating Karl's words. "Honestly, I don't trust what you just heard."
Hannity continued: "Given the overwhelming partisan makeup of Mueller's team and their behavior throughout this process, consisting of high-powered Democratic donors and attorneys, mark my wordsL they have and will continue to destroy the presidency of Donald Trump."
The Fox News host said that Democrats have been trying to destroy Trump for two years and even before the 2016 presidential election. Hannity then offered up a big-picture threat to Americans.
"If these deep state actors succeed, forget about free and a fair justice system. It's done. Equal justice under the law, application of our laws, dead in America. Might as well take the Constitution as we know it, shred it, because that's over, forever," Hannity said.
Hannity claimed that "hate-Trump Democrats" and media "have been tied at the hip the whole time, reporting innuendo, lies, conspiracies, daily." As an example, he claimed that last week the media "regurgitated" a Democratic talking point, attributing the government shutdown to a "manufactured crisis at the border" with Mexico.
"No, people getting killed and drugs crossing our border—that's real," Hannity said.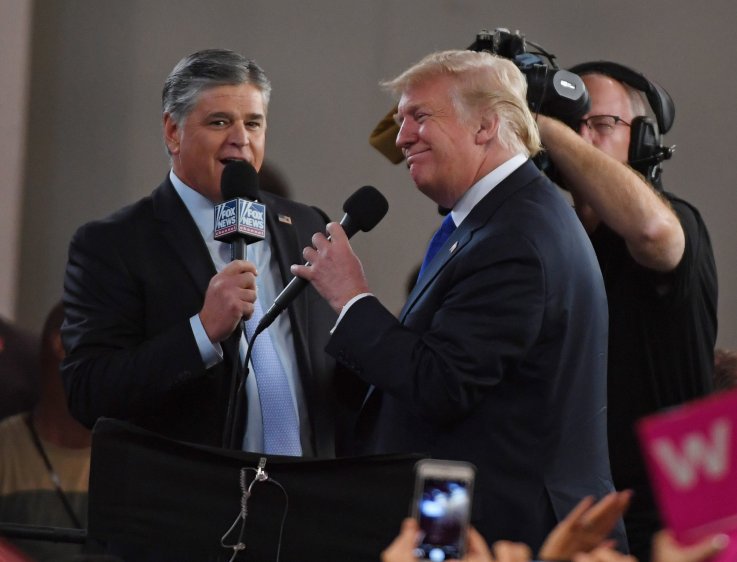 Hannity reportedly has Trump's direct phone line and calls him a few times a day, frequently after 10 p.m. after his show. Trump live-tweets along with Fox News programming, and it often influences his policies. The president invited Hannity on stage with him at a November campaign rally in Missouri, drawing scrutiny.
Hannity's ratings—still the highest for Fox News—have fallen since the November midterm elections and as Mueller's probe brings more developments damaging to Trump, according to the Nielsen company.
Trump has repeatedly called the Mueller probe a "witch hunt" and said there is "no collusion."