Fox News Sexual Assault Scandal Movie 'Bombshell' Generating Serious Oscar Buzz
The upcoming film Bombshell is not only bringing the Fox News sexual assault scandal back into the public discourse, but it's also generating serious Oscar buzz for the film and its stars Charlize Theron, Nicole Kidman and Margot Robbie. On Sunday the film started its "Conversation Tour," with the stars attending screenings in advance of the film's December release.
"We are in a climate now that is pretty intense and it is not cooling," Theron told Deadline after a Screen Actor's Guild (SAG) screening Sunday. "Now there is more safety in numbers and that is happening which is why I think this movie is so powerful, " she said.
The story centers around the sexual assault allegations made against Roger Ailes by former Fox News anchors Megyn Kelly (played by Theron) and Gretchen Carlson (played by Kidman). Robbie plays a composite character based on a number of women at Fox News who signed NDAs and thus are not allowed to speak on the record about the treatment they allege they received. Ailes, who ultimately was fired as the head of Fox News, is played by John Lithgow.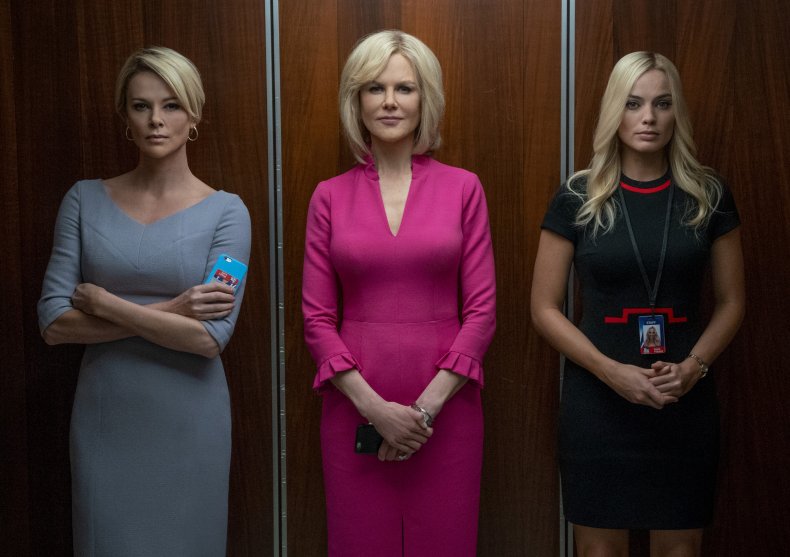 Lionsgate, who is distributing the film, is likely doing the screenings for SAG members in order to generate buzz for the film. Many of the SAG members attending the screenings are also voting members of the Academy of Motion Pictures Arts and Sciences.
The Oscar campaign would include nods for Best Picture, Director (for Jay Roach) and Screenplay (Charles Randolph). Additionally, Theron will certainly be in the running for Best Actress and Kidman and Robbie will likely go for Best Supporting Actress. Lithgow is also a strong contender for a Best Supporting Actor nomination. Considering that the major creative team behind the project (Roach, Randolph, Kidman, Theron, Robbie and Lithgow) have a total of three Oscar wins and nine nominations, it's a safe bet somebody is going to have a good night come the Academy Awards.
Even though much of the story revolves around Theron's Kelly, she doesn't think of Kelly as a hero in the film.
"I have no interest in playing heroes," Theron told Deadline. "I like playing someone who is complicated and flawed, who at the beginning might be oft-putting...Women don't always do the right thing."
Theron also admitted at the screening she was "sh*t scared" to play Kelly because she "didn't want to say yes to something that I didn't think I could actually pull off."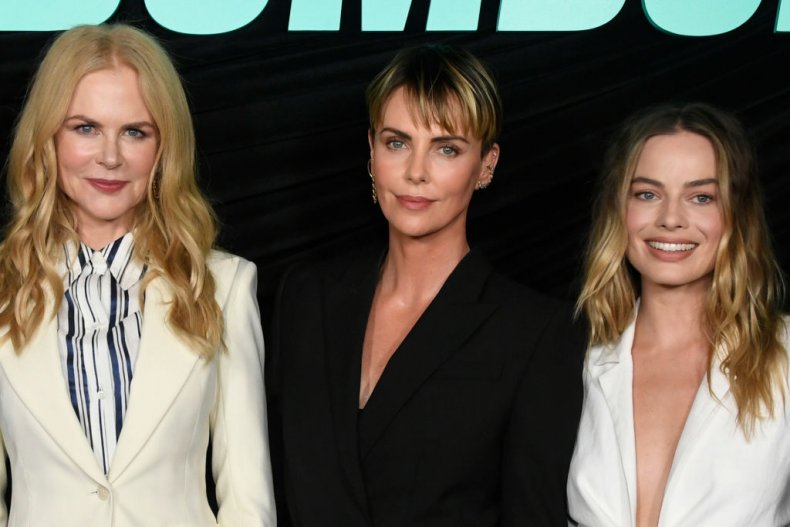 Deadline called Kidman's portrayal of Carlson "touching." Kidman told the outlet she decided to take the role because of advice she received from Meryl Streep on the set of the HBO series Big Little Lies.
"So I was sitting on the set and I asked Meryl Streep if I should do it and she said 'yes!'" Kidman said.
Reactions on Twitter from people at the screening universally praise the three star's performances.
Randolph summed up at the screening what will hopefully be the ultimate takeaway from the film.
"No woman, no matter what you think of her politics, deserved to be harassed," he told Deadline.
Bombshell is scheduled to be released on December 20.