Fox News' Shepard Smith Shreds Trump Over False Claims About Border Wall, Puerto Rico: 'There's No New Wall... Not True'
Fox News anchor Shepard Smith on Wednesday called out Donald Trump's false claims about the southern U.S.-Mexico border wall and Puerto Rico after the president lashed out at the network.
During a segment on Shepard Smith Reporting on Wednesday afternoon, the Fox News host fact-checked Trump's recent claims about Puerto Rico. "President Trump is calling the island one of the most corrupt places on earth. He added [on Twitter] that 'by the way, I'm the best thing that's ever happened to Puerto Rico.' Those are opinions as opposed to facts," he said.
Smith went on to declare that Trump also "repeated his false claims" about the $92 billion aid that Puerto Rico has received, citing a tweet the president posted yesterday.
"That is decidedly not true," Smith said in response. "We checked with sources including the Federal Emergency Management Agency, or FEMA. The latest numbers show that as of the end of June, the federal government has allocated $42.7 billion for Puerto Rico... About $21 billion is binding. In other words, Congress has to pay it. Of that, Puerto Rico has received less than $14 billion. So $14 billion or less. Not $92 billion."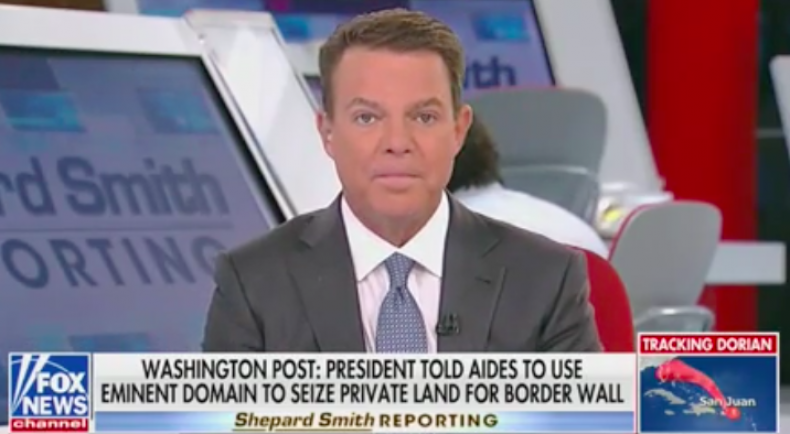 Later in the segment, Smith took aim at Trump's latest claims about the border wall. Earlier today, the president tweeted a video of the southwest border and claimed that the border wall he promised his supporters during the 2016 presidential election is "going up very fast despite total Obstruction by Democrats in Congress, and elsewhere!"
In response, Smith debunked the president's claims and clarified that "there's no new wall."
"Existing barriers have been replaced. Same span. The total of repaired barrier is about 60 miles along that 2,000 mile border," the host said. "The president also said in the tweet that the wall is going up rapidly. It is not. As we just reported, there's no new wall. Only replacement for walls which were in need of repair or upgrade. Those are the facts."
He added: "The president made border security a mainstay of his message dating back to the campaign with 'build that wall and Mexico will pay for it,' though that last promise is long gone."
The segment came hours after Trump attacked his favorite network, Fox News, for "heavily promoting the Democrats." "Just watched @FoxNews heavily promoting the Democrats through their DNC Communications Director, spewing out whatever she wanted with zero pushback by anchor, @SandraSmithFox," the president tweeted. "Terrible considering that Fox couldn't even land a debate, the Dems give them NOTHING!"
Trump goes on to call the network "HOPELESS & CLUELESS!"