'Fox News Should Fire Tucker Carlson Immediately' for 'Perverted' Comments on Young Girls, Women's Group Demands
A national women's advocacy group on Monday called on Fox News to fire host Tucker Carlson "immediately" for what it called "perverted" and "horrifying" comments he made on a radio show about a decade ago.
Carlson compared women to dogs and called them "primitive," among other remarks he called in to the popular radio show Bubba the Love Sponge, which aired from 2006 to 2011. The progressive press watchdog Media Matters for America published some of the recordings of Carlson on Sunday.
"Tucker Carlson is a dangerous misogynist. Carlson's defense of domestic abusers and child rapists, and his perverted comments about young girls, are nothing short of horrifying. Unfortunately, they're also not surprising," stated Shaunna Thomas, cofounder of the women's group UltraViolet. "This report shows exactly who he is and has always been. Fox News should fire Tucker Carlson immediately."
UltraViolet argued that Carlson's comments showed extreme sexism and that he defended domestic abusers and child rapists.
In a 2007 recording, Carlson said of women: "They're extremely primitive, they're basic, they're not that hard to understand. And one of the things they hate more than anything is weakness in a man."
In a 2009 recording, Carlson downplayed the crimes of Warren Jeffs, a convicted child sex offender who was accused of arranging marriages between adult men and underage girls.
"I am not defending underage marriage at all," Carlson was recorded saying. "I just don't think it's the same thing exactly as pulling a child from a bus stop and sexually assaulting that child."
When the radio hosts challenged Carlson, responded: "Hold on a second. The rapist, in this case, has made a lifelong commitment to live and take care of the person, so it is a little different. I mean, let's be honest about it."
UltraViolet on Monday retweeted a post by lawyer Jill Filipovic, author of the book The H-Spot: The Feminist Pursuit of Happiness, that "adults do not 'have sex with' children. A more accurate term is 'rape.'"
The women's group also retweeted Media Matters for America president Angelo Carusone's tweet at Carlson, which stated that "the reason we released this is precisely because the things you say on your Fox News show echo the misogyny displayed in those clips."
A Fox News spokesperson did not immediately respond to a request for comment from Newsweek on Monday.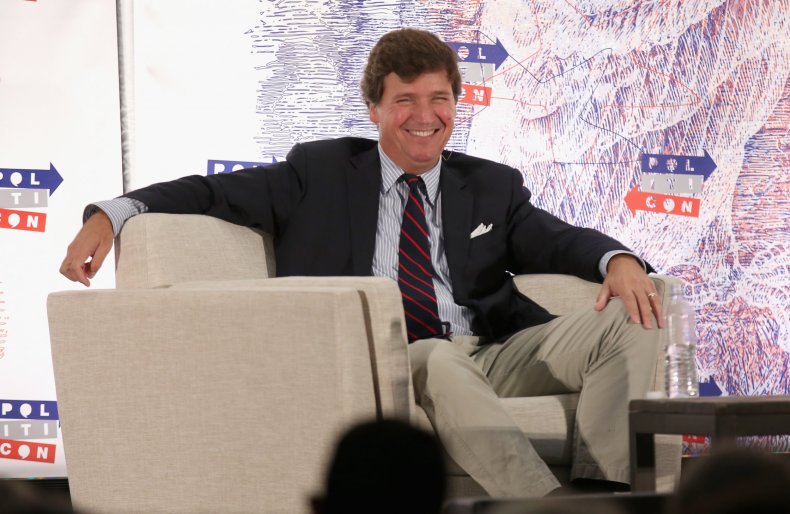 In a statement he tweeted Sunday night, Carlson did not apologize.
"Media Matters caught me saying something naughty on a radio show more than a decade ago," Carlson stated. "Rather than express the usual ritual contrition, how about this: I'm on television every weeknight live for an hour. If you want to know what I think, you can watch. Anyone who disagrees with my views is welcome to come on and explain why."