Fox News Show Descends Into Chaos As Pirro and Williams Battle Over Impeachment: 'I'm a Judge! Do Not Go There!'
Fox News hosts Jeanine Pirro and Juan Williams this week engaged in a shouting match live on air during a discussion about the Democrat-led impeachment proceedings against President Donald Trump.
After House Speaker Nancy Pelosi over the weekend suggested that Trump should testify in Congress as part of the impeachment proceedings, Trump on Monday tweeted that he'd "strongly consider" it. If the president agrees, he will make history as the first in America to ever testify for their own impeachment inquiry.
Pirro appeared on Fox News' The Five on Monday to discuss a wide range of issues covered in the media, including Joe Biden's recent remarks about marijuana, former President Barack Obama weighing in on progressives and the revelations surrounding Jeffrey Epstein's death. As the co-hosts discussed the ongoing impeachment inquiry into Trump, an argument between Pirro quickly descended into chaos.
"They're nuts, they're bonkers and you know what, we outta stop giving them press on this stuff because nobody cares anymore," Pirro said in reference to Democrats in Congress. "It's a bunch of hogwash, it's a bunch of telephone, it's a bunch of rumors, hearsay, get over it."
"I still think it's important to cover it so you can can them out on either side," co-host Dana Perino said, before the group asked Williams to comment.
"I get the impression that what the right is saying here is, 'Don't watch, don't pay attention to impeachment. You'd be smart to go watch whatever,'" Williams said. "But here's what the reality is. In the ABC poll this weekend, 70 percent of Americans think that the president requesting that a foreign leader get dirt on his political rival is wrong.'"
He continued, "51 percent. A majority of American people, slight but still a majority, say not only that they want to impeach Trump, but remove him. And get this, 21 percent in this ABC poll say they're not paying that much attention. So, that should please my table, my colleagues, but you know what? [Of the] people that were paying attention the first week, 66 percent, two-thirds, said impeach and remove."
Last week, three officials testified before Congress in the first round of public impeachment hearings since Pelosi formally announced the proceedings in late September. Top U.S. Ukraine diplomat Bill Taylor and State Department official George Kent appeared on Wednesday, and ex-U.S. Ambassador to Ukraine Marie Yovanovitch testified on Friday. The hearings saw the witnesses reinforce and bring to light new evidence that corroborate allegations of a quid pro quo made by Trump in pressing his Ukrainian counterpart Volodymyr Zelenskiy to probe the family of former Vice President Joe Biden, who's also currently the 2020 Democratic frontrunner in most recent polls.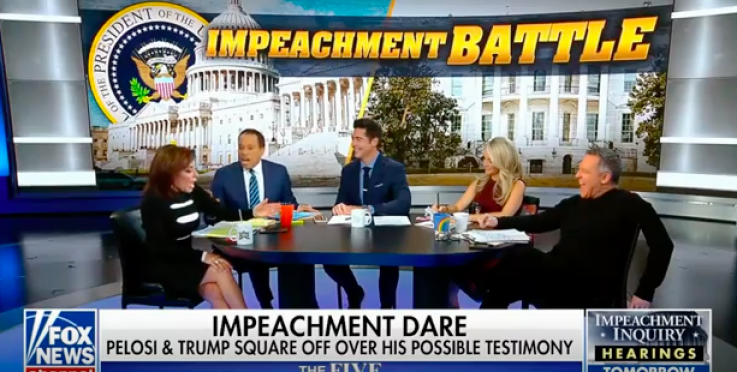 "You know what they're doing? They're doing something so they don't have to pay for," Pirro interrupted. "They don't have to buy a political ad. They're trashing [Trump] every day."
"Oh stop," Williams said.
"Don't tell me to stop! I'm a judge," Pirro fired back, raising her voice.
"Because it's weak! For a judge, you should know better," Williams responded loudly, as Pirro continued to shout over him: "I know a lot more!"
"You don't even understand!" Williams interjected.
"Do not go there! Do not go there!" Pirro warned.
"You don't understand. This is not a legal proceeding. This is impeachment," Williams said.
"You know what," Pirro responded. "This is Congress of the United States of America, they don't even know what they're accusing him of. They don't know what the hell they're accusing him of."
Co-host Jesse Watters eventually broke up the argument, which prompted laughter from the other co-hosts. "Let me just jump in, I'm going to jump in for one thing, you mention these polls and we have polls that show like 70 percent of Democrats think Trump is a Russian agent. There are a lot of people brainwashed by the mainstream media," he claimed.
Fox News Show Descends Into Chaos As Pirro and Williams Battle Over Impeachment: 'I'm a Judge! Do Not Go There!' | Politics