'A Rape List, Kill List?': Fox News Hosts Stunned At Lack of 'Common Sense' Gun Laws
Fox News Senior Judicial Analyst and former Judge Andrew Napolitano was tasked with explaining how "common sense" gun laws couldn't prohibit people with "red flags" like rape and kill lists from buying a gun.
Napolitano appeared alongside Fox News anchor Martha MacCallum on Monday evening and with Fox & Friends host Ainsley Earhardt Tuesday morning to help explain how 2nd Amendment gun ownership rights could allow someone like Connor Betts, 24, to purchase weapons used in mass shootings similar to the attack that left nine people dead in Dayton, Ohio Sunday. Both MacCallum and Earhardt pressed Napolitano to explain how President Donald Trump's proposal for "red flag" laws to identify potential mass shooters buying firearms is not feasible.
A stunned Earhardt repeatedly asked how Betts having a "rape list" and a "kill list" according to those close to him, wouldn't prevent the sale of firearms to someone clearly suffering from mental health issues. Napolitano expressed doubt Trump even has any executive action abilities that can circumvent constitutionally protected gun ownership rights, as the president has claimed since the weekend mass shootings in El Paso, Texas and Dayton, Ohio.
"I mean, this is just common sense. We all knew someone in high school and you thought, 'gosh that could potentially be someone great but they're probably going to blow it,'" Earhardt said. "There are these people, I mean this guy, that's a red flag."
"Red flags are apparent only in hindsight. No one would have said that about this guy a week ago," Napolitano replied.
"Really? I mean if my kid had a rape list. If my kid had a rape list, I would A. get that kid a lot of help, a lot of prayer. And I would not want a gun in that child's hand. That's just common sense," Earhardt said.
"This is an adult, this is not a child," Napolitano pushed back.
"Judge, this kid, if he wrote a rape list when he was 18, I'm sure there's a lot of things he did at 19, 20 and 21 that were red flags, too, though," an incredulous Earhardt continued reiterating.
On Monday night, Napolitano told Fox News anchor Martha MacCallum why it's so "difficult" to use Trump's tactic of "red flags" in order to identify individuals who are potential shooter threats.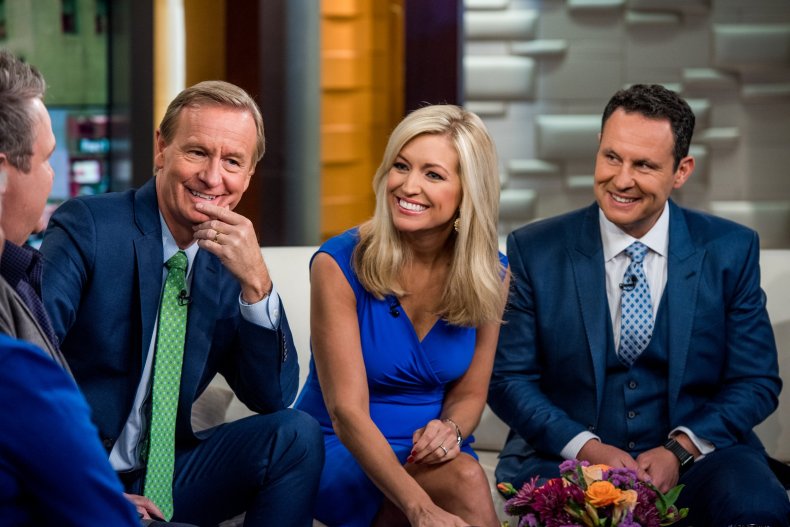 "It's difficult to keep people from getting guns, in my mind, this kid who was suspended from his school with a kill list and a rape list — why is it that when he goes to purchase a gun, his school record, at his young age, isn't relevant to the person who is going to sell it to him?"
"Because school records are not part of the database that the FBI accesses and authorities in Ohio access," Napolitano said.
"They should be, why can't they be?" MacCallum shot back.
"Well because laws have prohibited that and kept it private," Napolitano explained, going on to say the U.S. is not the "Soviet Union" of having the government attempt to predict potential future crimes.