Fox News Judge Says Roe v. Wade Was 'Most Abominable Decision' Since Denying Citizenship to African Americans
Fox & Friends co-hosts and former Judge Andrew Napolitano defended a "radical-right" Supreme Court's legal ability to overturn Roe v. Wade, labeling it the "most abominable" decision since Dred Scott v. Sandford.
The Thursday morning Fox News crew ridiculed a recent opinion article in The Washington Post along with Justice Ruth Bader Ginsburg's comments criticizing the politicization of the Supreme Court. Napolitano and two of the Fox & Friends co-hosts defended the legal right of even a "radical-right" court to overturn Roe v. Wade because "elections have consequences" in a nation under the rule of law. Napolitano, who Trump recently claimed was sore about not being nominated to the court, said the 1973 abortion decision was as bad as the 1857 SCOTUS ruling that African-Americans are not U.S. citizens.
The Fox & Friends segment took on a Tuesday opinion piece entitled, "We need to prepare for a complete reversal of the role the Supreme Court plays in our lives," by contributing columnist Ronald A. Klain. The piece lamented Trump's appointment of conservatives Brett Kavanaugh and Neil Gorsuch and argued the court is likely to become even more right-wing in the coming years.
"The past decade has seen a conservative court slow further social progress, but the next decade could feature a radical-right court that would not only narrow past gains but also erect barriers to prevent progressive political action," Klain wrote.
Ainsley Earhardt suggested the purpose of The Washington Post piece was to undermine the rules under which the country's Founding Fathers set up the government. Napolitano blamed Ginsburg for inciting left-wing ire against the court's role and said the real concern is that Roe v. Wade will be overturned—a move he personally supports.
"You know The Washington Post article forgets to point out that elections have consequences and under the rule of law in the United States the president appoints the people to the Supreme Court and the Senate confirms them," Napolitano said Thursday.
"And obviously we would have had a different court if Hillary Clinton had been elected and the Democrats had controlled the Senate but that's not the case. Donald Trump has put two serious legal scholars who are in the traditionalist vein on the Supreme Court and that's the type of person he promised he'd put there," Napolitano said as applause broke out from the show's newly installed live studio audience.
"What this article really means is the author does not like the anticipated results that are going to be expected. Because Justice Ginsburg went on national television and said 'I don't like what the Supreme Court is doing, we're becoming too political.' Translation: expect a lot of 5-4 decisions in the next two Mondays with Justice Ginsburg dissenting."
Fox & Friends co-host Brian Kilmeade responded, "There's a fear that they're losing the court so they want to change things."
Napolitano replied, "What they really fear is that Roe v. Wade might go away—this is the most abominable decision since Dred Scott v. Sanford, which declared African-Americans were not persons."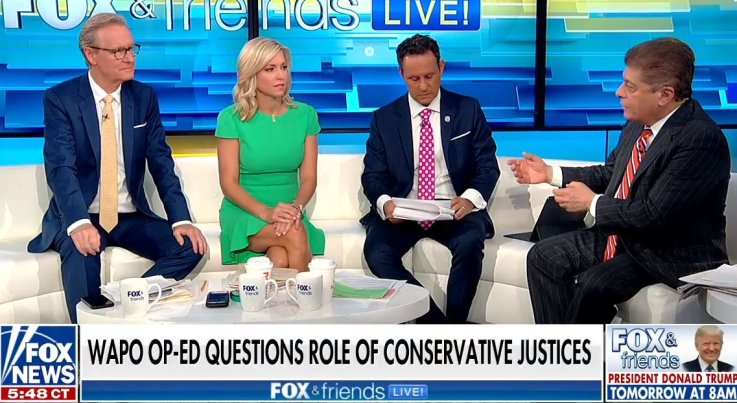 He added that even if the court does become a far-right bastion of Trump appointees, they will have every legal right to dismantle Roe v. Wade.
"And to Donald Trump's credit, he campaigned against the decision and in favor of putting justices there who would not be afraid to address it. That's really what this complaint is about," Napolitano added.
Earhardt chimed in, adding: "So many conservatives voted for Donald Trump because of the judicial system and what he would do, a lot of evangelicals thought that way."
Fox News Judge Says Roe v. Wade Was 'Most Abominable Decision' Since Denying Citizenship to African Americans | U.S.