Fox News Talks About Socialism More Than MSNBC and CNN Combined, Using the Term Over 1,600 Times Since April
As the 2020 election cycle ramps up, Fox News is talking about socialism much more than it's liberal-leaning cable competitors CNN and MSNBC.
Fox News has mentioned the words "socialism" and "socialist" approximately 1,643 times from April 1 to July 3, according to the global search database TVEyes. The statistics were first reported on Thursday by Mediaite.
The conservative network has mentioned the combination of those two words more than double the amount of CNN and MSNBC combined. CNN mentioned "socialism" or "socialist" only 297 times in the same two-month period, while MSNBC used the terms 499 times.
The Fox News coverage comes as President Donald Trump and the Republican Party repeatedly claim Democrats want socialism to rule the 2020 election. During his re-election kickoff in Florida last month, Trump asserted that his Democratic rivals want to "destroy you and they want to destroy our country as we know it."
"America will never be a socialist country," Trump said in his speech, prompting loud applause from the audience. "Republicans do not believe in socialism. We believe in freedom, and so do you."
Last week, Trump also claimed that there was a rumor that the Democratic Party was going to change its name to the "Socialist Party." The president did not elaborate or provide any explanation on his comment.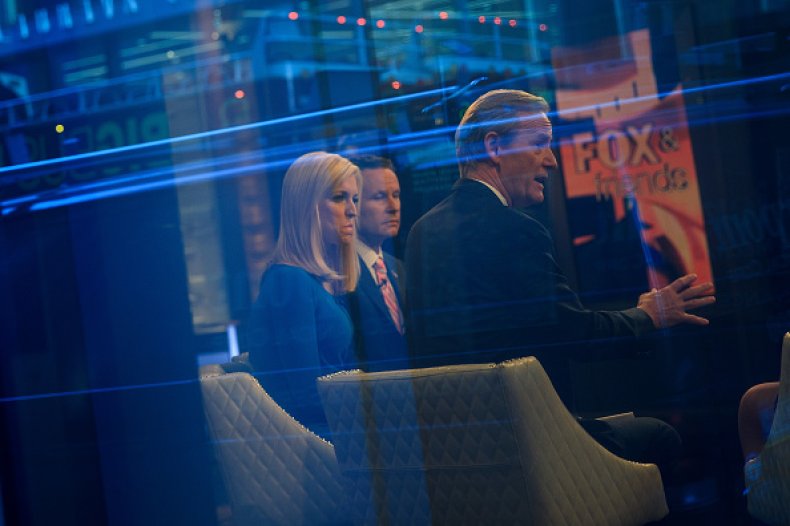 Democrats have slammed Trump for asserting that the party wants to abandon capitalism and become a socialist country. Only one of the 24 candidates running for president, Senator Bernie Sanders, identifies as a democratic socialist.
Sanders outlined his democratic socialist vision in a speech at George Washington University last month, during which he claimed President Trump loves socialism but only for the elite.
"While President Trump and his fellow oligarchs attack us for our support of democratic socialism, they don't really oppose all forms of socialism," Sanders said."They may hate democratic socialism because it benefits working people, but they absolutely love corporate socialism that enriches Trump and other billionaires."
Massachusetts Senator Elizabeth Warren, often compared to Sanders in terms of progressive ideology, said in an interview earlier this year that it's "wrong" to call her a socialist. Warren has championed policies like erasing student loan debt, universal childcare and an ultra-millionaire wealth tax throughout her 2020 campaign.
Though there has been some conflict between the Democratic candidates when it comes to socialism. Former Colorado Governor John Hickenlooper asserted during the first Democratic debate that socialism won't beat Trump in 2020.
"I think that the bottom line is if we don't clearly define that we are not socialists the Republicans are going to come at us every way they can and call us socialists," he said. Several Democrats disagreed with him.
But recent polling shows that American support for socialist policies is growing. A Harris poll conducted in June showed that 55 percent of women aged 18 to 54 would prefer to live in a socialist country instead of a capitalist country. However, the survey showed that the majority of men still preferred to live in a capitalist nation. Overall, 4 in 10 Americans say they would prefer living in a socialist country over a capitalist one.
Fox Nation host Tomi Lahren was shocked when presented with the poll, calling it " inherently un-American."
"Quite frankly, this boggles my mind," Lahren added.