Fox News Panel Threatens To Throw Co-Host Off Set For Criticizing Trump, Touting Michael Cohen Allegations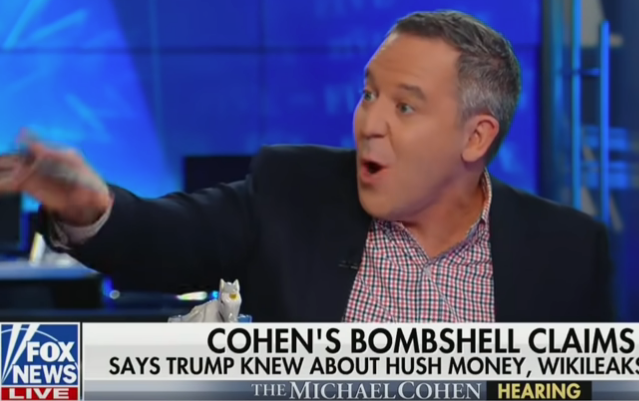 A Fox News discussion of Michael Cohen's testimony devolved into host Greg Gutfeld threatening to throw co-host Juan Williams off the set for criticizing the GOP's poor defense of the president.
The Five co-host Williams is frequently the lone dissenting voice against the show's pro-President Donald Trump panels. Wednesday's show became particularly tense after a red-faced Gutfeld demanded that Williams stop speaking negatively about the president and House Republicans or "I'm going to throw you off the set." The breakdown occurred after Williams accused Gutfeld and co-host Jesse Watters of being "deep in the bunker," which Gutfeld took as an Adolf Hitler reference.
The Wednesday Fox News discussion reflected the same bipartisan divide seen earlier in the day during the damning congressional testimony by Cohen. While Republicans and several of The Five hosts argued the entire testimony was not newsworthy or credible, House Democrats and Williams contended Cohen's allegations proved Trump's behavior is egregious and unacceptable.
"To me, what's going on with Republicans is I don't know what it's going to take for Republicans to finally stand up and say, ya know, 'this is unacceptable,'" Williams said. "This kind of behavior, if any other president was involved with this kind of activity people would be saying...".
"What kind of activity?" interjected an incredulous Watters, demanding Williams provide tangible allegations made against Trump. Watters would later defend Trump and Cohen's Stormy Daniels hush money payoff as a "personal expenditure."
"Oh my gosh, the payoffs while you're in office to a porn star?" Williams replied. "How about working with the Russians in terms of Wikileaks, how about the Trump sons..."
Gutfeld and Watters ganged up on Williams to categorically deny Trump ever conducted business with the Russians and continued labeling Cohen a misguided liar.
Earlier in the segment, Gutfeld screamed at Williams to "shut up" after he was accused of being "so deep in the [Trump] bunker." Gutfeld immediately became defensive, saying "I'm in nobody's bunker," before he could be heard grumbling about the "bunker" comment and clearly stewing on Williams' accusation.
Minutes later, Gutfeld couldn't hold back his anger after Williams again said he and Watters "are blind and so deep in the bunker."
"You know if you say that again I'm going to throw you off the set," a visibly irate Gutfeld said, scribbling on his notepad. "You know what the bunker means, what you're intimating is that who was in the bunker? Adolf Hitler, correct?"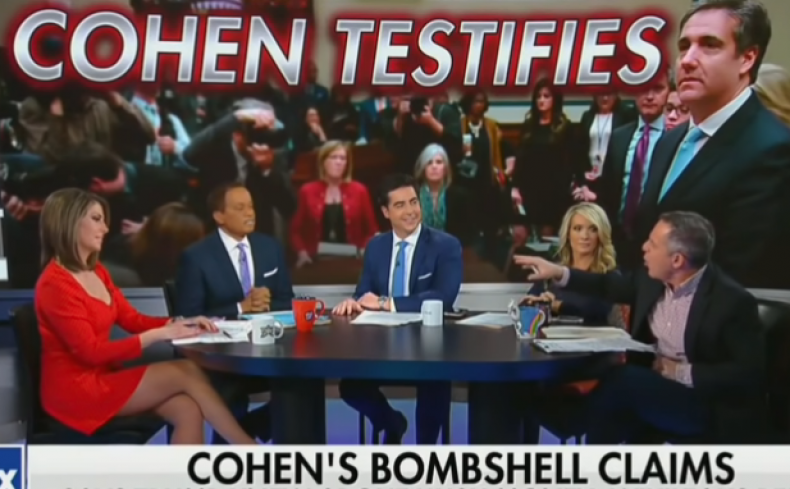 Williams immediately pushed back, saying Gutfeld was in such a "weak position" he was forced to play the victim against a so-called Nazi accusation. "You choose the worst intent of people's words," Gutfeld shouted at Williams. "What if I said that about you?"
Looking to play peacekeeper, Watters stepped in and proclaimed, "We're not going to talk about the bunker anymore."