Fox News Contributor Tomi Lahren Says Watching Migrants Get Hit With Tear Gas Was 'Highlight of My Thanksgiving Weekend'
Conservative pundit Tomi Lahren said Monday that the use of tear gas on immigrants who rushed the southern border was the "highlight" of her Thanksgiving holiday as the country "finally" defended its border.
Lahren made her comment on Twitter in a quote-tweet responding to actress Alyssa Milano's expletive-laden message to President Donald Trump after he said Mexico would be "smart" to hinder migrant caravans before they amassed at the countries' shared border.
"Bum-rushing the border is a CHOICE and has consequences. Watching the USA FINALLY defend our borders was the HIGHLIGHT of my Thanksgiving weekend," Lahren tweeted in response to Milano.
Lahren, a major proponent of Trump and his strict immigration policies, was praising the work of U.S. border agents on Sunday when they fired tear gas at migrants protesting at the border in Tijuana. Some of the protestors also reportedly tried to enter the country illegally, sparking the use of the tear gas, according to the Associated Press. Mexico's Interior Ministry said roughly 500 of the migrants attempted to "violently" cross the border.
The gas reportedly affected some women and children and led to outrage over the Trump administration's handling of the Central American migrants hoping to seek asylum in the U.S.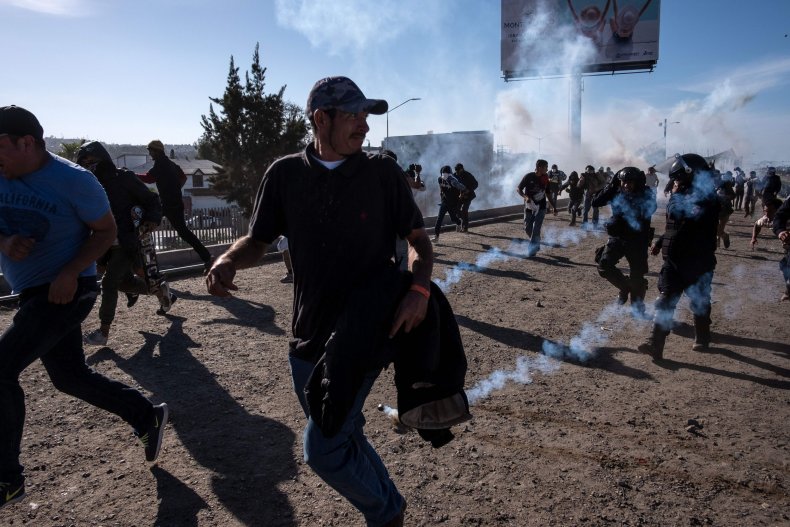 The Trump administration's treatment of migrant children has led to handwringing on both sides of the aisle. Earlier this year, Trump instituted a "zero-tolerance" policy that resulted in thousands of migrant children being taken from their parents and sent to centers around the country with some likely never to be reunited with their parents.
Last week, Lahren also railed against "Hollywood types" who she claimed wanted the border open for "illegals" even though they would not be affected by the influx of migrants.
"Notice these bleeding heart Hollywood types who want to open the flood gates for illegals will never actually feel the impact. It's the average people OUTSIDE of the fancy gated communities that have to deal with this crap," Lahren tweeted Tuesday.
In and around Tijuana, just south of San Diego, over 5,000 migrants have stationed themselves in the hopes of entering the U.S. to claim asylum. Trump issued a proclamation earlier this month to deny asylum claims to those who cross the border illegally, but the 9th Circuit Court of Appeals shot down the president and issued a temporary restraining order.
The president threatened Monday morning to "permanently" shut down the border unless Mexico found a way to send the migrants back. He also again called on Congress to fund a border wall.