Fox News Host Joked That 'Toxic Masculinity' Helps Keep America Free, Boasted About Size of His US Flag
Fox & Friends marked "National Anthem Day" Sunday by praising country music and joking that "toxic masculinity" in the U.S. military helps keep Americans safe.
The Sunday Fox News hosts touted the little-known commemorative holiday for "The Star Spangled Banner" by blaring "Everyday America" by the country music duo Sugarland and discussing a recent interview co-host Pete Hegseth conducted with the founder and "original bro" of the U.S. Navy's so-called "Topgun" fighter pilot school.
And instead of lauding Francis Scott Key's national anthem, Fox & Friends co-hosts Griff Jenkins, Rachel Campos-Duffy and Hegseth engaged in an odd conversation about the size of the flag and flag pole at Hegseth's home.
"Old Glory there, you've got to have one of them, get up the flag, the sun is coming up -- you have a flag at your house?" Jenkins asked Hegseth.
"Oh, I have a big flag at my house, commercial grade," Hegseth responded. "It's a huge flag pole I don't know if my neighbors like it, but it's really big and the flag is really big and you can't miss it."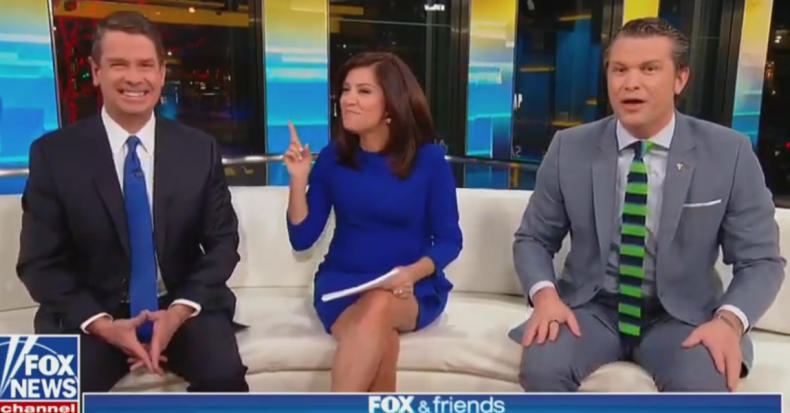 Hegseth then switched gears to discuss his recent interview with Captain Dan Pedersen, founder of the U.S. Navy Strike Fighter Tactics Instructor program and author of Topgun: An American Story, prompting the host to suggest "toxic masculinity" has helped America remain a free country.
"One thousand air craft carrier landings, they were getting shot down at too high of a rate in Vietnam so they founded the real Top Gun," said Hegseth of Pedersen and his book. "I mean a guy like that, the guys that founded it, a lot of 'toxic masculinity' in that group, I'm sure. They call themselves 'the original bros.' But they're the reason why our country lives free, why we love this country."
Rachel Campos-Diffy chimed in to say her favorite part of Hegseth's interview was when Patterson growled after being asked if he'd ever been to a Bernie Sanders rally.
On their Saturday show, the Fox & Friends hosts claimed "hypocrisy" is the "religion" of Sanders supporters. They compared "socialist" supporters of Sanders to the sons and daughters of Nicolas Maduro and Fidel Castro. "They preach egalitarianism ... but if you go on Facebook, Instagram ... they're the rich kids on yachts and so forth."