Fox News Trolled By El Salvador President-Elect Over '3 Mexican Countries' Chyron Blunder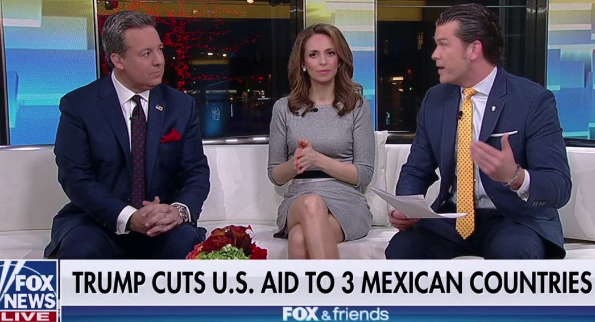 Fox & Friends was trolled by El Salvador president-elect Nayib Bukele this week over the show's mistake on Sunday where they applauded President Donald Trump's order to cut aid to Central American countries with "Trump Cuts U.S. Aid to 3 Mexican Countries" written in the chyron at the bottom of the screen.
"The Presidents of 2 mexican countries #FoxandFriends," Bukele tweeted on Monday, alongside an image of himself shaking hands with Mexican President Andrés Manuel López Obrador.
In a statement last week, the U.S. State Department announced they were cutting aid to the "Northern Triangle" Central American countries of El Salvador, Honduras and Guatemala. On Sunday, as Fox News co-hosts Ed Henry, Jedediah Bila and Pete Hegseth praised Trump for the "strong" decision to threaten a shutdown of the southern U.S.-Mexico border this week, their sentiments were undercut by the inaccurate chyron, which stayed on-screen for around 30 seconds.
Later in the show, Hegseth apologized for the mistake. "Now we want to clarify and correct something that happened earlier in the show," he said. "We had an inaccurate graphic on screen while talking about this very story. We just want to be clear; the funding is being cut off to the three Central American countries. We apologize for the error. It never should have happened."
The graphic below, provided by Statista, illustrates how much U.S. foreign aid is going to Guatemala, Honduras, and El Salvador.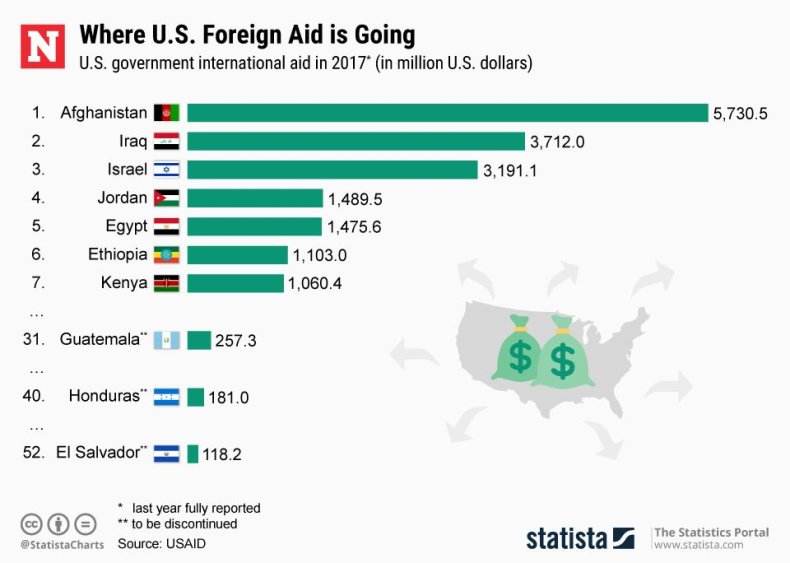 "The president doubling down on his crackdown on illegal immigration, making it clear yesterday he is going full-court press on Mexico and is threatening to shut down the southern border later this week," Henry said.
Hegseth chimed in: "That's right. He also announced yesterday and the State Department confirmed we will be cutting payments, aid payments, to El Salvador, Guatemala and Honduras over the fact those countries have been unable to contain the flood of migrants heading through Mexico to our southern border."
"This is a big move," Hegseth added. "This is one of the few punitive measures the executive branch has, still, to these countries to say, 'hey, get it under control we've been giving you aid for decades we want your societies to be better, we want your countries to be better,' because right now there is a huge magnetic pull to our southern border. We'll see if that leads to any changes in policy in those countries."