Trump 2020 Campaign Chief Says They Don't Need to Change Voters' Minds, Touts President's 'Control' Over Media
President Donald Trump's 2020 campaign manager proclaimed Tuesday they are not trying to change any voter's mind, adding that Trump's "control" of news media and massive fundraising has him "set for four more years."
Brad Parscale took on a wide range of issues on Fox News Tuesday, bragging about the $205 million of total campaign funds and appearing to claim Trump won't address rising student loan debts because "millions of Americans" don't want to lose college sports teams. Parscale touted an app the Trump 2020 campaign is set to roll out in hopes of connecting his base voters and he reiterated they are not seeking out new Trump voters, but instead focusing on the "hundred million plus" voters he already has in his camp.
Parscale said that while they are pursuing a large coalition of Latinos for Trump and Black Voices for Trump members, the campaign is particularly honed in on evangelicals and other deep red conservative voters.
He added there is zero concern about any Democratic 2020 candidate: Trump "could beat anybody."
"Overall, what we are trying to do is—there is hundreds of millions—not hundreds of millions, but a hundred million plus, tens of millions of people that will vote for President Trump. You know, only 70 percent or so of the population turns out to vote. We need to find those people, we need to get them to show up and get them to vote," Parscale told Fox News' Martha MacCallum Tuesday evening.
"It's not about trying to go out there and try to find some voter and change his mind," Parscale continued. "It's about getting the ones that support the president now and get them to show up to the polls and vote. And I think they are doing that right now by donating."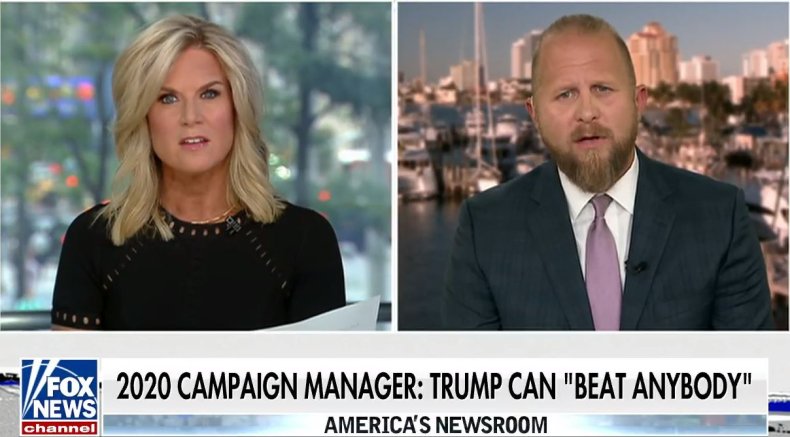 Parscale scoffed at major early fundraising hauls from candidates such as Bernie Sanders and Pete Buttigieg, instead pointing to $105 million raised and $100 million cash on hand the Trump campaign holds in its war chest. He also laughed off California Senator Kamala Harris' and Massachusetts Senator Elizabeth Warren's candidacies, saying he doesn't think either is tougher than Hillary Clinton was in 2016.
Parscale, who was Trump's 2016 digital media director for the campaign, touted the "power of his Twitter account" and even suggested the president holds "control" over the U.S. news media despite his ongoing "fake news" clashes with the country's largest news publications.
"This president's—the voice he has and the message he can control and the way he can control what's happening in the media, no one can touch this," he said.
The 2020 campaign manager touted Trump's typical talking points on drug prices and health care costs before being pressed by MacCallum on the campaign not having any discussion about skyrocketing student loan debt among more than 45 million Americans. He made a bizarre reference to Americans not wanting to lose college sports teams as a result of lowering the price of college.
"The administration is going to have to come out and talk about what we're going to do about, you know, rising college prices of this country," Parscale said. "And I think one of the things is to call out these universities for these rising costs. But, you know, I don't think millions of Americans would like to lose their sports teams and all the other things that might have to happen in the changes. I think they need to have a real discussion about what college means and what those prices are and make sure these universities charge a fair price."