Trump 2020 Press Secretary Says Economic Data Less Important Than 'How The Average American Feels'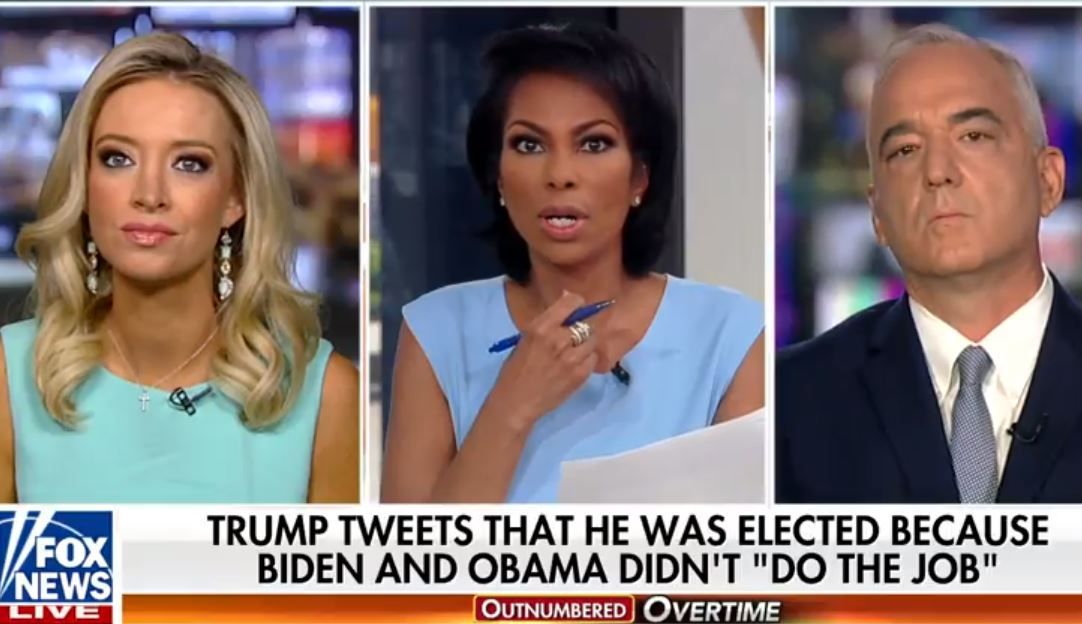 President Donald Trump's 2020 press secretary and a former strategist for Barack Obama squared off on Fox News Monday over a potential matchup between Trump and Joe Biden. When presented with some recent poor economic data, Trump campaign aide Kayleigh McEnany said numbers matter less than how "average Americans feel."
McEnany and 2008 Obama campaign rally organizer, Roger Fisk, appeared on Outnumbered Overtime With Harris Faulkner to discuss how President Trump and former Vice President Biden could use economic points to win the all-important rust belt state of Pennsylvania. Fisk pointed out several damning pieces of data from the Trump administration, including a 20-gigawatt reduction in coal production and last month's announcement that the president oversaw the single largest addition to the country's budget deficit in U.S. history.
McEnany focused on Trump bringing back manufacturing jobs lost under the Obama administration and blasted Biden's support of several international trade deals, although economists warn automation and global supply chains are likely to prevent manufacturing employment from ever fully coming back to America. She also wished "job-killing Joe" luck in attempting to sway blue-collar, middle-class voters from Pennsylvania to vote blue in 2020.
But the Outnumbered segment lived up to its name as Fisk was curtly asked to "pause" when he'd rattle off some of the Trump administration's less flattering economic numbers.
"There's a sleeper narrative out there about the Trump economy and one of them is about coal," Fisk said Monday. "This country's coal production went down by 15 gigawatts in the last two years of the Obama administration and it went down by 20 gigawatts in the first two years of the Trump administration. So coal has actually been taking a hit under this president and it will be interesting to see when this surfaces in this whole campaign conversation."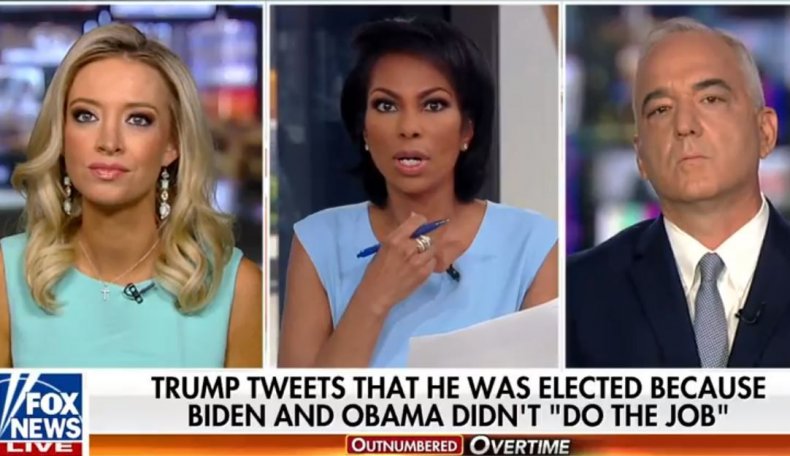 "Well it took a hit when Hillary Clinton was running because didn't she want to put those people out of business? But we'll move on," Fox News host Faulkner said, taking a non sequitur jab at one of the cable news network's favorite targets.
McEnany then responded to a tweet in which Trump complained about Biden receiving a firefighters union endorsement and his claim the only reason he was elected was because of Biden and Obama.
"[Biden] oversaw, voted for NAFTA; NAFTA killed a million jobs," she said. "He wanted TPP, that would have killed a half-million jobs. Guess what though? The middle-class, blue-collar workers had a savior come forward in the form of President Trump who tore up TPP, renegotiated a better NAFTA deal and brought back manufacturing, the numbers tell the story when you lose 211,000 manufacturing jobs under Biden's tenure and President Trump, in two short years, has brought back nearly half-a-million."
Fisk then pointed out that Trump is piling on debt in an unprecedented fashion and has had weak job growth in 2019. After revisions, the final job growth number for February was just 33,000, although there was a bounce back in March, with 196,000 positions added last month.
"I agree with Kayleigh that the numbers don't lie but there's a couple numbers that these folks don't want to talk about," Fisk said. "Last month, the month of March, was the largest single addition to our budget deficit in the history of this country, $234 billion, and in the month of February, the Trump economy created 20,000 jobs, which is pathetic by any measurement."
"Okay, I'm going to hit pause there and let Kayleigh respond, and then we've got to move on," Faulkner said, causing Fisk to begin laughing at the abrupt pivot.
McEnany then argued that such data is irrelevant in the face of a lone March CNN poll showing 71 percent of Americans think the economy is in "good shape."
She noted Trump's success is about how "the average American feels," rather than any tangible economic numbers. However, the same poll only showed that a slight majority, 51 percent, approved of Trump's handling of the economy.
"The president's budget puts us on the path to fiscal sustainability in the next decade, but I'll tell you this, the numbers are truthful and the one number that matters, we can go back and forth, tit-for-tat, is the fact that 71 percent of Americans say this economy is in good shape," she said.
"You can talk all you want about numbers, but you can't change the way, how, the average American feels. And they feel the Trump presidency is working," she said.
On Monday, Biden appeared in Pittsburgh for a rally to officially kick off his 2020 campaign. The Scranton, Pennsylvania-born Democrat has long championed himself as a fighter for blue-collar, middle-class Americans.