Fox News Corrects Trump's 2020 Campaign Press Secretary: Bad Internal Polls Are 'Old News Not Fake News'
President Donald Trump's 2020 campaign press secretary stumbled over her own words and logic on Monday's Fox & Friends as she attempted to describe unflattering internal polls as "fake news" before being corrected to "old news."
Kayleigh McEnany appeared on Fox & Friends Monday to follow-up the show's "exclusive" sneak-peak into Trump's official 2020 campaign kickoff the following day. Just minutes after bragging on-air "we have the best data in the business," McEnany was forced to walk back her "fake news" claim about recently leaked internal campaign polling data showing Trump losing badly in several key election states. McEnany also declined to comment on reports that a furious Trump fired several pollsters who gathered data showing the president losing even in reliably Republican states.
"You mentioned polling a moment ago," Fox & Friends co-host Steve Doocy said. "The story over the weekend was that the president is not doing very well in his internal polls. And, in fact, it sounds like, and you probably won't be able to confirm this, but it sounds like the campaign has fired a couple of polling companies because they leaked to some news outlets?"
"We're not confirming our personnel decisions, but what I can confirm is the ABC and NBC stories about leaked polling are more fake news," McEnany said adamantly. "Yes, those numbers were accurate, but they were from three months ago. They were pre-Mueller report."
"They were the worst case scenario and the most unfavorable turnout model. But can I tell you, Steve, right now the president is leading in all 17 swing states against a defined Democrat...so don't believe the stories you're reading," she continued.
Doocy then corrected her inaccurate claim. "So those leaked polls were accurate you are saying but they were from three months ago—so they weren't fake news, they were old news."
"They were old news and they were the most unfavorable turnout model," McEnany conceded. "We have to predict who's going to turn out. This was the most pro-Democratic turnout model you could see. So it's understandable that that polling would look that way. But when you look at the real polling, the most accurate polling, defined Democrats. The president is leading in all 17 swing states as he noted."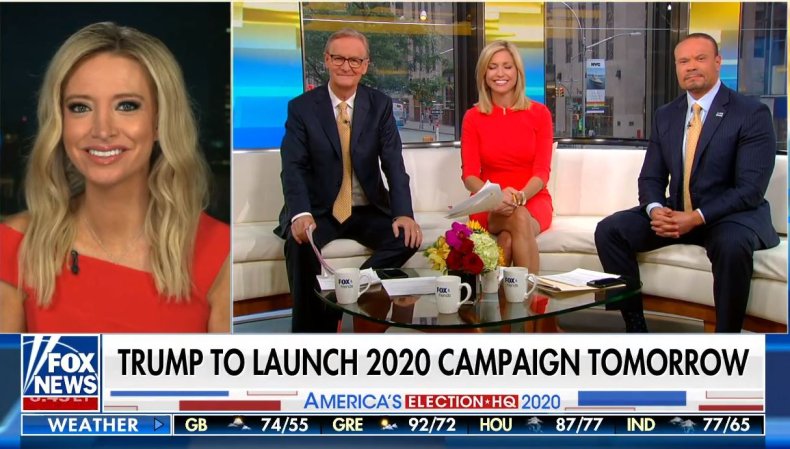 However, both Doocy and McEnany failed to mention his own network released polling data Sunday which confirmed the Trump campaign's own "fake"—or "old"—news, as McEnany described the numbers.
The president himself took to Twitter Monday morning to ridicule the same "fake polls" McEnany appeared on his favorite cable news network to defend. "Only Fake Polls show us behind the Motley Crew. We are looking really good, but it is far too early to be focused on that. Much work to do! MAKE AMERICA GREAT AGAIN!"
Frequent Fox News guest and Monday co-host Dan Bongino also took issue with the unflattering polling data about the president, citing New York Times reports revealing a lot of Americans don't feel like they got a tax cut—even if they did.
"Do we as Republicans need to do a better job out there of getting the message out that this economy is due to a change from the older, Obama liberal ways?"
McEnany complained that too many Americans "take the economy for granted" and should be thankful to Trump for bringing back manufacturing jobs and kick-starting long-stagnant wages.