On Fox News, Trump Says Most of the Media is the Enemy of the People, But Fox News Isn't
President Donald Trump argued on Tuesday that "much" of the U.S. media is the "enemy of the people," while saying that Fox News should not be categorized that way.
Trump made the remarks during a wide-ranging call-in interview to Fox News morning show Fox & Friends, a program that the president frequently talks to and praises via Twitter. The president routinely refers to negative reporting about him or his administration as "fake news" and also claims regularly that the media is "the enemy of the people." While Trump often appears on Fox News programming, he has also previously been highly critical of the network's polling as well as multiple commentators and journalists working for the media company.
"Much of it is absolutely the enemy of the people," Trump told Fox & Friends. "And they see it. And nobody said it like I say it, but I say it loud and clear. It's the enemy of the people, whether it's The New York Times, Washington Post, the networks," he said.
Fox & Friends host Steve Doocy then pointed out that he and his colleagues are part of the press as well. "Are we the enemy of the people?" Doocy asked.
"No, you're not," Trump responded. "About—I would say about 20 percent isn't—we don't have the enemy of the people all over, fortunately," the president said. "But we have tremendous disparity, you have tremendous unfairness in the press."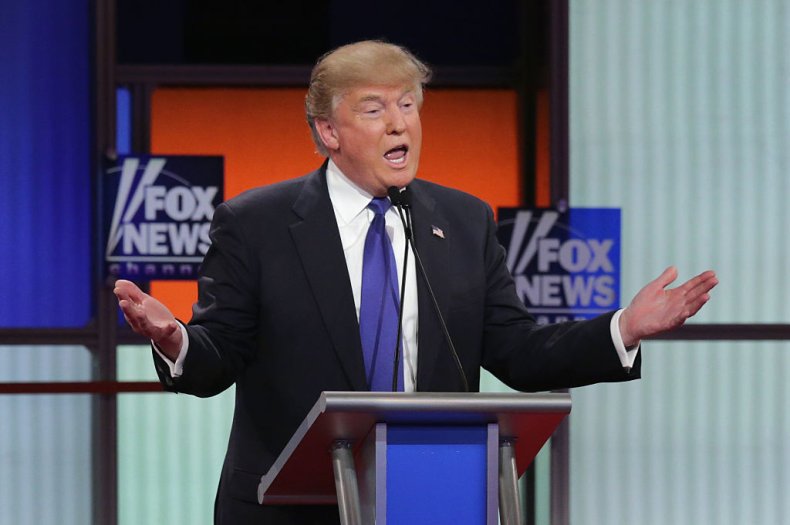 Newsweek reached out to the White House for comment, but it did not respond by the time of publication.
At the end of the meandering interview, Trump and Fox & Friends co-host Brian Kilmeade suggested that Fox News and the president have an agreement to hold a weekly interview with the show on Mondays. But Doocy pushed back on that.
"You may want to do it every week but Fox is not committed to that. We're going to take it on a case by case basis," Doocy said. "And [Democratic presidential nominee] Joe Biden as well is always welcome to join us for 47 minutes, like we just did with the president." Notably, Kilmeade's facial expression suggested he was surprised or confused by Doocy's remark.
Although Trump generally labels CNN, MSNBC, The New York Times and The Washington Post as "fake news" and "the enemy of the people," particularly after they publish or report on news that reflects negatively on him or his administration, he has also attacked Fox News repeatedly. Most recently, Trump said that Fox News journalist Jennifer Griffin should be fired after her reporting confirmed some of the details in a controversial report by The Atlantic citing anonymous sources who said the president called veterans "losers" and "suckers."
"All refuted by many witnesses. Jennifer Griffin should be fired for this kind of reporting. Never even called us for comment. @FoxNews is gone!" Trump tweeted on September 4.
In May, Trump criticized Fox News for not helping him and other Republicans get reelected.
"Many will disagree, but @FoxNews is doing nothing to help Republicans, and me, get re-elected on November 3rd," the president tweeted. "Sure, there are some truly GREAT people on Fox, but you also have some real 'garbage' littered all over the network, people like Dummy Juan Williams, Schumerite Chris...Hahn, Richard Goodstein, Donna Brazile, Niel Cavuto, and many others."