Fox News Hosts Defend Trump's 'War on Thanksgiving' Claim: 'We're Expressing Gratitude'
Hosts on Fox News' Fox & Friends on Wednesday morning defended President Donald Trump's claim there is a "War on Thanksgiving" with comments including, "we're expressing gratitude."
During his campaign rally in Sunrise, Florida on Tuesday night, Trump claimed that people want to change the name of Thanksgiving. Trump's claim came after Fox News aired segments discussing a "war on Thanksgiving."
The show aired a clip of Trump saying, "as we gather together for Thanksgiving, you know some people want to change the name Thanksgiving, they don't want to use the term Thanksgiving and that was true also with Christmas but now everybody's using Christmas again."
Trump continued: "Now we're going to have to do a little work on Thanksgiving. People have different ideas why it shouldn't be called Thanksgiving, but everybody in this room I know loves the name Thanksgiving and wouldn't change it."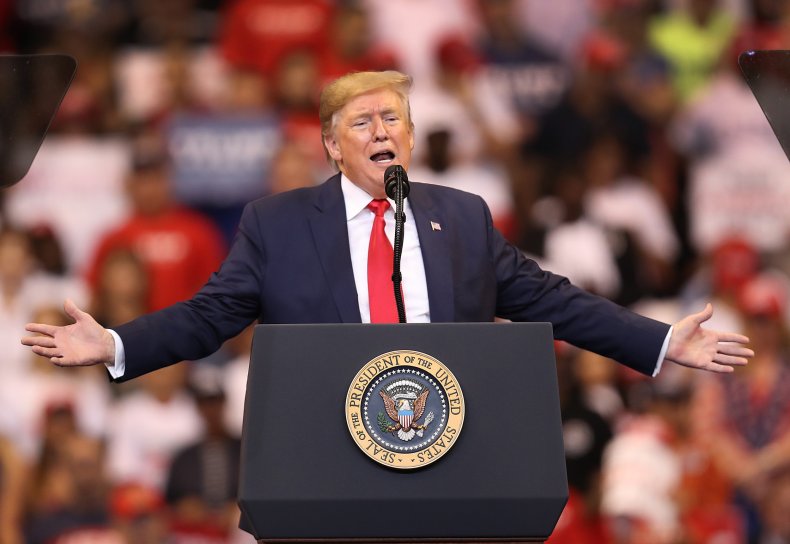 Co-host Brian Kilmeade said, "I don't think there's a huge push to change the name of Thanksgiving, is there?"
His co-host Steve Doocy then said he believes there was a rumor in 2015 that then-President Barack Obama wanted to change the name of Thanksgiving, "but that was debunked."
"So perhaps what he's talking about is all these stories about your carbon footprint," Doocy said, referring to Trump, "And the amount of energy you use to travel over the river and through the woods to grandma's house, you know when you could Skype her and not even show up at all. Just FaceTime."
Fox News contributor Emily Compagno then added to the defense of Trump.
"That's maintaining the tradition, right? And I think the issue that a lot of people have with potentially changing that name is that in that name, we're expressing gratitude," Compagno said. "And whatever historical connotations we can acknowledge, it still doesn't take away from a fact that this is a day that we are to give thanks and gratitude for our loved ones and for the blessings that we have."
Fox News host began airing segments on the "war on Thanksgiving" earlier this month when Huffington Post reported on how to have a Thanksgiving that is more environmentally friendly, such as not traveling by airplane and not eating turkey.
On November 6, Fox News' The Five had the chyron "War on Thanksgiving" as the hosts expressed disagreement over the Huffington Post story.