Fox News' Tucker Carlson Blames Immigrants For Making Homelessness Worse in Los Angeles, Says They Priced People Out of Housing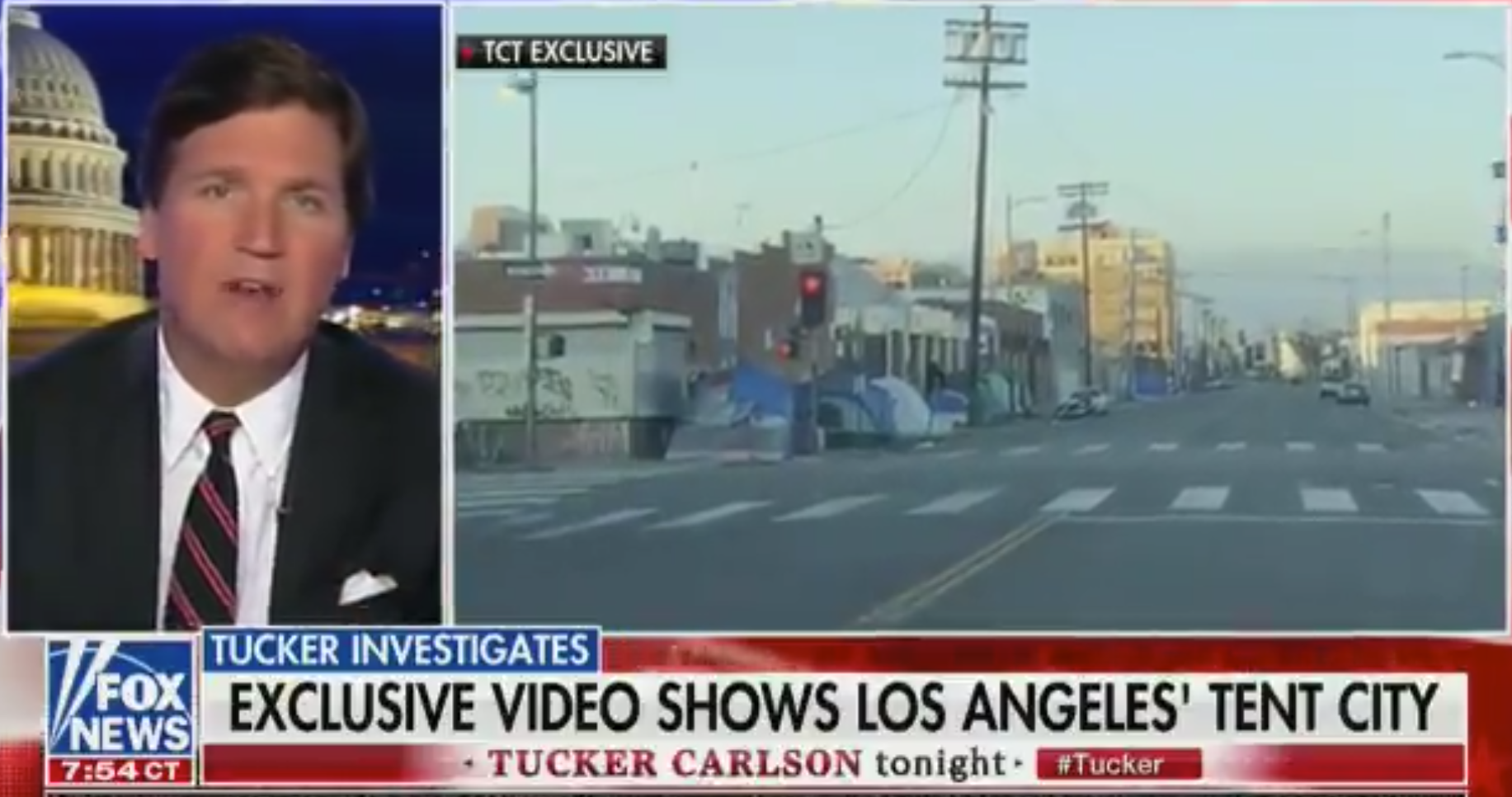 Fox News host Tucker Carlson on Monday blamed immigrants and "new arrivals" for perpetuating homelessness in Los Angeles, claiming their existence in the city has helped price residents out of housing.
During a segment on Tucker Carlson Live, the show's host condemned California's Democratic governor Gavin Newsom for failing to adequately address poverty in the state and partially blamed the rising housing prices on "a flow of new arrivals."
Los Angeles is "supposedly one of the richest cities in the world and in some ways it is but the video you're watching shows something else," Carlson said, as the network aired footage of homeless camps in the area shot by one of the show's producers last week. "California's poor, meandering, trash-filled streets right in the middle of the city, block after block. Homelessness encampments on the sidewalks blanketing downtown LA."
"This is how the poor spent Easter Sunday in California," the host continued. "They weren't clustered along a single road either, it wasn't just like skid row, it was like many skid rows. We drove down three completely different blocks and the encampments just continued. It's America's second-largest city."
Carlson noted that the homeless encampments were situated just a few blocks away from Little Tokyo, one of LA's biggest tourist destinations, where apartments are leased for as much as $3,500 per month. The segment then goes on to link immigration to these expensive housing prices.
"You might be wondering, with so many people priced out of local housing — people are literally living in RVs, miles of RVs parked along the streets, and as you're watching here, in tents — why wouldn't local leaders want to stop the flow of new arrivals to get prices under control and opening up new housing," Carlson said. "They're doing the opposite."
The host then condemned politicians in the Democratic state for saying "people want no limits on people moving here" when the state "can't even house the people who already live here."
"LA's a sanctuary city in a sanctuary state," he continued. "Every politician there with any ambition will denounce our border as an atrocity and immigration enforcement as an abomination."
Carlson added: "The poor in California are an afterthought, one of the reasons why they're multiplying. That's why when California governor Gavin Newsom decided to fight poverty last week, he flew to another country to do it: El Salvador."
Lack of affordable housing is the most prevalent cause of homelessness among families and individuals in Los Angeles, a country considered to be the least affordable rental market in the country, according to LA Family Housing. However, the group, whose stated purpose is to "help people transition out of homelessness and poverty through a continuum of housing enriched with supportive services," does not believe that the solution lies in stricter immigration policies. They advocate for investing in "permanent supportive housing."
"By reducing the use of crisis services frequently used by people experiencing homelessness — services like emergency rooms, hospitals, jails, prisons, psychiatric centers, detox programs — there is significant public cost savings," LA Family Housing states on their website. "In fact, recent studies show that permanent supportive housing not only pays for itself but actually results in net public savings."
In recent years, Carlson's weeknight show has repeatedly focused on stories about immigrants. Starting last December, numerous rounds of advertising boycotts have been launched by various groups and citizens to hold Carlson accountable for repeated comments some have deemed inflammatory, racist and homophobic.
These boycotts have lost the show a large bulk of its advertisers, with at least 34 pulling out of Tucker Carlson Live in recent months over the controversial comments Carlson has made.