Fox News Host Tucker Carlson Says Bolton Wanted 'Pointless Wars' That Would Kill 'Large Number of Young People'
Fox News host Tucker Carlson cheered the ouster of National Security Advisor John Bolton from President Donald Trump's administration Tuesday, saying that the notorious hawk wanted to launch "pointless wars" that would have left a "large number of young people" dead.
"It is great news for America. Especially for the large number of young people who would have been killed in pointless wars if Bolton had stayed on the job," the right-wing host said during his evening show Tucker Carlson Tonight. He went on to argue that global investors "knew for certain that Bolton planned on launching another Middle Eastern conflict that would inevitably spike energy prices."
Carlson also claimed that "many progressives are mourning" Bolton's departure, arguing that the ex-national security advisor was "fundamentally a man of the left."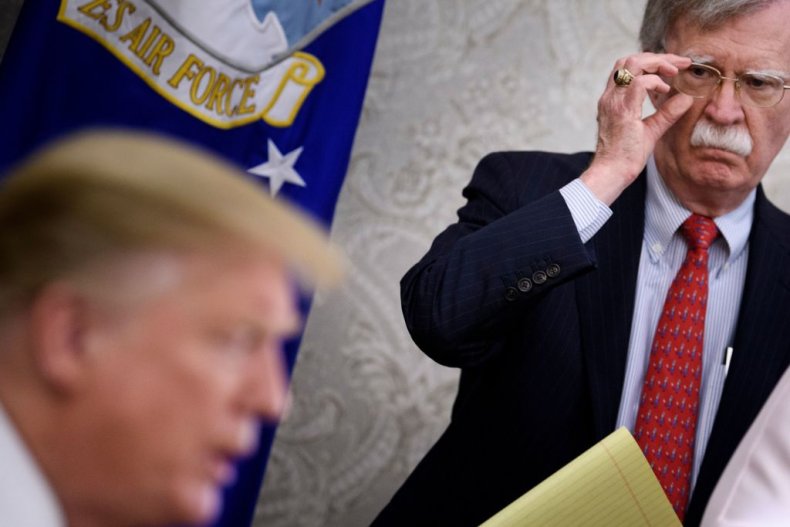 "There was not a human problem John Bolton wasn't totally convinced could be solved with the brute force of government," the conservative commentator said. "That's an assumption of the left, not the right. Don't let the mustache fool you."
President Donald Trump announced that he had fired Bolton via Twitter on Tuesday. But Bolton quickly disputed that claim, posting his own tweet saying that he had offered to resign on Monday and the president had told him they'd talk about it the next day.
"I offered to resign last night. He never asked for it, directly or indirectly," Bolton later told NBC News' White House correspondent Peter Alexander. "I slept on it, and resigned this morning."
While some on the political left did call-out the "revolving door" of the Trump administration, which has seen four different national security advisor in less than three years, most had long been critical of Bolton and his combattive approach to foreign policy.
"John Bolton was the wrong choice and the silver lining to this instability is that there will be fewer people whispering war chants in the president's ear," Democratic Senator Chris Murphy of Connecticut said in a statement.
Progressive Democratic Representative Ilhan Omar of Minnesota, who sits on the House Foreign Affairs Committee, shared similar sentiments on Twitter.
"John Bolton has been one of the leading proponents of making the world a more dangerous place," Omar, who had repeatedly criticized Bolton, wrote. "Good riddance," she added.
George Friedman, founder and chairman of Geopolitical Futures, told Newsweek via email that the departure of one administration figure does not directly impact whether or not the U.S. avoids or enters into conflicts.
"U.S. conflicts are not generated by the presence or absence of any one person. The focus on personalities is simplistic and vastly understates the complexity of the nation," Friedman explained.
When it comes to the Middle East, Friedman pointed out that the Trump administration's policy "is to reduce American combat forces in the Middle East while maintaining influence through economic and diplomatic means." He asserted that the policy "preceded Bolton and also succeeds him."
"Whether this policy will be successful is another question," Friedman added.