Fox News' Tucker Carlson Accuses Democrats of Double Standards on Masks
Fox News' host Tucker Carlson has accused Democrats of double standards following criticism of President Donald Trump for removing his mask on his return to the White House this week.
During his prime time show on Tuesday, Carlson said Speaker of the House Nancy Pelosi "judges" those who do not wear a mask, while the show also broadcast a clip of a man confronting Democratic Congresswoman Maxine Waters for not wearing a mask.
The quote
Carlson began by talking about CNN anchor Chris Cuomo, who recently criticized Trump for taking off his mask for a photo opportunity. The host showed photographs which appeared to show Cuomo holding a cigar and not wearing a mask. The pictures were reportedly taken over the weekend on Long Island.
"Chris Cuomo calls us immoral for doubting the rules," Carlson said. "Then, in private, he whips off his mask the second he can."
"Again, we don't judge Chris Cuomo, Chris Cuomo judges us. And that's the point. Nancy Pelosi judges us, too. Watch Pelosi tell you that you've got no choice but to wear a mask at all times," he said, before showing a clip in which Pelosi tells members and staff that they are required to wear masks.
Carlson mockingly suggested that if someone dies because they didn't wear a mask, they are a bad person who won't be mourned. He then segued into a discussion of Waters.
"So it goes without saying that Maxine Waters takes mask seriously," he said. "Right. Of course she doesn't. And today we proved it.
"We talked to a man called Jason Giandomenico. He told us he saw Maxine Waters recently, and guess what she wasn't wearing? I think you know the answer: she wasn't wearing a mask. So he confronted her. It's all on video."
The show featured a brief clip of the video, and host Carlson said: "We're not thinking through the message behind all of this or its consequences.
"Democrats are framing total and unthinking obedience to their policies, which are haphazard, irrational and not rooted in science—they're framing obedience to these things as a matter of morality."
Why it matters
Trump has received strong criticism for not wearing a mask before and after he tested positive for coronavirus.
Asked about the president's diagnosis last week, Pelosi suggested that "going into crowds, unmasked and all the rest was sort of a brazen invitation for something like this to happen."
Pelosi has previously called for the Centers for Disease Control (CDC) to mandate mask-wearing across the nation.
"The president should be an example," she said on June 28, months before Trump's diagnosis. "Real men wear masks, be an example to the country, wear a mask. It's not about protecting yourself, it's about protecting others."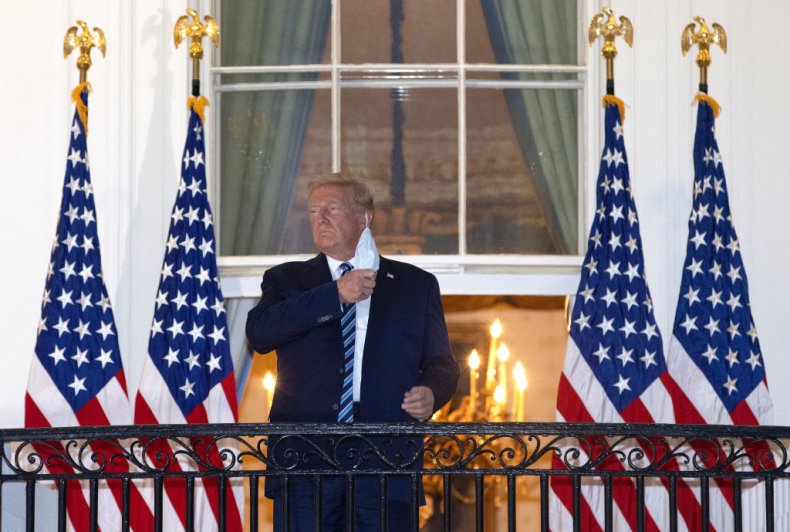 Meanwhile, CNN anchor Cuomo mocked the president's unmasked appearance at the top of the stairs of the White House South Portico on Monday.
"There he is, hair blown majestically. Reshooting the scene for his own ad," Cuomo said, adding: "What a bunch of bullsh*t."
"He didn't just walk in the White House one time with no mask tonight. He had his video crew capture that stupid scene again so he could put out propaganda."
Context
Mask-wearing is considered a key component in tackling the spread of COVID-19.
Dr. Anthony Fauci, director of National Institute of Allergy and Infectious Diseases, told ABC News on August 10 that "there should be universal wearing of masks."
However, some Republican lawmakers have refused to wear face coverings on Capitol Hill. Pelosi also faced criticism for not wearing a mask, in violation of local rules, on a visit to a San Francisco salon in September. She later said it was a set up.
Maxine Waters' office and Chris Cuomo have been contacted for comment on this article.