Fox News host Tucker Carlson and a guest called NBCUniversal hypocritical for its news coverage of President Donald Trump's alleged involvement in hush payoffs to two women who said they had affairs with him.
Carlson and the guest, Joe Concha, a reporter for The Hill, also said Fox News handled its sexual misconduct allegations better than NBC.
"NBC, Tucker, has had its problems, clearly. We all know about Matt Lauer," Concha said. "This is the same network that spiked the Harvey Weinstein story that Ronan Farrow only took to another publication and won a Pulitzer for."
"I've been in this most of my life. I know all the people involved. They're the last group that should be judging other people's sex lives." Carlson responded. "This is literally the last group in America that [should] be judging other people's sex life. Does anybody, on any of these sets on the other channel, say 'you know what, maybe it's just too hypocritical for us. Maybe we should pull back just a little bit?'"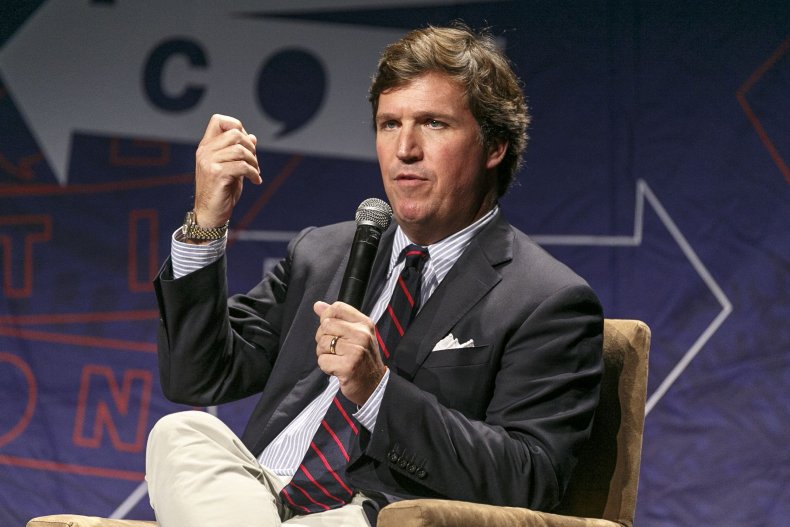 "Report it, but don't be so pious about it, right? So if you see CBS doing a report, clearly you have Les Moonves there. Look, Fox had its problems as well, clearly," Concha said. "The difference I see though between say NBC and Fox was Fox took it in an outside firm to do an investigation. Some of the most powerful people at that network, at your network, are no longer there. So that's I think the way it has to be done, that when these things happen, investigations in NBC's case, they did it themselves."
Fox News was widely criticized for widespread sexism. Former Fox & Friends Host Gretchen Carlson received $20 million in a 2017 settlement for a sexual harassment suit against the company's former CEO, Roger Ailes, Time reported. Former host Megyn Kelly said that Ailes, who resigned in July 2016, sexually harassed her. Former booker Laurie Luhn said she suffered "psychological torture" at the network due to Ailes' harassment. The CEO denied the claim.
Former host Bill O'Reilly and Fox News also settled at least six harassment complaints for tens of millions of dollars, according to The New York Times.
NBC has also struggled with sexual harassment claims.
The network received backlash for not running Ronan Farrow's reporting on Harvey Weinstein, which was later published by The New Yorker. Farrow worked for NBC while conducting his initial reporting on Weinstein.
Former Today show co-host Matt Lauer was fired last year for reportedly exposing himself. In 2012, one female staffer said she was physically sexually harassed by Lauer, according to The Washington Post. And former NBC correspondent Linda Vester told the Post that acclaimed anchor Tom Brokaw attempted to forcibly kiss her in the 1990s. Brokaw denied the claim.
Former Today co-host Ann Curry described a culture of pervasive "pervasive verbal sexual harassment at NBC." Curry, who anchored with Lauer, left the Today show in 2012.