Fox News' Tucker Carlson: 'You Don't Get on Television Unless You Say Extreme and Mindless Things'
Fox News host Tucker Carlson on Thursday condemned the impeachment inquiry into President Donald Trump that was announced by House Speaker Nancy Pelosi earlier this week and speculated that the whistleblower—who filed a formal complaint which led to the impeachment inquiry—undermined Trump because "he did not agree with the president's foreign policy views."
During his opening monologue on Thursday's Tucker Carlson Tonight, the host staunchly defended Trump after the whistleblower filed a formal complaint accusing the president of pressuring Ukrainian president, Volodymyr Zelensky, to investigate his 2020 rival former Vice President Joe Biden's son, Hunter Biden.
The whistleblower also alleged that the White House covered up a phone conversation made between Trump and Zelensky in July. A partial transcript of the call, released by the White House on Wednesday, proved that Trump did ask Ukraine for assistance in probing Biden's family.
"Today, the [CIA] and other intel agencies like it aren't simply policy-making arms of government, at times they clearly want to be the government itself," Carlson said. "They want to run everything."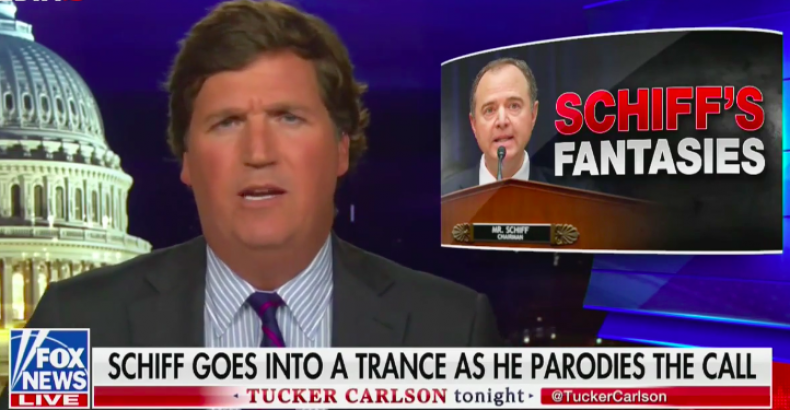 The New York Times faced public criticism today after they outed the whistleblower as a male CIA officer who had once been detailed to the White House. The Thursday report contains the most detailed description of the whistleblower to date. Although his name still remains unknown to the public. Carlson used the information to speculate that the whistleblower lodged the complaint with unscrupulous intentions.
"We learnt today that the official who filed the so-called whistleblower complaint against the president was a career CIA officer detailed to the White House," Carlson said. "The official did not agree with the president's foreign policy views so he felt entitled to veto those views and bring the U.S. government to a standstill. Which he did."
The complaint "tells us nothing we didn't know from the transcript of the phone call that was released," the host continued.
"Trump talked about a variety of issues with the president of Ukraine, including possible corruption involving Joe Biden and his son. Trump never mentioned military aid or any kind of quid pro quo," he said.
"You know, part of this is our fault, in the media we set up these just terrible incentives where you don't get on television unless you say extreme and mindless things," Carlson added. "What is surprising is how so many of these extreme and mindless statements come from people with long and distinguished careers, debasing themselves in order to be on television."
Carlson's remarks come less than a year after his show lost at least 35 advertisers—including bedding company Sheex and drugmaker AstraZeneca—due to statements he's made live on-air.
Critics of Fox News' Tucker Carlson Tonight, a show described by the network as an "hour of spirited debate and powerful reporting," have condemned the host on numerous occasions this year for focussing on threatening stories about immigrants and outrage over political correctness. The hashtag #FireTuckerCarlson began trending on Twitter in August after Carlson called America's growing concerns about the rise of white supremacy a "hoax."
In March, Fox News defended Carlson as the show experienced a drop in advertisers. "We cannot and will not allow voices like Tucker Carlson to be censored by agenda-driven intimidation efforts from the likes of Moveon.org, Media Matters and Sleeping Giants," the company said in a statement.