Fox News' Tucker Carslon on Mueller Testimony: 'Prosecutors Don't Exonerate Anyone Ever… Only God Exonerates'
After Robert Mueller's testimony in Congress on Wednesday, Fox News host Tucker Carlson accused Democrats of playing a "dishonest word game" by asking the former special counsel whether his investigation had exonerated President Donald Trump.
Carlson's opening monologue on Wednesday's Tucker Carlson Tonight opened with a rebuke of Mueller's appearance before the House Judicial and Intelligence committees. "Never meet your heroes, they'll only disappoint you. That's true by the way as Democrats across the country learned the hard way today. Former special counsel Robert Mueller testified on Capitol Hill this morning," the host said, the incident was "a long, sad spectacle."
The conservative host accused Mueller of not being familiar with his own investigation by airing a clip from the testimony that showed the former special counsel saying he was "not familiar" with Fusion GPS, a private strategic intelligence firm hired by a law company that worked for Hillary Clinton and the Democratic Party to investigate possible ties between Trump and Russia. Mueller repeatedly indicated during his testimony that Fusion GPS and the Russian dossier did not fall under the purview of his probe.
"Robert Mueller never should have testified before Congress today. He didn't want to come. He came because Democrats forced him," Carlson continued. "They knew his condition, they were happy to exploit him anyway, and they did."
He went on to condemn Democrats and the mainstream media for fixating on Mueller's statement confirming he did not exonerate the president. "Did you actually totally exonerate the president," House Judiciary Committee Chairman Jerrold Nadler asked Mueller during his testimony, to which he responded: "No."
"'Mueller did not exonerate the president,' that was the headline on CNN today. Of course it was the headline. And that was the point of asking the question in the first place, to create a headline," the host said, referring to Nadler's question.
"Unmentioned was the fact that prosecutors don't exonerate anyone, ever. Prosecutors charge people with crimes, or they don't. That's the full scope of their power. Only God exonerates," Carlson continued. "The whole thing was a dishonest word game."
Although Mueller did not provide another example of the DOJ determining that an investigated person was not exonerated, the former special counsel noted that his probe into Trump was a "unique situation."
During his roughly six-hour-long testimony before Congress earlier today, Mueller repeated his previous assertion that his 448-page report did not exonerate Trump of wrongdoing. The president has claimed on numerous occasions that there was "total exoneration."
Hours before the hearing began, Trump restated his claims of innocence in a series of tweets, writing that there was no obstruction or collusion.
Following a 22-month-long investigation into Russian interference in the 2016 presidential election, Mueller did not reach a conclusion "one way or the other" on whether Trump had obstructed justice. The investigation did, however, result in 199 criminal charges, indicting 34 individuals, including three companies and six former Trump associates. While the report did not explicitly accuse the president of a crime, it explored at least 11 possible instances of obstruction committed by Trump and his inner circle, dating from his 2016 campaign to present day.
"We did not reach a determination as to whether the president committed a crime," Mueller noted at the beginning of the hearing. The former special counsel on Wednesday also asserted that his investigation was "not a witch hunt," a term Trump has used repeatedly in an attempt to discredit the probe.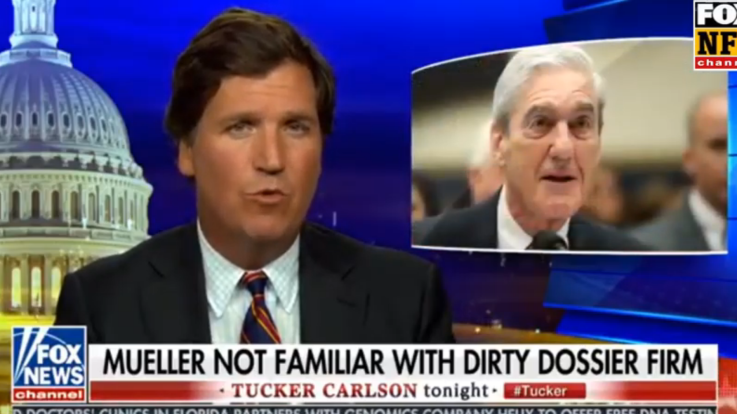 Fox News' Tucker Carslon on Mueller Testimony: 'Prosecutors Don't Exonerate Anyone Ever… Only God Exonerates' | Politics