"I'm a relationship collector," Jay Glazer tells me, which is slightly awkward only because we are alone in his dressing room and the Fox NFL Sunday insider is wearing only orange briefs. It is a December Sunday morning on the Fox Studios lot in Century City, California. For Glazer and his five Fox NFL cohorts—host Curt Menefee and analysts Terry Bradshaw, Jimmy Johnson, Howie Long and Michael Strahan—the day began before dawn, and since 8 a.m. they have either been rehearsing or on-air, and now, with the 10 a.m. (1 p.m. EST) games past halftime, everyone can exhale. And, if like Glazer, their next on-camera moment is two hours away, they can undress.
On the huge television overhead, the Cincinnati Bengals are shutting out (and shutting up) Johnny Manziel and the Cleveland Browns. Menefee, Glazer and Johnson share this dressing room, which has socks and a T-shirt strewn on the floor. Directly across the hall, Bradshaw, Long and Strahan occupy another dressing room that would pass Felix Unger's white glove inspection.
Menefee enters to use the adjoining men's room. Glazer, who has known Menefee since the mid-1990s and was best man at his wedding, says, "I'm about to tell him about the time we saw a UFO."
"Olive Branch, Mississippi," Menefee says with a smile. "It's true."
If it feels like you've stumbled into a college dorm on a Sunday afternoon, you have. But it would be an insult to the cast of Fox NFL Sunday to refer to their relationships as collegial. This is closer to a family. Besides being best man at Menefee's wedding, Glazer is the godfather of one of Strahan's kids. One of Long's three sons, Kyle, a second-year Pro Bowl right guard with the Chicago Bears, worked as a nanny for Glazer. Johnson and Bradshaw commute to Los Angeles together, from Florida and Oklahoma, respectively, in Johnson's private plane.
In other words, they are all relationship collectors.
For the 21st time in its 21 seasons, Fox NFL Sunday is the top-rated NFL studio show, which means that it is the top-rated sports studio show, period. And yet Fox's cash pigskin is hiding in plain sight. It is never "trending." Media pundits never mention it when lauding the zeitgeist sports studio shows, favoring TNT's Inside the NBA or ESPN's College GameDay, which are terrific. And at the annual Sports Emmys, Fox NFL Sunday is Susan Lucci, having last won for "outstanding studio show—weekly" in 2000.
"It's your favorite pair of jeans," says Fox Sports President Eric Shanks. "You always put 'em on, but you don't talk about 'em too much."
Jimmy Johnson says he awoke at 4 o'clock this morning and headed over to the studio. "I'm an early riser, and I don't like waiting on people." When Fox NFL Sunday premiered in 1994, Johnson, Bradshaw and Long were part of the original cast. "There was a lot of pressure on all of us," recalls Bradshaw. "A lot of people were mad that Homer and Jethro [he and Long] were getting this gig."
Johnson originally got the gig after having won the previous two Super Bowls as coach of the Dallas Cowboys, but he short-armed all his on-camera observations. An avid fisherman, Johnson still had one line in NFL coaching waters. "I was guarded," the majestically coiffed coach concedes. "I've always considered myself somewhat of a gypsy. Five years at Oklahoma State. Five years at Miami. Five years in Dallas. I was already lining up my next job."
The Miami Dolphins took the bait, and in 1996 Johnson returned to the NFL. But, after four middling seasons in the AFC East, he returned to Fox, far more candid and congruent with his off-camera self, a life that is Jimmy Buffett during the week and Jimmy, well, Johnson on weekends. He spends his fall Saturdays with beers, nachos and Bradshaw, watching college football on three televisions in his L.A. hotel suite.
During today's 9 a.m. pre-game show, Glazer reports that the NFL will experiment with narrowing the field-goal width of the field goals for kicks at the 2015 Pro Bowl. "That width has not changed since 1920," says Glazer.
On-camera, Strahan says, "Jimmy hasn't changed since 1920, either."
"Since Jimmy returned, he's opened himself up," Bradshaw says later. "And now we fuck with him."
Inside the control room, coordinating producer Bill Richards says, "We have a 100 or so people who work on this show, but those five guys on the desk are the story. Their camaraderie. Except for a few curse words, they're exactly the same with one another off-camera."
Strahan, 43, is now in his seventh season on the show. He retired from the New York Giants in 2008, shortly after their monumental upset of the undefeated New England Patriots in Super Bowl XLII. Strahan landed the gig with Fox, but that summer the Giants lost their other Pro Bowl defensive end to a season-ending knee injury in an exhibition game. Big Blue put a $7 million, one-year offer in the future Hall of Famer's hands in an attempt to forestall his foray into television.
"We had a production dinner before our first game, and Michael stands up on a chair," says Richards. "Tells everyone that he got offered a lot of money to return to the Giants but that he is sticking with us. And Terry cracks, 'You're a fuckin' moron.'"
The outlier in this huddle is the conservative Long, who dubs himself "the fun police." Long, the set's other Hall of Fame defensive end, still looks as if he could bench-press Rhode Island and melt snow with his glare. "I prepare for this show much like I prepared when I was playing," says the former Oakland Raider. "I over-prepare, and I'll probably only use 4 percent of my material."
This is a rare and serene Sunday for Long, as neither of his two sons on NFL rosters, Chris (St. Louis Rams) or Kyle, have a game today. "Oh, it's brutal when they are playing," says Long, who will admit to paying obsessive attention to their games. Each week during the NFL season, Long watches the previous three games of his sons' upcoming opponents. He then sends extensive scouting reports, via text message, to his sons (his youngest son, Howard, Jr., works in personnel for the Raiders). Long may do more game prep for progeny each week than Bradshaw, Johnson and Strahan do for Fox.
On this team, Johnson is the guru. Long is the X's-and-O's guy. Strahan is the precocious talent and Bradshaw the quarterback.
No quarterback ever led a team to four Super Bowls with less fanfare than Terry Bradshaw. Only one other quarterback—Joe Montana—has a 4-0 Super Bowl record (and the less said about Montana's brief broadcasting flirtation, the better). Bradshaw was twice named Super Bowl MVP, but he may be as well remembered for what Dallas Cowboy linebacker Thomas "Hollywood" Henderson said about him before Super Bowl XIII in 1979: "He couldn't spellcat if you spotted him the c and the a."
Bradshaw responded by throwing for four touchdowns and a then-record 318 yards in a 35-31 Steeler win. And by always wearing a smile. "The camera," he says, by way of explaining the longest tenure of a bald, animated character at Fox this side of Homer Simpson, "sees something you can't teach." In person as on-camera, the gentleman rancher—yes, the Steeler is now a cowboy—is effervescent and engaging. Spend one minute on the Fox set and it's clear Bradshaw is the dude upon whom Fox NFL Sunday would place the franchise tag.
The hot topic during the pregame show was the Chicago Bears' struggles with quarterback Jay Cutler. Strahan, drawing upon a popular definition of insanity, said, "You know what they call it when you do the same thing over and over and expect—"
"Repetition?" Bradshaw interjected.
"I should have known better than to reference Einstein to Terry Bradshaw," Strahan replied. (Never mind that Einstein didn't coin that phrase.)
Not only can Bradshaw spell cat, but he is dumb like a fox. "Terry Bradshaw is the smartest guy I know at letting people think they're smarter than he is," says Strahan. "When you think he's two steps behind you, he's two steps ahead."
It has been a difficult year for Bradshaw. His father passed away days before last February's Super Bowl, which Fox aired, and he missed the entire weekend of broadcasts. Last September, his son-in-law, former Tennessee Titan kicker Rob Bironas, died in bizarre fashion when he drove his truck off an embankment following some erratic behavior. And yet Bradshaw remains this Sunday congregation's evangelical minister. At one point, as the crew balks at a producer's request to tape a congratulatory video to a fellow Fox talent, Bradshaw raises his arms aloft and begins singing a spiritual.
"Shall we gather at the river?" Bradshaw implores in soothing tones, and the others quit yapping. "Shall we gather at the river?"
A producer wanders over. Bradshaw is needed for another voiceover task. "Terry," the producer says, "it's time for you to save the network again."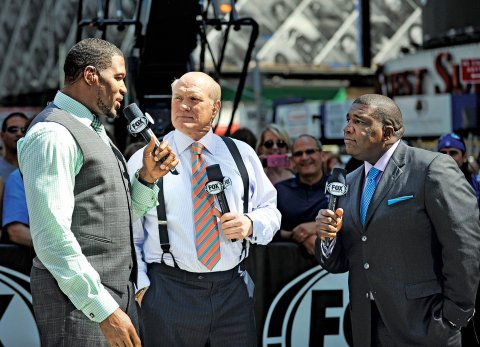 Back inside Glazer's dressing room, the information broker has, mercifully, donned a pair of jeans. "Every one of us here has outworked the world to get here," he says. Glazer was expelled from West Chester University (dorm prank gone awry) and graduated from Pace University in Manhattan with an unimpressive 2.3 GPA. Today he lives in Beverly Hills, owns a gym where he trains students (some of them NFL players) in mixed martial arts, has an ownership stake in some restaurants and is even a pitchman for Subway. When he started covering the New York Giants in the early 1990s, he was earning less than $10,000 a year and quasi-homeless. "I remember [when] Jay had more hair and fewer muscles," says Menefee, who was a local New York City sports anchor back then. "He was, at the time, dating women just so he'd have some place to live."
A self-proclaimed "5-foot-7 Jew from New Jersey," Glazer never lacked chutzpah. He befriended a rookie defensive end on the Giants, a player 10 inches taller than he. Unable to afford bus fare to and from Manhattan to the Giants' Meadowlands practice complex in New Jersey, Glazer inveigled that friend to drive him to Harlem after every practice. For seven years. His proto-Uber driver was Strahan. "I owe him seven years' worth of tolls at the Lincoln Tunnel," says Glazer.
Most denizens of the tri-state area would balk at giving their own mothers a ride into Manhattan more than once per lifetime. But to do so every day? And for a future NFL Hall of Famer to do so for a beat reporter who was barely on salary? Glazer's UFO story is more believable.
"I never really cared about our respective status," says Strahan, who had Glazer be his presenter when he was inducted into the Hall of Fame. "I hung out with Jay more than any other player."
Whatever trait Glazer possessed to induce Strahan to be his chauffeur is the same quality he employs to be the league's primary broker of information. He is the Varys, for you Game of Thrones fans, of the NFL. Each Saturday he phones at least one person from each of the 32 NFL teams. Over the decades he has established deep trust among players, general managers, owners and even embattled NFL Commissioner Roger Goodell. They not only take his calls but they regularly phone him.
"Roger Goodell calls, sure," says Glazer. "Listen, I've always been a very in-your-face kind of guy, and I think players respect that. They also know that they can trust me. I only use 2 to 3 percent of the information that I have."
Back in the green room, the crowd has dwindled as the late afternoon games are ending. There's enough time for a brief wrap and then the cast, Richards and a few others repairs to a steakhouse in West Hollywood. The restaurant does not carry Johnson's favorite beer (it's not the brand he does commercials for) so a manager runs out to a local market to procure it.
Each Friday Johnson, 71, gasses up his private plane in Islamorada, Florida, and heads west (well, his pilot does) to Los Angeles. And each Friday that plane touches down outside Thackerville, Oklahoma, to pick up one passenger: Bradshaw. "He's probably my closest friend," says Johnson, who won a national championship as the coach at the University of Miami in 1987 and a pair of Super Bowls with the Dallas Cowboys in 1992 and 1993.
"I appreciate the ride," says the former Pittsburgh Steeler quarterback, his blue eyes dancing, "but Jimmy doesn't allow me to talk."
Johnson may be the only person in America who can shut Bradshaw up.