Fox Panelists Ridicule Elizabeth Warren For Drinking Beer: 'Is Alcohol the Answer?... Is That to Appeal to Male Voters?'
Fox News panelists criticized and ridiculed Sen. Elizabeth Warren (D-MA) on Wednesday's Outnumbered for a drinking beer in her kitchen during a New Year's Eve Instagram live stream.
During the segment discussing Warren's presidential bid, progressive commentator Richard Fowler referred to a recent tweet from George Takei, who implied that it's sexist to compare her to Hillary Clinton while "no one is comparing [Joe] Biden or [Bernie] Sanders to failed nominees."
"He makes a good point. I think women have more standards than men do. I think that's just a fact," Fowler said. "Women have to think about how they look, how their hair..."
Outnumbered co-anchor Harris Faulkner interrupted: "No we don't! No, actually we don't have to think about it. Everybody else is thinking about it."
"Exactly, but if you're running for office and everybody is thinking about it then you start to think about that and you think about, 'What do I do differently to appeal to these people, how do I make myself more likable,'" Fowler responded.
Falkner then asked whether alcohol was the "answer," before showing a clip of Warren drinking a beer from the refrigerator in her kitchen in an Instagram live stream.
"Somebody tell me, why beer? Why that beverage? Is that to appeal to like male voters, I'm just wondering because she is playing the gender card, but I'm confused," Faulkner asked after the clip finished.
Lisa Boothe answered: "She's trying to be like hello Earthlings, I'm just like you. She's trying to be relatable and I feel like if you're trying to be relatable, you're not relatable."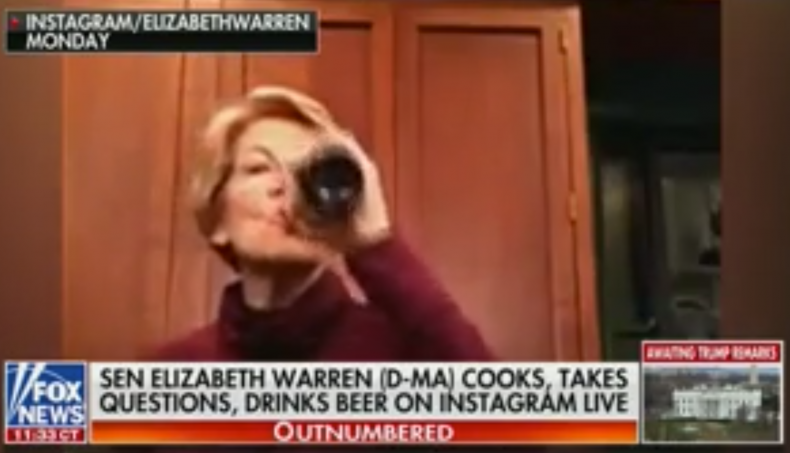 Warren announced on Monday she is launching an exploratory committee for president in 2020 and shortly after, she shared a video where she cracked open an ice cold beer on New Year's Eve to Instagram.
"It's one more way just to invite people into your home," Warren said. "Michelob Ultra — the club soda of beers."
The viral video was received with mixed reactions, with several social media users ridiculing Warren for the awkward post.
"Can you handle the CRINGE???," Daily Caller video columnist Stephanie Hamill tweeted. "Here's Fake Native American Elizabeth Warren pretending to be 'one of us' by robotically drinking a beer. My Question for you is: Who's more Robotic... Hillary Clinton or Warren?"
While The Hill opinion writer Eddie Zipperer commented: "Elizabeth Warren is a little bit too… hold on, Imma get me a beer… scripted."