Latest Fox Poll Has Donald Trump in Trouble Against Every Top Democratic Challenger
The latest Fox News poll about the 2020 presidential race shows President Donald Trump in trouble against every top Democratic challenger tested, including Joe Biden, Kamala Harris, Bernie Sanders and Elizabeth Warren.
The poll found that 39 percent of registered voters supported Trump in his re-election bid when he was being challenged by Sanders, Harris or Warren. But the three liberal senators had more support. The survey found Sanders winning over Trump with 48 percent, Harris winning over Trump with 46 percent and Warren winning over Trump with 45 percent.
But it was the former vice president who would beat Trump by the widest margin in a hypothetical head-to-head matchup, according to the poll. Biden had 50 percent support among registered voters surveyed, compared to Trump's 38 percent.
The poll also found that just 42 percent of voters viewed Trump favorably, while 56 percent held an unfavorable opinion. The survey contacted just over 1,000 voters and was conducted from August 11 to August 13. The margin of error was 3 percent for all registered voters.
Trump told his supporters in New Hampshire on Thursday evening that they had "no choice" but to vote for him in the upcoming election or their economic status would crash. It was the president's first 2020 campaign stop in the Granite State, which he narrowly lost to Hillary Clinton in 2016.
"I won the election, the markets went up thousands of points, things started happening," Trump told the crowd. "If, for some reason, I were not to have won the election, these markets would have crashed. That will happen even more so in 2020. You have no choice but to vote for me, because your 401(k), everything is going to be down the tubes."
"Whether you love me or hate me," the president added, "you have got to vote for me."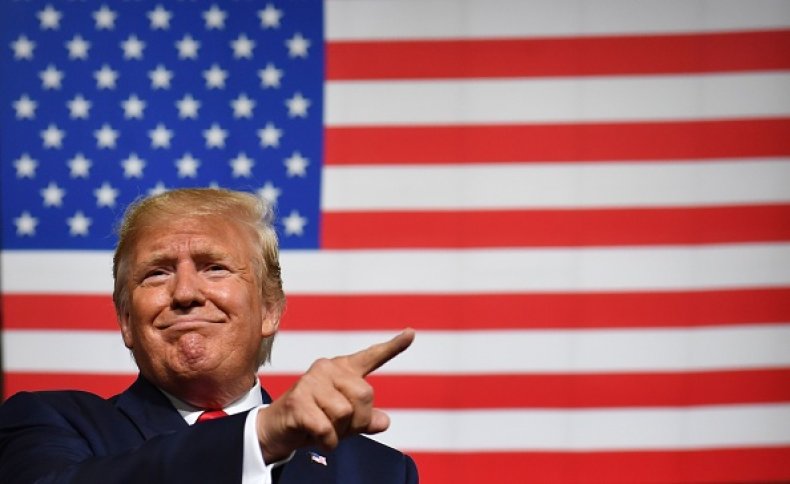 Trump officially kicked off his re-election campaign in June. He's said several times that he is not worried about any of the 24 Democrats currently vying for the opportunity to run against him. He's dubbed Biden "Sleepy Joe" and refers to Warren, who continues to climb in the polls, as "Pocahontas."
During his first 2020 campaign rally in Florida, Trump vowed to "keep on fighting" and "keep on winning, winning, winning."
But behind the scenes, the president's team is reportedly worried about polling data from key battleground states like Michigan, Pennsylvania and Wisconsin. Internal polling conducted in the spring showed the president in danger of losing to several Democratic challengers in those key areas. Data also shows that suburban women, a key demographic for Trump's success in 2016, have been abandoning the GOP.
Plus, Trump and his team had been banking on a strong economy to help propel him toward re-election. But recently there have been mounting signs of economic distress and a fears of a possible recession could throw a wrench in the president's 2020 strategy.
Trump has refuted any negative economic predictions. On Thursday, he tweeted that the U.S. economy as "the Biggest, Strongest and Most Powerful Economy in the World." He also claimed that the media was "doing everything they can to crash the economy because they think that will be bad for me and my re-election."