Pup With 'Deformed Wrist' Is Adopted by Couple Who Fixed His Paw
An adorable video of a fox red Labrador with elbow dysplasia and a foot like a "lobster claw" has gone viral with 449,000 views on TikTok.
In the footage posted to the page @foxredrolo, Rolo's owner explain that she was born with a deformed wrist that turned out to be elbow dysplasia and needed surgery. The cute puppy had to stay in her crate for six weeks until well enough to go outside again.
The text reads: "I was born with a deformed wrist, but mummy and daddy took me home anyway."
One user said: "Who could say no to those eyes, thank you for taking care of her," while another agreed: "Thank you for helping her, she's such a beautiful pup."
What Is Elbow Dysplasia in Dogs?
Elbow dysplasia is a broad term that encompasses several conditions that can occur in dogs as a result of developmental abnormalities in their arm bones.
Dr. Sarah Gorman, managing veterinarian at Small Door Veterinary in Newton, MA, told Newsweek: "This condition involves the front limbs, is frequently bilateral, and can affect any breed of dog, however large and giant breed dogs are over-represented (Golden and Labrador Retrievers, German Shepherds, and Bernese Mountain Dogs being the most common breeds affected)."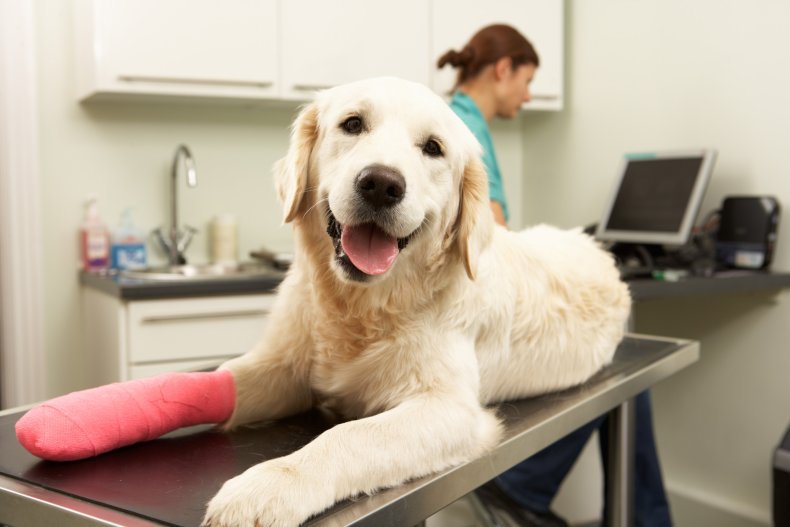 The exact cause of elbow dysplasia is unknown, however it can be caused by many factors including various diseases, genetics, diet and trauma.
It can cause a dog severe discomfort if left untreated, and lead to chronic inflammation and arthritis. "Arthritis leads to decreased range of motion within the joint, which will affect their gait and lead to chronic pain, and potential compensatory injuries to other areas of the body" explains Dr. Gorman. This chronic pain causes lameness and discomfort when doing normal activities like playing, jumping and running."
How Much Does Surgery Cost?
Dr. Goodman recommends seeing your veterinarian right away if you notice any limping or lameness in your dog, where they will do a physical exam and take radiographs of both elbows. "With the help of boarded radiologist and orthopedic specialists, this may be enough to have a diagnosis, however, in some patients a CT scan, MRI, or arthroscopy is recommended", says Dr. Gorman. "Diagnostics and treatments can range from $1000-$6000 per limb, depending on what underlying condition is involved and the severity of disease".
Despite the high cost, the chances of recovery are high if caught early. "Dogs recover best with early intervention before any major arthritis or cartilage damage is present. Following any surgery, physical rehabilitation with a certified canine rehab practitioner (CCRP or CCRT) is strongly recommended to improve recovery" says Dr. Gorman.
Newsweek has reached out to @foxredrolo on TikTok for comment.
Do you have funny and adorable videos or pictures of your pet you want to share? Send them to life@newsweek.com with some details about your best friend and they could appear in our Pet of the Week lineup.