'I Remarried My Husband After He Spent 20 Years in Prison'
As the sun rose on September 20, 2018, I knew my life was about to drastically change. I felt a range of emotions from disbelief to relief, as my husband, Rob, walked out the gates of Angola State Penitentiary after 21 years and four days of incarceration. Emptiness gave way to elation as we embraced each other, free at last from external restraints and the inhibitions of prison life.
Rewind to 1987: a 16-year-old me was cutting class with my friend Wanda when she called Rob, home on leave from the Navy, who agreed to give us a ride back to campus.
When he knocked on the door, I answered. It was love at first sight—for him, at least. He says when I opened the door, his heart dropped and he "saw an angel." When he touched my hand, something sparked like kinetic energy—love. A love that would hold us together during our darkest days.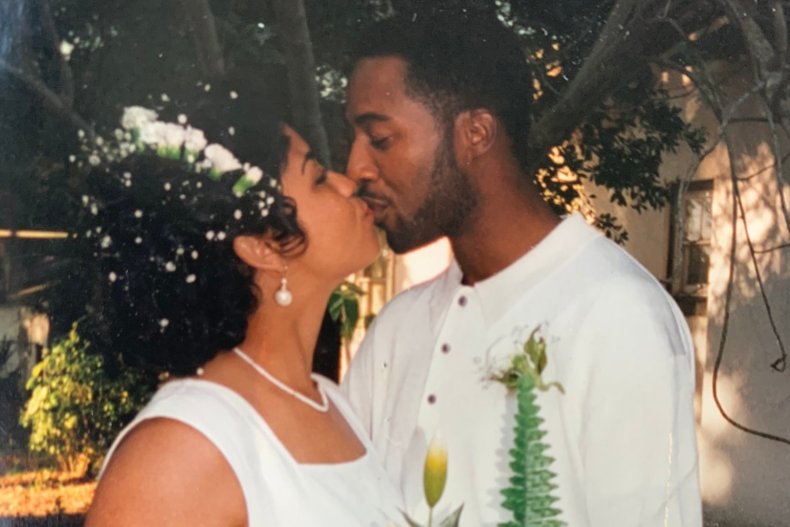 After 10 years of dating off and on, and three children between us (his, ours, and mine), we eloped at a small wedding chapel in Kissimmee, Florida.
We jumped into the American dream with all the hope in the world, quickly buying a home and starting a new business.
But soon after we married, the college I taught at terminated my position. We discovered our home had a cracked foundation, and the whole structure needed to be redone. The retail clothing business we had opened had broken the three major rules in business: location, location, location, and was tanking fast. Our investor pulled out. And our youngest son began suffering from seizures, resulting in mounting medical bills. At the time, we thought all we needed was money: money would fix everything.
What we couldn't see then was that we already had everything we needed. I had my husband. My children had their father. We had each other. But unfortunately, it would take an event that happened on one fateful day in September, 1997 to help us see what we have been fortunate enough to possess all along.
An act of desperation
In our young minds, we couldn't see any other options, and we gave in to our desperation. It's true that desperate people sometimes do desperate things. On that September day, after dropping Rob and our nephew Ontario off at a bank, I sat on a nearby hillside with binoculars. I was breathless, watching as they attempted an armed bank robbery. It resulted in a foot chase, gunshots, and the end of our life as we knew it.
I remember Rob asking me, "Fox, we made a vow for better or worse. Did you think the better was gonna come first?" I answered, "Well, hell yeah!" But the good doesn't always come at the beginning—at least not in our story.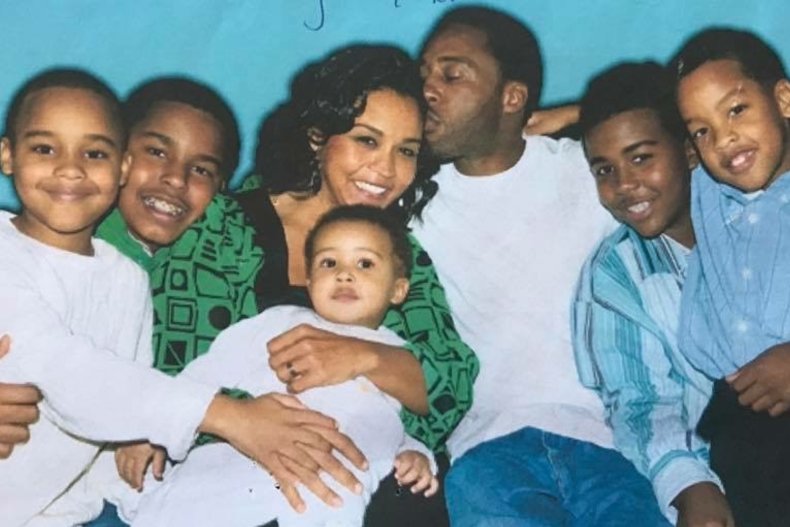 At his sentencing, Rob got 60 years in the Louisiana State Penitentiary without probation, parole, or suspension of sentence. It was a practical life sentence for a first-time felony offense.
I was charged with Accessory After the Fact and two Counts of Jury Tampering. Ten months after giving birth to twin boys, I agreed to a plea deal for two seven-year sentences and one five-year sentence, all running concurrently.
After serving three-and-a-half years behind bars, I was released and began the next phase of my journey: raising six children as a single parent and fighting for our family's reunion.
Maintaining a relationship with my husband
Rob's presence was strong, and his love for his family could be felt beyond the prison walls. I was intentional in speaking his name aloud and often to my children, and I even made a cardboard rendering of him which I called "Flat Rob."
But it was very hard. I had to be a double-parent. When my children needed something, I couldn't say, "Go ask your father." I recognized very early on I couldn't do this by myself. With the help of my mother and our community, I raised our six sons throughout Rob's entire incarceration.
Every one of our friends and family thought I was crazy. The longer he stayed in prison, the more they were convinced he'd be there for life. But I had to either believe he would get out, or accept that he was going to die there. The day he was sentenced, I committed to never letting go of his hand. I don't know how or why, but even while in a living hell, I was willing to dream—to hope.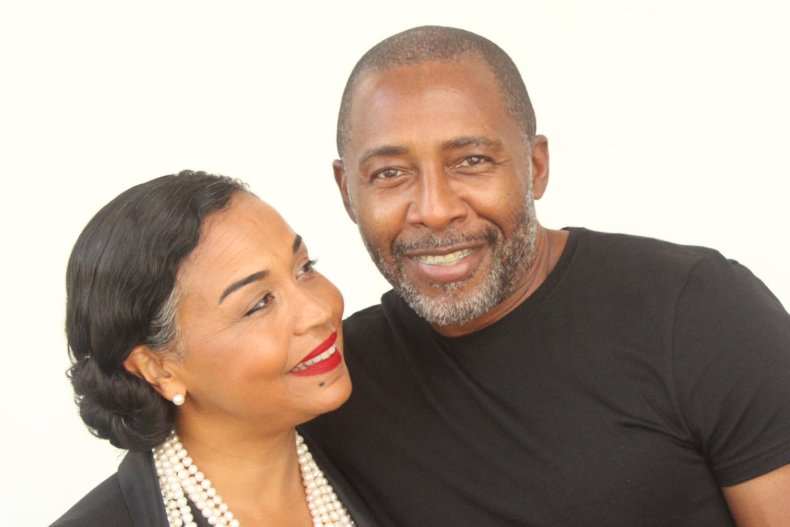 My sons and I visited Rob every chance we got. Even during incarceration, our relationship was a partnership. He never sat idle in prison, and always found a way to contribute in some meaningful way.
Maintaining a relationship with a man sentenced to 60 years behind prison bars is difficult; and Rob eventually began to shut me out emotionally. I knew I would never give up on him, but after 12 years of long-suffering, the separation got the best of us. In 2008, at the lowest point in our relationship, Rob and I divorced.
Finding a way back to each other
Even then, I never had the heart to take off my wedding ring. Meanwhile, Rob enrolled in a life-changing marriage and family counseling course as a part of his four-year degree program in seminary.
I was accepted into the PhD program at Texas Southern University in the Administration of Justice program. The boys and I moved to Houston, Texas and began to make a life there.
Rob and I separately began a lengthy, soul-changing process on learning how to care for ourselves and one another in the process. We slowly found our way back to each other. We began to open up and talk about our feelings candidly. I soon recognized that if I was going to get Rob home, I needed to be back in Louisiana.
I made the decision that Rob and I were going to make it—our family was going to make it. Not even prison walls could stop us. On November 13, 2017, we married once again—30 years after the day we met.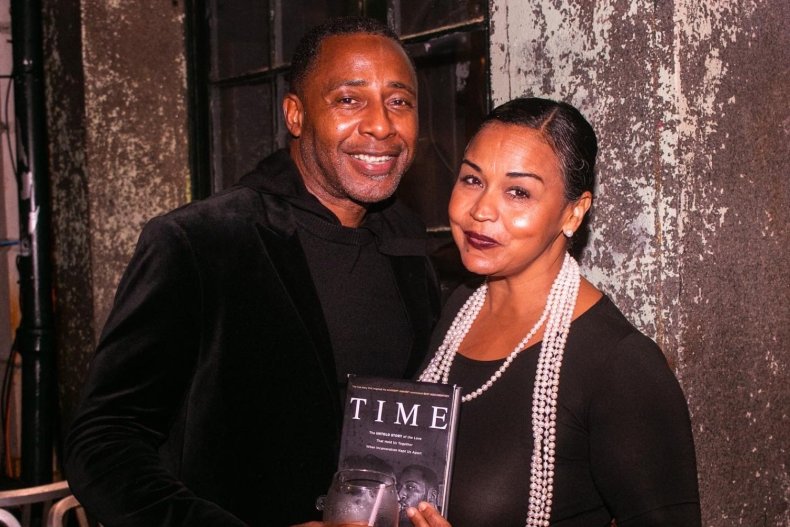 Love can carry you through every challenge, that much I know. The day Rob was released from prison was unforgettable. We had defied all odds, we had beaten the status quo, and our love had prevailed. We believed—and proved—that love conquers all.
At first, I was frozen when I saw him: I couldn't run, I couldn't shout. I couldn't do anything. But then I realized it was Rob, my husband. Free. All I could do was scream out in victory and joy. It was like a massive exhale after 21 years of holding our breath.
I am not the same woman I was when this journey began. Rob is not the same.The first time we married, it was from love that spilled over from the heart and was very emotionally-driven. But after experiencing our 21-year separation and everything we went through, we now have a different kind of love that is more thought out and intentional.
We have a deep, everlasting bond because we have endured the pits of hell together and survived. Life has taught us so much that we didn't know the first time, and our love has deepened because it was tried, tested and proven.
We've now been together for 35 years. Our story touches everyone we encounter. It inspires others to know that love is the most divine chemical in the universe; and when two are united as one, they can overcome anything.
Fox and Robert Richardson are a New Orleans-based couple who endured 21 years as an incarcerated family. Their story is told in their new book, TIME: The Untold Story of the Love That Held Us Together When Incarceration Kept Us Apart. Together they continue their advocacy for incarcerated families through the NOLA chapter of Participatory Defense.
All views expressed in this article are the author's own.
Do you have a unique experience or personal story to share? Email the My Turn team at myturn@newsweek.com