The Moment Terrified Marmot Sees Hungry Fox Wins Wildlife Photographer of the Year Top Prize
The tense moment a terrified marmot met a hungry, steely-eyed fox has won the top prize in this year's Wildlife Photographer of the Year awards.
The image, aptly titled The Moment, was captured by Chinese photographer Yongqing Bao in the Qilian Mountains, which borders the Qinghai and Gansu provinces.
The evocative photograph shows the Tibetan fox preying on the Himalayan marmot—a type of large squirrel—and baring her teeth. The marmot, meanwhile, is visibly shocked with its mouth agape and a paw stretched out as if to ward off the predator.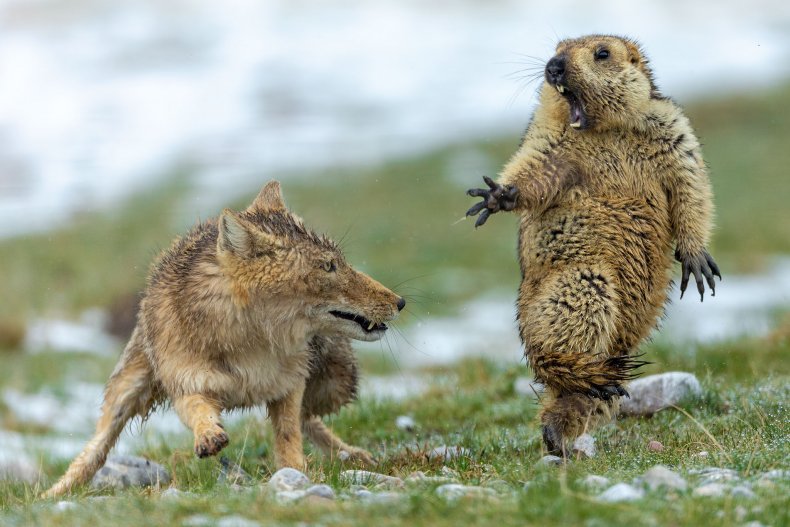 Yongqing managed to capture the attack with "lightning-fast reactions," according to the Wildlife Photographer of the Year website. It was noted the mother fox had three young cubs in tow, not seen in this picture. The marmot had recently come out of hibernation.
Roz Kidman Cox, the chair of the Wildlife Photographer of the Year judging panel, said the image is "simply the perfect moment" in a statement.
"The expressive intensity of the postures holds you transfixed, and the thread of energy between the raised paws seems to hold the protagonists in perfect balance," said Kidman Cox. "Images from the Qinghai-Tibet Plateau are rare enough, but to have captured such a powerful interaction between a Tibetan fox and a marmot—two species key to the ecology of this high-grassland region – is extraordinary."
The award for Young Wildlife Photographer of the Year was won by Cruz Erdmann, 14, from New Zealand, for his snapshot of a colorful bigfin reef squid taken while on a night dive in Indonesia.
Erdmann, who earned a diving certificate aged 10, was in the Lembeh Strait, in North Sulawesi, with his dad when he spotted a pair of the squid and managed to snap one before it disappeared into the depths of the water.
"To dive in the pitch dark, find this beautiful squid and to be able to photograph it so elegantly, to reveal its wonderful shapes and colours, takes so much skill. What a resounding achievement for such a young photographer," said competition judge Theo Bosboom.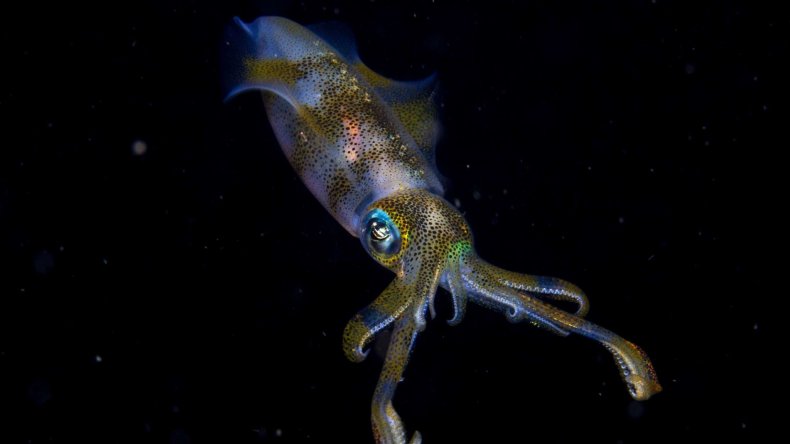 Wildlife Photographer of the Year is an annual competition organized by the Natural History Museum in London.
The museum said that this year it received over 48,000 entries from over 100 countries.
The winning and highly-commended images will be displayed in an exhibition at the Natural History Museum from October 18. The exhibition will then travel around the U.K. in November, before traveling internationally.