Fox's Lou Dobbs Condemns Bolton, Says He's Been 'Reduced to a Tool for the Radical Dimms and the Deep State'
On his Fox Business television show Monday, host Lou Dobbs said that former National Security Adviser John Bolton had become a tool for the "radical Dimms"—Dobbs' nickname for Democrats—and "Deep State." Dobbs based his opinion on the past history of Bolton's literary agency, Javelin.
"John Bolton himself has been reduced to a tool for the radical Dimms and the Deep State with his allegation that the president once told him that the aid to the Ukraine was entirely dependent on whether or not Mr. Zelenskiy carried out investigations of his political opponents," Dobbs explained.
"Bolton's book agency, Javelin, has published books by disgruntled current and former government officials such as fired FBI director James Comey, an anonymous Trump administration official who wrote the book A Warning and Cliff Sims, a former White House staffer who the president said broke a non-disclosure agreement to write a book bashing the White House," he continued.
"Do you see the pattern here with Mr. Bolton?" Dobbs asked.
Newsweek reached out to Javelin for further comment but did not receive a response in time for publication.
Bolton's book, expected to be entitled The Room Where It Happened: A White House Memoir, is scheduled to be released March 17. After parts of the book were described by The New York Times Sunday, Bolton's allegations reignited calls for him to appear as a witness in the impeachment trial against President Donald Trump.
In the book, Bolton claims to have been part of a conversation with President Trump in which Trump said he refused to unfreeze security aid to Ukraine until the announced a public investigation into the business activities of former Vice President Joe Biden and his son Hunter.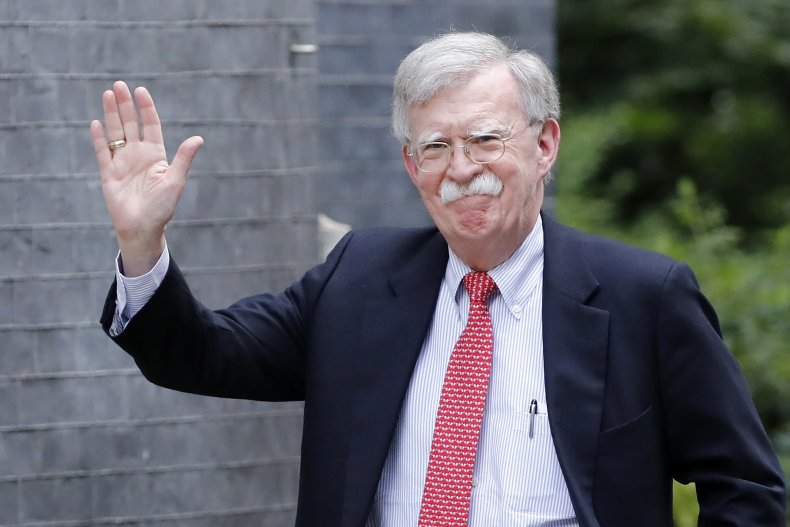 Bolton's attorney Charles Cooper said in a Sunday statement that he believed Bolton's book had been leaked to the media by the White House itself. The manuscript was sent to the White House for pre-publication review to make sure it contained no classified material.
"It is clear, regrettably, from The New York Times article published today that the prepublication review process has been corrupted and that information has been disclosed by persons other than those involved in reviewing the manuscript," Cooper said.
Senate Minority Leader Chuck Schumer who has been pushing for both new witnesses and the introduction of new documentation into the impeachment trial tweeted Monday that reported the allegations reported in Bolton's memoir make his case stronger.
"The @NYTimes report about the Bolton book strengthens the case for witnesses & documents even more," Schumer tweeted. "Every few days something comes out, and Americans are saying they want witnesses & documents. If President Trump did nothing wrong, why is he so afraid of witnesses & documents?"
Maine Senator Susan Collins, a Republican Democrats consider to be a "swing vote" because of her willingness to hear witnesses in the impeachment trial, could potentially side with Senate Democrats in the vote to allow new witnesses and documents into the trial. While she did not announce a decision in that regard, Collins did tweet about the "Bolton developments" on Monday.
"From the beginning, I've said that in fairness to both parties the decision on whether or not to call witnesses should be made after both the House managers and the President's attorneys have had the opportunity to present their cases," Collins tweeted. "I've always said that I was likely to vote to call witnesses, just as I did in the 1999 Clinton trial."
"The reports about John Bolton's book strengthen the case for witnesses and have prompted a number of conversations among my colleagues," Collins concluded.
Hardline Republicans claim that despite what Bolton might say, the facts in the impeachment case remain "unchanged and uncontested."
"The selective, last-minute leaks from Bolton's book are clearly an attempt to unfairly undermine the Senate trial," tweeted Senate Republicans. "But, ALL of the facts remain unchanged and uncontested. It's the same (failed) playbook we saw from Democrats during the [Supreme Court nominee Brett] Kavanaugh hearings."