Fox's Tucker Carlson Nabs Exclusive Interview With Kyle Rittenhouse
Kyle Rittenhouse is slated to appear on Fox News' Tucker Carlson Tonight on Monday for an interview with the show's eponymous host, the network stated Friday evening.
In a press statement sent to Newsweek, Fox News stated that only the first portion of Rittenhouse's interview with Tucker Carlson will air Monday night. This will then reportedly be followed by a Fox Nation documentary on the interview sometime in December.
The network stated that this documentary will involve "additional portions of the interview as well as exclusive behind-the-scenes access to Rittenhouse and his defense team." Carlson showed a preview of the documentary Friday night on his show.
Rittenhouse, 18, was acquitted Friday afternoon on five counts, including reckless homicide, after he shot and killed two people and injured a third in Kenosha, Wisconsin, during the August 2020 protests following the shooting of Jacob Blake.
Rittenhouse, a native of Antioch, Illinois, had traveled to Kenosha in the wake of these protests. He could be seen on security camera footage patrolling the streets with an AR-15 rifle, and eventually ended up facing off against protesters.
This led to a series of events ending in Rittenhouse fatally shooting two protesters, Joseph Rosenbaum and Anthony Huber, with his AR-15. He also shot another protester, Gaige Grosskreutz, in the shoulder after Grosskreutz appeared to approach him with a gun.
Prosecutors continually referred to Rittenhouse's actions as unjustified murder, a sentiment shared by numerous civil rights groups and Black Lives Matter activists across the country.
However, the jury deemed that Rittenhouse had acted in self-defense, and found him not guilty on all charges.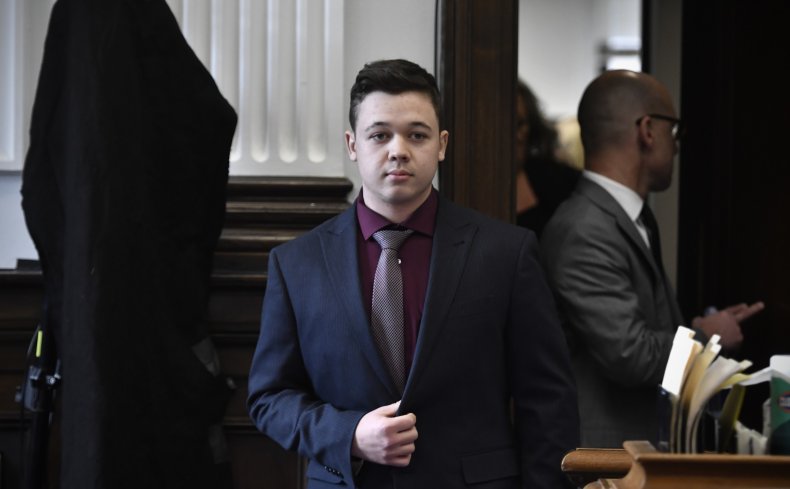 Rittenhouse's defense team had long accused the prosecution of withholding evidence, something the state has vehemently denied.
Despite the prosecution stating that their case was rock-solid, the trial was often considered a back-and-forth affair, with the lead defense attorney saying that "there were times we doubted the case, there were times we were confident."
When Rittenhouse speaks for the first time Monday, his words will air on one of the country's most-watched programs.
Nielsen Media Research states that Tucker Carlson Tonight is the top-rated show in cable television, with an average reported viewership of 3.2 million people.
Carlson, 52, was previously a host on Fox's weekend programming, FOX & Friends Weekend, from 2012 to 2016. He joined the network as a political contributor in 2009.
Past interviewees of Carlson include former President Donald Trump, Hungarian President Viktor Orban, Representative Adam Schiff (D-Calif.), and former presidential candidates Tulsi Gabbard and Andrew Yang.
Despite his continual high ratings, Carlson has been mired in many controversies since receiving his own show. He has been accused of spreading misinformation on a number of topics, including the January 6 insurrection and conspiracy theories about the COVID-19 pandemic.
Carlson previously compared vaccine mandates as "Jim Crow"-style laws, despite his network having implemented its own mandate for all on-site employees. He has not publicly stated whether he has been vaccinated.