France Converts World's Largest Wholesale Food Market Into Morgue As Death Toll Surpasses 5,300
As the coronavirus death toll in France continues to grow, the country's police on Tuesday said the government will be converting part of the world's largest wholesale food market into a temporary morgue.
The cumulative number of confirmed coronavirus-related deaths in France surged to 5,387 today after the European country started adding nursing home fatalities to its official data. Jerome Saloman, head of France's public health authority, said the number of hospital deaths caused by COVID-19 increased by 12 percent from one day earlier when the total was at 4,503. Paris, France's most populous city, is one of the areas that have been hit hardest by the pandemic.
Police are converting the hall at Rungis Market, situated outside of Paris, into a makeshift morgue to store the bodies of the coronavirus fatalities in the region as funeral homes are already overwhelmed.
The location "will allow bodies to be kept in the most dignified and acceptable conditions from a public health point of view," the French police said in a press release.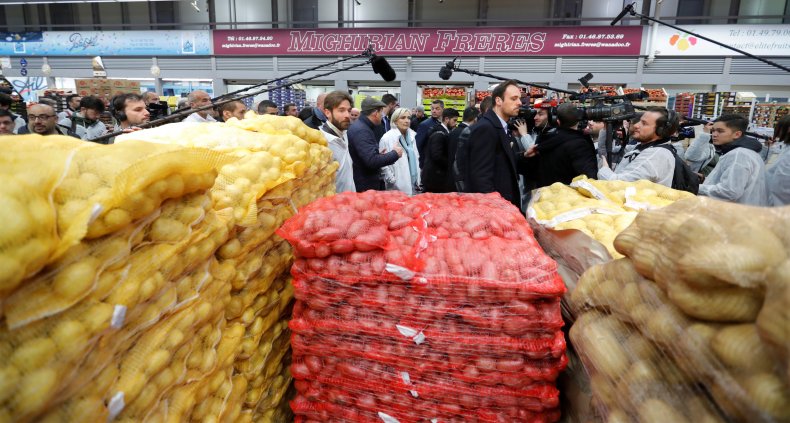 City Police Chief Didier Lallement on Thursday said that officials were looking for a location big enough to deal with "current and anticipated needs." Construction for the site is almost finished, Lallement added in a statement, and the coffins will start arriving at the site on Friday.
Two visitation rooms have been set up inside the temporary morgue to allow for family members to gather and pay tribute to the deceased before their bodies are transported to crematoriums or a burial ground. With social distancing measures in place, a maximum of 20 people will be allowed at one time in the rooms, according to a local news site.
Newsweek reached out to the Paris Police Prefecture for additional information.
On Thursday, the total number of confirmed coronavirus cases in France rose from 56,989 to 59,105, with the number of individuals in need of life support climbing from 6,017 to 6,399.
The French government warned its citizens this week that those caught violating the country's self-isolation policies will be punished. A 20-year-old man in the northwestern city of Calais was recently sentenced to two months in prison for breaching lockdown rules after he was caught outside his house eight times without adequate identification. Citizens across the nation have been ordered to remain indoors until at least April 15.
It is not the first time Rungis has been turned into a makeshift morgue. In 2003, the bodies of hundreds of elderly fatalities of the French heatwave were transported to the location and stored in freezer trucks and cold vegetable stores.