Striking Photo Shows Children Playing Alone in Chalk Boxes As Schools Reopen in France
Photos shared on social media of children returning to a school in northern France show them sticking to strict social distancing guidelines and being forced to play alone, sparking comment at the new normal in the age of the coronavirus.
Lionel Top, a reporter with the BFMTV news channel, tweeted the pictures of the children playing within the confines of chalk squares at the Jacques Prevert nursery school in the city of Tourcoing on Tuesday.
Another image shows children spaced out in a classroom behind a teacher wearing a mask, and with yellow masking tape on the floor separating the desks. In another picture, children outside were shown lining up and sitting down on crosses that had been spray-painted on the concrete.
Top tweeted that the children still managed to play, dance, jump and laugh together, even if they could not do it in close proximity. He emphasized that they did not view the restrictions "as a punishment."
"They are learning to live together, but in a different way," he wrote.
"The photos are striking and most of the reactions on Twitter show the same emotion, that of a school which does not look like what we know one to be, but the children this morning were not 'unhappy.'"
"And if these photos make us sad, imagine how the teachers feel," he wrote, adding, that one teacher told him "you can't imagine how bad it makes me feel."
Top told Newsweek that only 21 pupils from the school roll of 132 were allowed to attend and he said that witnessing the measures in a school, as France starts to ease coronavirus restrictions, felt unusual.
"The atmosphere was very strange, in particular due to health regulations and social distancing to be respected.
"We were all uncomfortable, the journalists and the school teaching staff," he said.
Although there was no specific instruction from France's Ministry of Education for chalk squares to be drawn, teaching staff are advised to ensure pupils practice social distancing and not share anything.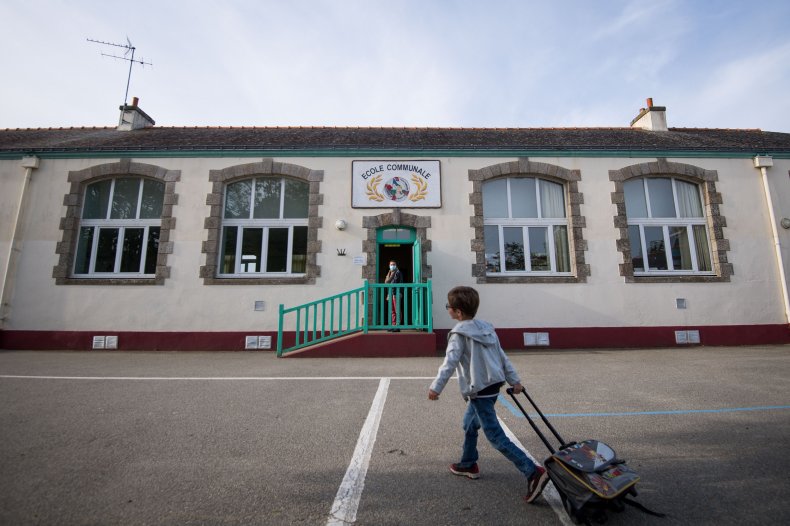 Tuesday saw nursing and primary schools become the first educational institutions to reopen after an eight-week lockdown to mitigate against the pandemic.
Primary school pupils returned to school on May 11 for lessons restricted to around 15 children per class but many parents are keeping children at home.
In France there have been 26,994 deaths from coronavirus out of a total number of 178,349 cases of COVID-19. The infographic below, provided by Statista, shows the countries with the most confirmed COVID-19 cases, as of May 13.