World Cup 2018 Final: France Will Deploy 110,000 Police Amid Fears of Terrorism
France will deploy 110,000 security officers in preparation for a weekend that features both Bastille Day and the World Cup final.
The annual Bastille Day military parade, which commemorates the July 14, 1789, storming of the Bastille fortress during the French Revolution, will take place on Saturday, followed by World Cup viewing parties across the country as the French team faces off against Croatia for Sunday's final match.
Paris alone is mobilizing 12,000 police officers, 1,600 soldiers and 3,000 rescue workers, the city's police chief Michel Delpuech said on Thursday, according to state-owned news network France 24. As many as 90,000 fans could gather under the Eiffel Tower to view the World Cup final on oversized screens.
"We've never had three days like we're about to have," French Interior Minister Gerard Collomb said.
The intersection of Bastille and the World Cup final complicates law enforcement efforts in the country, which remains on high alert for terrorist attacks.
Memories of the 2016 attack in Nice, in which an Islamic State militant group sympathizer killed 86 and wounded 458 by driving a truck into crowds celebrating Bastille Day, are still fresh in France. In 2015, Islamic State militants killed 130 people in attacks that struck eight locations across Paris, including outside the Stade de France stadium.
"Everything is being done so the French can live these festive moments with peace of mind, despite the terrorist threat, which remains at a high level," Collomb said.
The interior ministry has issued strict orders that open viewings can only occur if entry points are monitored. France 24 reported that the security set up at the public viewing locations would be similar to that used during the 2016 UEFA tournament, which France also hosted.
In addition to the terrorism fears, officials worry about the public response to the World Cup final. The Guardian reported, "If France wins, more than a million people are expected to flock to Paris's most famous avenue, the Champs-Élysées."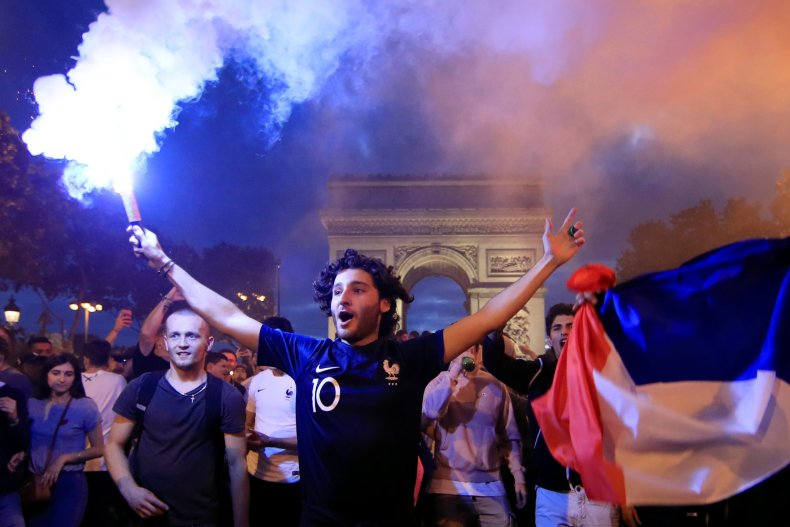 Delpuech said that cars would be prohibited from entering the famous thoroughfare if France prevailed in the match. "The goal is to avoid what we saw in 1998," when France won the final and "thousands of people attempted to reach the city center by car, leading to three crashes and one person's death."
Hundreds of thousands of people flocked to the Champs-Élysées after France beat Belgium in a semifinal match on Tuesday. Early Wednesday morning, police deployed fired teargas after protesters threw items at officers.
World Cup 2018 Final: France Will Deploy 110,000 Police Amid Fears of Terrorism | World