French Election Offers Next Hope for Populist Upset if Marine Le Pen Wins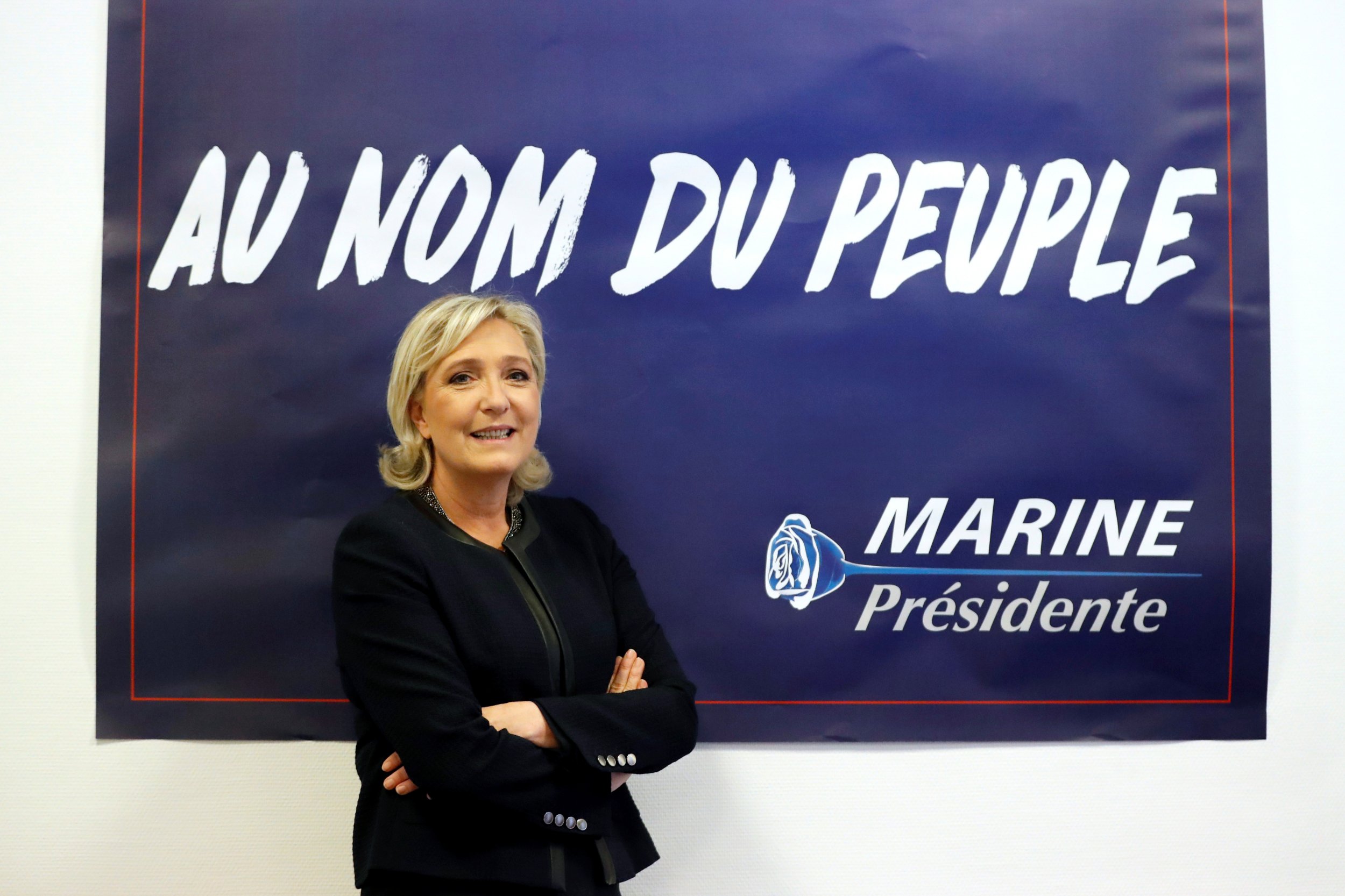 The ruling French Socialists selected staunchly left-wing outsider Benoit Hamon on Sunday as their presidential candidate for this year's landmark election. The party is currently in disarray after the party's Francois Hollande, the least popular president since records began, decided late last year not to seek re-election, the first incumbent not to do so since the Fifth Republic was created in 1958.
This has set the scene for an unpredictable battle this year in which far-right National Front candidate Marine Le Pen, who leads in the latest polls and who visited Trump Tower in New York this month, has a realistic shot at victory. This would have big international implications, not least given her campaign promises to take France out of NATO and the EU.
Indeed, following Brexit, and Donald Trump's election to the White House, it is France and other key countries in Europe which will provide a lodestar in 2017 for whether right-wing populism will continue to find fertile ground, potentially changing the political complexion of the continent in the process. In elections in countries beginning with the Netherlands in March, where polls indicate the far-right Freedom Party could emerge as the largest single party, left and centrist parties are under pressure from insurgency parties championing euroskeptical, anti-immigrant platforms.
It is the French elections in April and May which will be key because of the popularity of Le Pen: she has called for closer ties with Russia, espoused anti-Americanism, and questioned the need for NATO in the 21st Century, asserting that it now exists to serve "Washington's objectives in Europe". Her rhetoric on the EU is even more heated, and she has called for a French referendum on the country's membership of the union.
While Le Pen may win the first round of the presidential election she is not currently the favourite to win the second-round, but the French political mood is volatile. This is indicated by the surprise choice of the centre-right for its presidential candidate, former prime minister Francois Fillon, who beat Nicolas Sarkozy and Alain Juppé in November to secure his party's nomination.
Meanwhile, the ruling Socialists are badly shaken. Already some in the party are looking outside their own ranks to the independent presidential candidate Emmanuel Macron, who once served in Hollande's cabinet, who has surged in polls in recent weeks on a centrist platform and is currently running a close third behind Fillon and Le Pen.
In this unpredictable, potential political vortex, Le Pen is running a Trump-style populist campaign and said last weekend that "2016 was the year the Anglo-Saxon world woke up [with Brexit and Trump's victory]...I am sure 2017 will be the year the people of continental Europe wake up". Polls indicate she could navigate her way through the first round ballot in April, and then potentially face-off in May against Fillon or Macron.
Conventional wisdom is that Le Pen would lose hands-down if she got through to the second-round run-off election. In part, this stems from the experience in 2002 of her father, Jean-Marie, the then leader of the National Front against right-of-centre incumbent president Jacques Chirac.
Then, leaders of almost all French parties, including the Socialists, urged supporters to vote for Chirac as the perceived lesser evil and he won over 80%, the largest landslide in a French presidential election. However, it is not certain whether a similar dynamic would play out in 2017 if Marine Le Pen got through to the run-off stage.
Some early polls indicate that Fillon would crush Le Pen in such a head-to-head, but this is not certain. This is not least given that the former prime minister is championing a radical free-market economic programme that many on the left and centre ground may find hard to swallow, especially when Le Pen is positioning herself as a champion of anti-globalisation.
While the election in France is key, significant uncertainty also hangs over the important ballots in Germany and the Netherlands.
In Germany, incumbent Angela Merkel is presently favourite to win power again, but is facing her toughest ever election fight, and could yet lose. While her defeat would be a major blow to the European establishment given the central role she has played in helping manage the continent's crises in recent years, she would likely be replaced by another pro-EU politician in Berlin who would not represent the political contrast that is being offered in France between Le Pen and her rivals.
One poll in November found that around 40% of Germans wish Merkel would not seek a fourth term, and her approval ratings are around 20 percentage points lower than the 70% she enjoyed in summer 2015. Symbolic of her troubles is the rise of the far-right Alternative for Germany (AfD) founded less than a half decade ago as an anti-euro group which has, since then, tapped into discontent toward her immigration policies, and is polling at almost 15%, nationally, with seats in more than half of state legislatures.
Meanwhile in Holland, the far-right Freedom Party will find it hard to form a legislative majority with coalition partners, even if it does emerge as the largest single party. For now at least, other groups assert that they will not work with the party and its leader Geert Wilders, who was convicted last year for incitement to discrimination, given the extreme positions he espouses.
Taken overall, the 2017 elections have the potential to change the political complexion of Europe. While the ballots in Germany and Holland will see anti-establishment, far-right forces gaining ground, it is the French poll that is the one to watch given that the election of Le Pen would generate such international shockwaves.
Andrew Hammond is an associate at LSE IDEAS (the Centre for International Affairs, Diplomacy and Strategy) at the London School of Economics