First 100 Days: How Do Donald Trump's and Emmanuel Macron's Opening Months in Office Compare?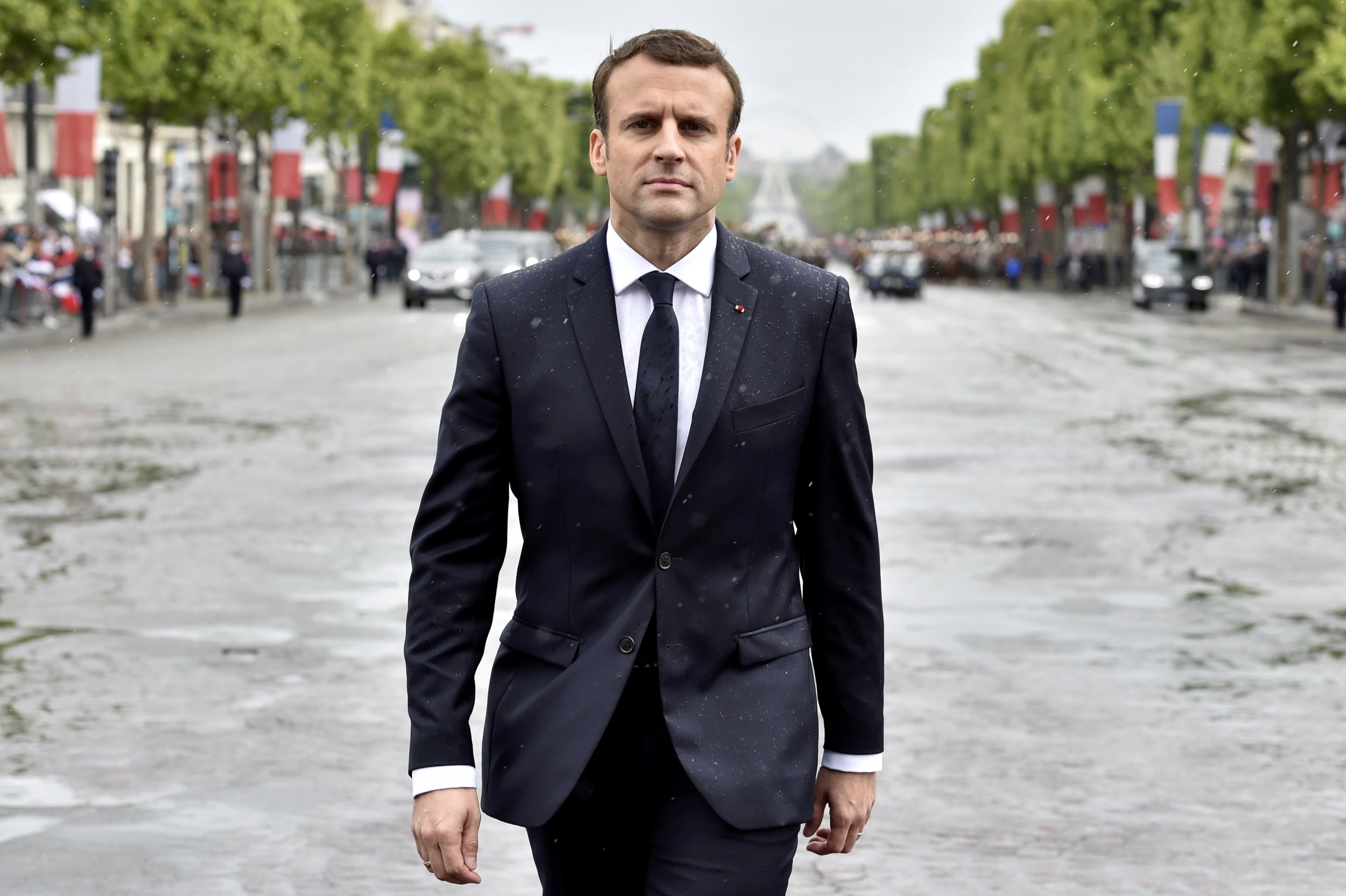 France's President Emmanuel Macron passes the milestone of 100 days in office this week, with his May 14 inauguration on day one and day 100 on Monday.
The 39-year-old, the youngest ever French president, unleashed a wave of liberal hope across the Western world when he won on a centrist ticket. But he has already run into trouble, with a lackluster approval rating and several high-profile public battles under his belt.
Macron is also known for an on-off frenemy-ship with President Donald Trump; the pair dined together at the Eiffel Tower during Trump's recent visit to France, but at their first meeting they got locked into a heated handshake battle that had the world talking for days.
So in that spirit of playful rivalry, which president had it worse at the centenary mark?
Round One: Approval Rating
Donald Trump: The U.S. president's approval rating was measured at 42 percent by Gallup at his 100-day point, the lowest for any American commander in chief in modern history. Bill Clinton, previously the worst-performing president on this metric since World War II, was 13 points higher than that.
Emmanuel Macron: Macron's latest approval rating, according to YouGov, was 36 percent.
More instructive than directly comparing two national figures according to different pollsters in different countries would be comparing Macron's performance relative to other French presidents. Here, though, the news still isn't good for the French leader; like Trump, Macron looks worse than past incumbents, coming out below the score at the same point for François Mitterrand, Nicolas Sarkozy and his immediate predecessor, François Hollande, who ended his presidency as France's least popular president since World War II.
Verdict: Both men are struggling to inspire enthusiasm, and neither has benefited from a long honeymoon period with the public.
Round Two: Biggest Domestic Rows
Donald Trump: Er…take your pick? Trump managed to start fights with a sizable range of people and organizations, from CNN to centrist Republicans. He also took on courts across the country that held up his executive order banning people from seven Muslim-majority nations from entering the U.S. Of course, a devoted supporter might point out that Trump ran for the presidency with promises to speak his mind and not accept conventional opinions.
Emmanuel Macron: The fresh-faced youngster has not gone untested throughout the start of his tenure. While hardly on the scale of Trump's media bashing and constant cries of "fake news," Macron has had his own battles with the press, in particular one over an attempt to handpick the journalists who could follow him overseas.
Macron also faced the resignation of the French army's chief of staff, General Pierre de Villiers, in July over planned budget cuts—perhaps the most damaging episode to date. And he has had to fend off criticism over his plans for a first lady-style role for his wife.
Verdict: Overall, the volcanic heat and light of the Trump presidency is simply not comparable with the occasional flashes and feuds Macron has faced. On this one, Trump is in a league of his own.
Round Three: The World Stage
Donald Trump: Some of Trump's base voted for him precisely because he had rubbed foreign leaders the wrong way; he would kick back against the "globalists" and unabashedly fight for national self-interest in an internationalist world.
If the measure of that is how many people he's annoyed, he delivered from the start (though how America has benefited as a result is less clear.) In particular, he disturbed European leaders by not making unequivocal commitments to all aspects of the NATO treaties, and he backed up his inflammatory rhetoric about German Chancellor Angela Merkel by appearing to refuse to shake her hand during her visit to Washington.
On the other hand, Trump did manage to stabilize relations with China during his first summit with President Xi Jinping, after a campaign filled with attacks on the Asian superpower.
Emmanuel Macron: While Macron's domestic honeymoon faded swiftly, on the international scene it's still going. Most important, he's done much to emphasize his close working relationship with Merkel, a key long-term asset given his desire to reform the euro. One a lighter note, liberal fanboys and girls across the world have thrilled at his photo ops with fellow progressive heartthrob Justin Trudeau, Canada's prime minister.
The fly in the ointment is an increasingly testy back-and-forth between France and its neighbor Italy. So far, Italy has grumbled that Macron is seeking to take more credit than is due for the development of a new migration policy in Libya, and the French government has temporarily nationalized a shipyard to prevent an Italian company from taking control of it.
Verdict: It wouldn't be too difficult to spot potential future sites of trouble for Macron around the globe. But notwithstanding some tiffs with the Italians, he's mostly performed very well outside France.
Round Four: Getting Stuff Done
Donald Trump: Trump made some seismic moves early in the presidency, including pulling out of the Trans-Pacific Partnership trade agreement and launching a missile strike on Bashar al-Assad's forces in Syria. He also installed Neil Gorsuch, a respected figure in the American legal scene, as a Supreme Court justice.
But Trump has failed to get any truly significant domestic legislation passed. His attempt to implement a travel ban immediately ran into major legal trouble, while his attempt to repeal and replace Obamacare stalled in Congress without a final vote.
Emmanuel Macron: Macron is making slow but steady progress on some of his key aims. He has passed laws aimed at rooting out corruption in politics and at liberalizing the French labor market. The latter, in particular, is controversial and will no doubt bring new battles down the line, but it is a key plank of the president's economic policy, and its passage was significant.
Verdict: Macron's first months haven't been explosive, but he's made some progress on the sort of weighty domestic legislation Trump wasn't able to get passed.
Overall verdict: While Macron may be feeling the heat as much as Trump is on the approval-ratings front, he has so far trod a smoother (and much quieter) path than the White House firebrand has.