France to Enter Nationwide Lockdown Due to Rising COVID-19 Infections, 5 Months After First Lockdown Restrictions Lifted
French President Emmanuel Macron announced on Wednesday evening that France will enter its second nationwide lockdown on Friday, in response to recent spikes in new coronavirus cases.
Macron said during a televised address translated by France 24 English that the new lockdown is necessary because the country has been "overpowered by a second wave." The lockdown is expected to last until December but could be extended or shortened depending on what the data reflects in the coming weeks, he said.
France introduced its first lockdown in mid-March and began lifting restrictions two months later. While the country appeared to have flattened its virus curve throughout the summer months, new case numbers began increasing in August. In recent days, public health officials have reported daily case increases in the tens of thousands, with more than 36,000 new cases reported on Wednesday alone.
Many European countries began reporting record numbers of new infections as fall began. On Wednesday, the European Commission issued a call for its member states to "work closely together" and warned, "No Member State will emerge safely from this pandemic until everyone does."
Earlier Wednesday, German Chancellor Angela Merkel announced a four-week partial lockdown due to the country's rising case numbers. Spain and Italy have also imposed lockdown restrictions in the last week in response to their own case spikes.
In a series of posts on Twitter, Macron acknowledged the other European countries that are taking strict lockdown approaches due to the continent's rising case numbers.
"Yet we are all at the same point: overwhelmed by a second wave that we now know will be harder, more deadly than the first," he wrote.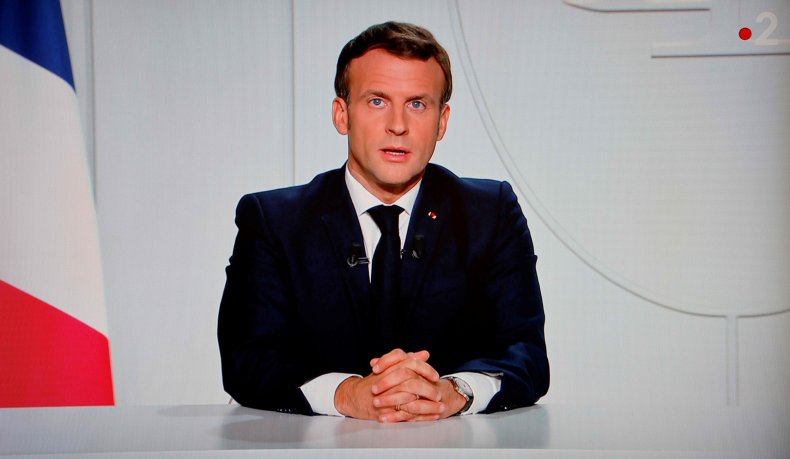 Under France's new lockdown, children will still be able to go to school, retirement communities can continue to receive visitors and citizens can exercise and go to work as needed, though remote work will be encouraged, Macron said. Citizens will be discouraged from traveling from one region of the country to another, and foreign borders will remain mostly closed, with exceptions—and rapid COVID-19 testing availability—for some frequent European travelers, he said.
Further details regarding lockdown rules and exemptions will be announced on Thursday, Macron said.
Anticipating frustrations that might result from the lockdown announcement, Macron said he takes "full responsibility" for the decision and said government and health officials will monitor the developing situation to allow businesses to continue operating as much and as safely as possible. "The economy—it must not come to a halt," he said.
"We were all taken aback, taken by surprise by the pace at which this virus has spread," Macron said. "I know that it may be tiresome and that it may be breaking your heart. But these difficult times call on us to all show our resilience and our solidarity."
More than 1.2 million cases had been reported in France by Wednesday, according to the country's public health database. France has reported more than 270,000 new infections in the last week, according to Johns Hopkins University's tracker, and ranks fifth in the world in terms of total confirmed infections since the start of the pandemic.
Macron said that the country has reached 58 percent capacity within its intensive care units, which he added could be near full capacity by mid-November.
"The virus is circulating in France at a speed that even the most pessimistic forecasts had not anticipated," Macron said on Twitter. "Unlike the first wave, all regions are now on the alert threshold."
Newsweek reached out to Public Health France for comment, but did not receive a response in time for publication.