France Floods: One Missing as Deluge Wipes Out Tourist Camp
A 70-year-old German man was reported missing on Thursday, following flash floods that swept through a summer camp in southern France.
Heavy rains poured down on Gard in the Occitanie region of France, about 90 miles northwest of Marseilles. The deluge burst through riverbanks and forced the evacuation of children from the vacation camp of Saint-Julien-de-Peyrolas, Reuters reported.
Around 120 police, 300 firemen and four helicopters were sent to the area to help with rescue efforts. A total of 119 children—mostly German—were saved from the floodwaters, authorities said.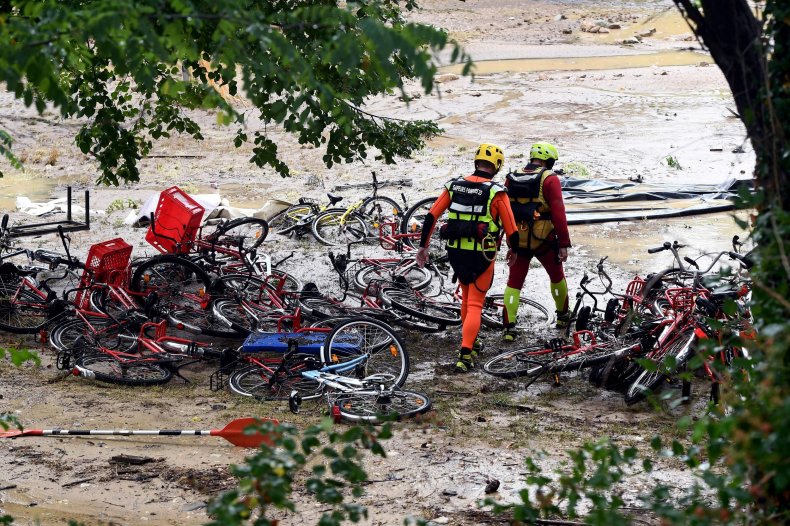 District official Thierry Dousset told the BFM-TV news channel that about 750 people were evacuated in Gard, mainly from campsites (via France 24). Four children were hospitalized for hypothermia in the town of Bagnols-sur-Ceze, with another six people treated for minor injuries, local police said.
Around 1,600 people in the Gard, Ardeche and Drome regions have been evacuated as a precaution against further flash flooding, according to the interior ministry.
The missing man was reportedly helping to organize a children's summer camp when the waters struck, the BBC reported. When trapped by the fast-flowing water, he sought shelter in a caravan, which was then swept away. Police said the caravan was later found smashed into pieces, with no sign of the man.
Rachel Buchanan, a British tourist, was staying in the Ardeche area to the north of Gard when the storm swept over her campsite. Buchanan told the BBC she "couldn't believe the ferocity of last night's storm," explaining the "level and speed of the river today was extraordinary—we woke up in about a foot of water. Driving in our camper van was very frightening as the road by the river was completely under water and waterfalls had appeared from nowhere crashing down the gorge."
In a statement, the interior ministry explained that six areas had been put on flood alert, and 17,000 homes had lost power in the southwest and northeast of the country. The heavy rain followed an extended period of hot weather; around 3 inches of rain fell in 24 hours.
Weather extremes are occurring across the world, with many attributing them to accelerating climate change. Much of Europe has been battling an extended heat wave, flooding and forest fires, while North America has also experienced record temperatures and rampant wildfires.
In the U.S., 106 large fires continue to burn in 15 states. They have already claimed 1.6 million acres of land, and could continue to take more as thousands of firefighters continue to battle their spread.