France and Germany Sign Deal That 'Contributes' to 'European Army' to Defend Against China, Russia and U.S.
France and Germany have signed a treaty set to bring the two allies a step closer to forming a European army, independent from the U.S.-led NATO Western military alliance, in a sign of strained transatlantic ties.
French President Emmanuel Macron and German Chancellor Angela Merkel signed the Franco-German Treaty on Cooperation and Integration in Aachen on Tuesday, exactly 56 years after the two European powers signed the Élysée Treaty, ending a centuries-long rivalry. Though the neighbors have feuded throughout much of their history, France and Germany now find themselves closely aligned at a time of shifting geopolitical dynamics.
The estranged relationship between President Donald Trump and his French and German counterparts has contributed to European anxieties over security, and both Macron and Merkel have called for the formation of a European army. Merkel said Tuesday that Germany was "committed to developing a common military culture, a common defense industry and a common line on arms exports" and that the new agreement "contributes to the creation of a European army."
"Unity, solidarity, cohesion," Macron tweeted after the signing. "Our duty with Germany is to make Europe a shield to protect our peoples from the world's changes. That is the meaning behind the Treaty of Aachen that I just signed with Chancellor Angela Merkel."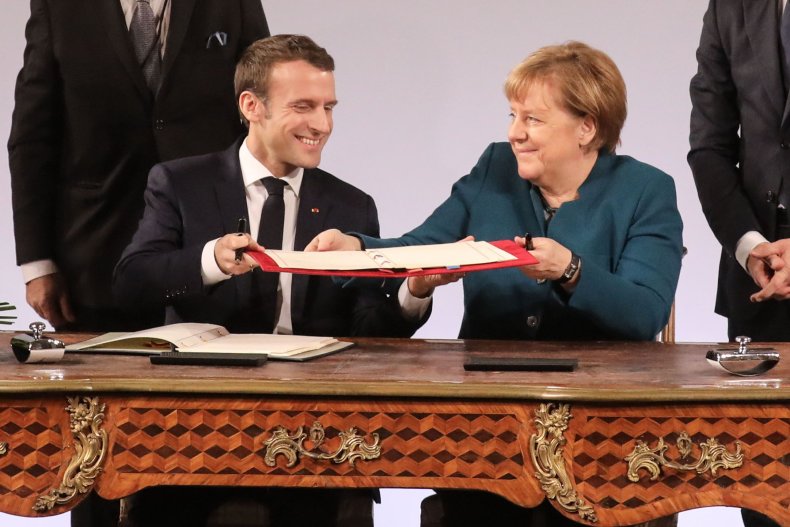 Though the U.S. has expanded sanctions against Russia under Trump, the president's ongoing assertions that NATO is "obsolete" and calls for member states to contribute more to the collective defense pact have prompted Macron and Merkel to accelerate proposals for a pan-European armed force. Macron sparked friction last year by suggesting a European army would be needed to protect France and Germany from the U.S., China and Russia.
"We have to protect ourselves with respect to China, Russia and even the United States of America," Macron told Europe 1 radio in November, prompting Trump to respond shortly after as he landed in France for the World War I centennial memorial.
"President Macron of France has just suggested that Europe build its own military in order to protect itself from the U.S., China and Russia. Very insulting, but perhaps Europe should first pay its fair share of NATO, which the U.S. subsidizes greatly!" the president tweeted.
Trump has also criticized the domestic policies of Macron, who has faced widespread protests in response to a proposed fuel tax. Trump claimed the demonstrators were chanting his name and had taken to the streets in response to the Paris Climate Accord—an agreement recognized by every country in the world except for the U.S.—but no evidence has been found to support either of these claims.
Trump has lashed out at Merkel in the past as well. Facing accusations he colluded with Russian President Vladimir Putin during the 2016 U.S. presidential election, Trump accused Merkel of being too close with Russia due to the two's ongoing Nord Stream 2 pipeline project. He has also criticized her open immigration policy. Days after Macron and Trump's exchange in November, Merkel too called for "a real, true European army."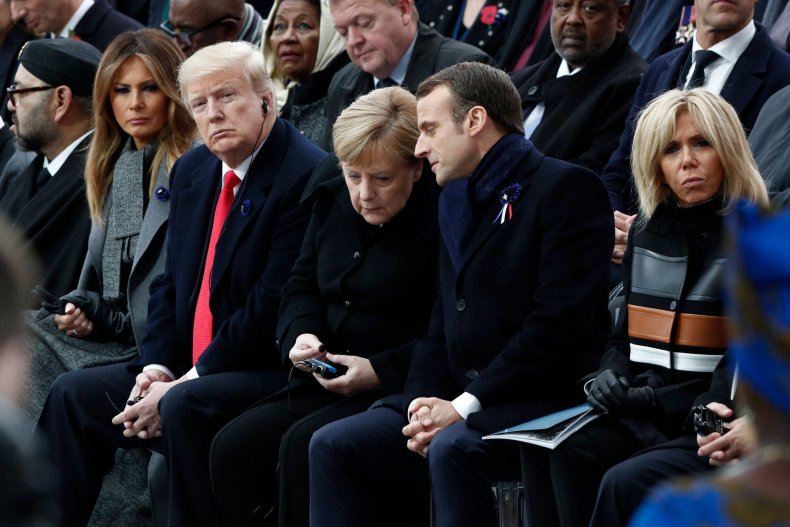 Though Macron and Merkel have faced significant opposition at home, they performed comparatively well in an international survey on global images last year. The Pew Research Center found 52 percent of respondents expressed confidence in Merkel, while 46 percent said the same of Macron. To compare, 34 percent said they could trust Chinese President Xi Jinping, 30 percent said believed in Putin and only 27 percent were confident in Trump.
Public perception of the U.S. among the German people also appears to have shifted. In a survey published earlier this month by Germany's Forsa Institute for Social Research and Statistical Analysis and the International Politik magazine, a near equal amount of Germans listed the U.S. and Russia as threats to the country.
While Macron and Merkel themselves have developed a tight relationship—so much so that one elderly French woman mistook them for a married couple during November's World War I memorial trip—both have warned of nationalist currents that could tear their nations apart. In a writeup on the Treaty of Aachen posted to the French presidency's official website Sunday, the government assured readers that the document would never return the disputed Alsace-Lorraine border territory to Germany, nor would it force the local population to learn German nor would it allow France to "give up its sovereignty, its identity."