France and Germany's Leaders Mistaken for Married Couple at World War I Ceremony
The leaders of France and Germany were taken for a married couple by an elderly woman as they attended a ceremony commemorating the end of World War I outside Paris.
French President Emmanuel Macron and German Chancellor Angela Merkel attended on Saturday the inauguration of a plaque in the French commune of Rethondes, where the armistice that ended the first world war was signed on November 11, 1918. One hundred years later, an elated 100-year-old woman approached the French president, and apparently confused the German head of state for his wife.
"Mr. Macron! That is not possible, a little good woman like me shaking hands with the president of the republic. It's fantastic. Do not make me cry," the woman, who was not named by local media, said in an exchange caught by Radio-Télévision Belge de la Fédération Wallonie-Bruxelles, a public broadcaster serving the French-speaking community in Belgium.
A person in the crowd explained that the woman would be turning 101 the day after Armistice Day as the elderly woman turned to Merkel, saying, "You are Madame Macron."
Merkel, smiling, attempted to explain, repeating "I am the chancellor of Germany" with a German accent as the three posed for a photograph. The woman smiled, saying "It's fantastic" as the clip ended.
Macron's actual spouse, 65-year-old Brigitte Marie-Claude Trogneux, is a year older than Merkel, who is 64. Macron, who is now 40, became France's youngest president last year and has struck up a warm relationship with Merkel. Both leaders have stood up for what they consider to be the tenets of liberal democracy in the face of rising populism and militant threats from movements ranging from Islamist fundamentalism to far-right groups.
Merkel, who has led Germany since 2005, has long felt she had a close ally in the U.S. After the world wars, Washington developed close ties to West Berlin that were expanded after Germany's reunification, which helped pave the path for the country becoming Europe's top economic power. Upon President Donald Trump's election, however, the U.S. has come to view traditional European partners with skepticism and has called on countries like France and Germany to contribute more to the NATO Western military alliance, which the U.S. largely funds.
This spat has been compounded by U.S. pullouts from international deals such as the Paris Climate Agreement, the Iran nuclear deal and, potentially, the Intermediate-Range Nuclear Forces (INF) Treaty. It has also inspired debate about underlying fears of Europe's dependence on the U.S. for security. For years, French and German leaders discussed building a joint European army backed by unlikely far-right allies such as Hungarian Prime Minister Viktor Orban.
Macron, who has increasingly voiced his displeasure with the direction of the Trump administration's foreign policy—even threatening in September to not make any trade deals with the U.S. due to its abandonment of the Paris Climate Agreement—endorsed the pan-European military idea.
On Tuesday, Macron called for the formation of a "true, European army" to "protect ourselves with respect to China, Russia and even the United States of America." The comments were the latest hint that European leaders were looking to wean themselves off an overreliance on U.S. support. Trump called the French leader out on social media Friday, moments after landing in the country to attend events relating to the 100th anniversary of World War I.
"President Macron of France has just suggested that Europe build its own military in order to protect itself from the U.S., China and Russia. Very insulting, but perhaps Europe should first pay its fair share of NATO, which the U.S. subsidizes greatly!" Trump tweeted minutes after his plane touched down in France.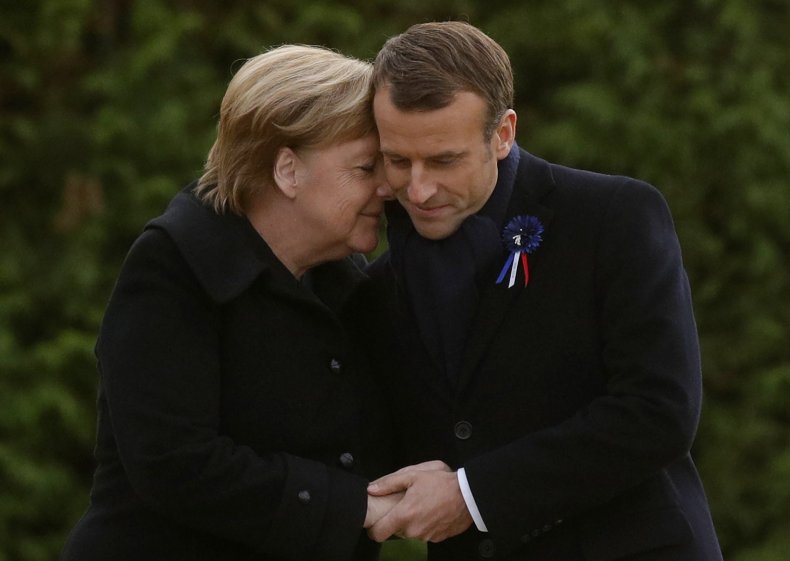 Trump's cool relations with Macron and Merkel were on full display last weekend, with the Republican leader looking far more eager to engage with Russian President Vladimir Putin, who told media that France requested he not organize any meetings with Trump. Still, the four apparently sat down for what White House Press Secretary Sarah Huckabee Sanders called "very good and productive discussions" during a two-hour lunch.
On Monday, however, Trump released a tirade of tweets criticizing what he felt were European nations taking advantage of U.S. military superiority at an unfair price.
"Just returned from France where much was accomplished in my meetings with World Leaders. Never easy bringing up the fact that the U.S. must be treated fairly, which it hasn't, on both Military and Trade. We pay for LARGE portions of other countries military protection........," he tweeted. ".....hundreds of billions of dollars, for the great privilege of losing hundreds of billions of dollars with these same countries on trade. I told them that this situation cannot continue - It is, and always has been, ridiculously unfair to the United States. Massive amounts....."
".....of money spent on protecting other countries, and we get nothing but Trade Deficits and Losses. It is time that these very rich countries either pay the United States for its great military protection, or protect themselves...and Trade must be made FREE and FAIR!"