Why France May Recognize a Palestinian State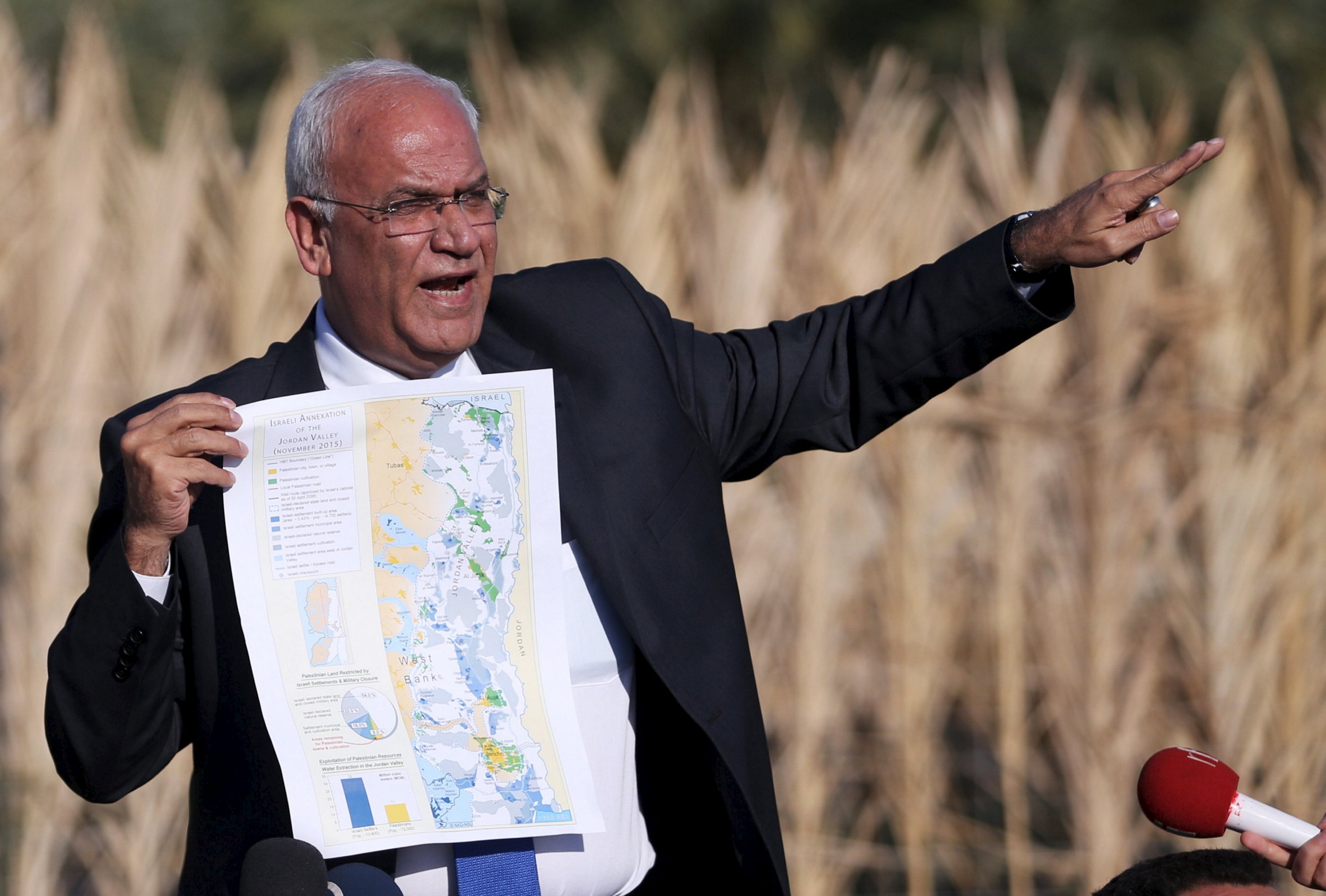 PARIS (Reuters) - France will recognise a Palestinian state if a final push that Paris plans to lead for a two-state solution between Israel and the Palestinians fails, its foreign minister said on Friday.
U.S.-led efforts to broker peace for a two-state solution collapsed in April 2014 and since then there have been no serious efforts to resume talks.
Foreign Minister Laurent Fabius has repeatedly warned that letting the status quo continue risks killing off a two-state solution and playing into the hands of Islamic State militants.
Last year he failed in efforts to get the United States on board to push for a U.N. Security Council resolution to set parameters for talks between the two sides and set a final deadline for a deal.
The expansions of settlements by Israel since then have been described by U.N. Secretary-General Ban Ki-moon as "provocative acts" that raise questions about its commitment to a two-state solution.
"We cannot let the two-state solution disintegrate. It is our responsibility as a U.N. Security Council member and a power seeking peace," Fabius told an annual gathering of foreign diplomats.
Fabius has previously called for an international support group comprising Arab states, the European Union and U.N. Security Council members that would essentially force the two sides to compromise.
He said Paris would begin preparing in the "coming weeks" an international conference bringing together the parties and their main partners, American, European and Arab.
If this last attempt at finding a solution hits a wall, "well ... in this case, we need to face our responsibilities by recognising the Palestinian state", he said.
A French diplomatic source said the aim was to launch the conference before the summer and that it would not be accompanied by a U.N. Security Council resolution, which would inevitably fail.
Israeli Prime Minister Benjamin Netanyahu has previously criticised recent French initiatives, calling them "counter-productive".
Despite anger in the U.S. administration over Israeli settlements, there is little prospect of U.S. President Barack Obama supporting any initiative that could upset the U.S. Jewish lobby 10 months before an election.
A U.S. official responded cautiously to Fabius' statement.
"The U.S. position on this issue has been clear. We continue to believe that the preferred path to resolve this conflict is for the parties to reach an agreement on final status issues directly," the official said.
Nabil Abu Rdainah, spokesman for Palestinian President Mahmoud Abbas, said he welcomed the move.
"There is no doubt that a French recognition of the Palestinian state will contribute to building peace and stability in the region," he said.
An Israeli official, who declined to be identified, said:
"The foreign minister of France says up front that if his initiative reaches a dead end, France will recognise a Palestinian state. This statement constitutes an incentive for the Palestinians to bring about a dead end. Negotiations cannot be held nor peace achieved in this manner."
Palestine has non-member observer status at the United Nations and its flag flies with those of member states at UN headquarters in New York. Sweden became the first EU member nation to recognise the Palestinian state in 2014 and has been followed by several others.
Palestinians seek a state in Gaza, the West Bank and East Jerusalem, parts of which have been occupied by Israel since a 1967 war.