France's Macron Endures Anti-Semitic Attack by Political Rivals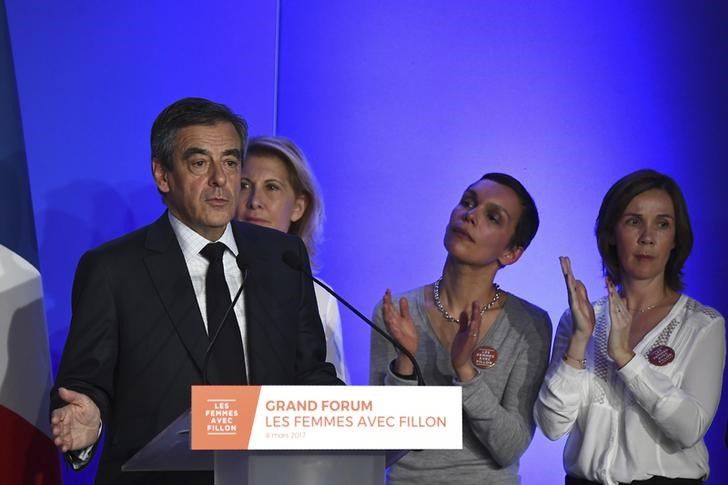 Francois Fillon's party has apologized for tweeting a caricature of Emmanuel Macron, his main rival in the race to be France's next president, that Fillon himself admitted was anti-Semitic.
Fillon's conservative The Republicans tweeted an image of the independent centrist Macron with a hooked nose, wearing a top hat and carrying a red sickle with which he was cutting a cigar.
The image resembled anti-Semitic propaganda from World War II when France's Vichy government collaborated with the Nazis and their deportation and extermination of Jews. Macron is not Jewish but the cartoon appeared to refer to his past as a Rothschild investment banker.
A day after the tweet was posted—and subsequently deleted—Fillon called the image "unacceptable" and said he understood the outrage it had caused "because it evoked the images of a dark period of our history and exploited an ideology that I have always fought against.
"Politics is tough but it must remain dignified. I will not tolerate my party using caricatures that use the themes of anti-Semitic propaganda," Fillon tweeted, saying he had demanded his party chief apologize and sanction the people responsible.
A spokeswoman for Macron declined to comment. He was due to appear on television at 8 p.m. (1900 GMT).
Fillon, once considered the favorite to win the presidency, has been badly damaged by a financial scandal and now lies in third place behind Macron and far-right candidate Marine Le Pen in the April 23 first round. Only the top two candidates will go through to a run-off on May 7.