France Presents Israel With Plan To Host International Peace Summit With Palestinians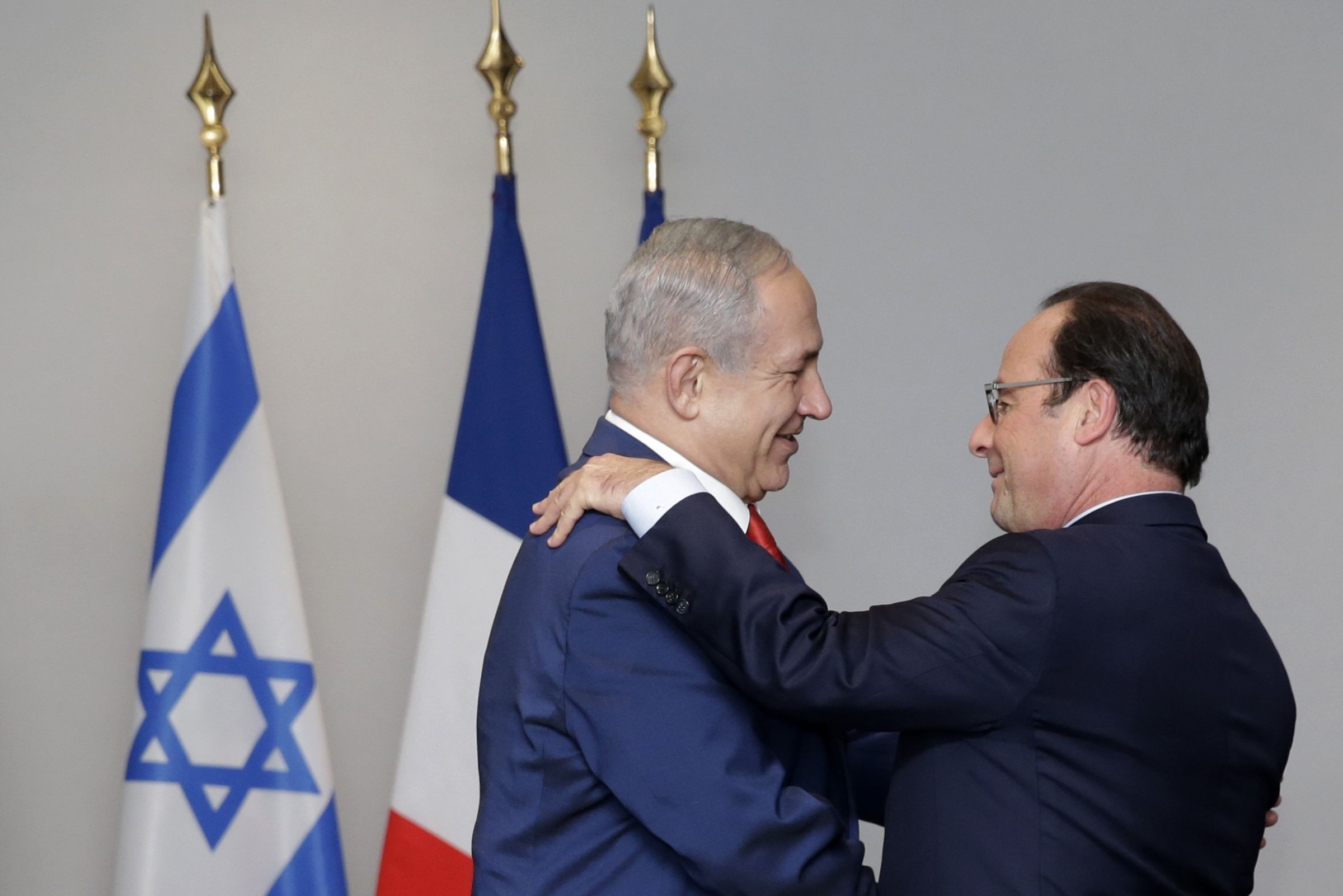 France on Tuesday presented Israel with a plan for an international peace summit to be held in Paris this summer in order to restart negotiations with the Palestinians.
French officials are eager to bring the two parties together and have started consultations with the U.S., European partners and Arab countries to revive talks that Paris has previously warned would result in the recognition of a Palestinian state if they failed.
Israeli Foreign Ministry spokesman Emmanuel Nachson told Haaretz that French Ambassador to Israel Patrick Maisonnave presented the plan to the head of the Israeli Foreign Ministry's diplomatic office, Alon Ushpiz, on Tuesday morning.
According to the Israeli daily, the French proposal is composed of three stages. First, consultations with Israel, the Palestinians and international partners on the notion of a summit in February or March. Second, a meeting in Paris of the international support group for the negotiations in March or April, without the Israelis or Palestinians present. Lastly, the convening of an international peace summit in Paris in June or July when negotiations will restart. France has tasked diplomat Pierre Vimont as the special envoy for the peace proposal.
Israel is yet to officially comment on whether it will participate in such a proposal but its government believes that the French warning of Palestinian recognition means that the Palestinians would have something to gain from not compromising at such a summit. Israeli Prime Minister Benjamin Netanyahu has maintained his position that a peace deal could only arise from direct negotiations between Israel and the Palestinians.
On his trip to Japan to meet with Prime Minister Shinzo Abe on Monday, Palestinian President Mahmoud Abbas said he was supportive of the French proposal. Palestinian Foreign Minister Riad al-Maliki said, however, that peace would require a multilateral approach and that the Palestinians would "never" enter into direct talks with Israel again.
The last peace talks to occur between both sides ended in April 2014, despite U.S. Secretary of State John Kerry's efforts to mediate. The resulting atmosphere has been violent, with a seven-week war in Gaza; the murder of Israeli and Palestinian youths in the West Bank; and a wave of violence that has seen Israeli security forces kill at least 163 Palestinians, 107 of which Israel says were attackers, and Palestinians kill 27 Israelis and a U.S. citizen in a series of stabbing, shooting and car-ramming attacks.